Food With Benefits: This Protein-Packed Vegan Dinner Is Ready In 5 Minutes Flat
Contributing Food Editor
By Liz Moody
Contributing Food Editor
Liz Moody is a food editor, recipe developer and green smoothie enthusiast. She received her creative writing and psychology degree from The University of California, Berkeley. Moody is the author of two cookbooks: Healthier Together and Glow Pops and the host of the Healthier Together podcast.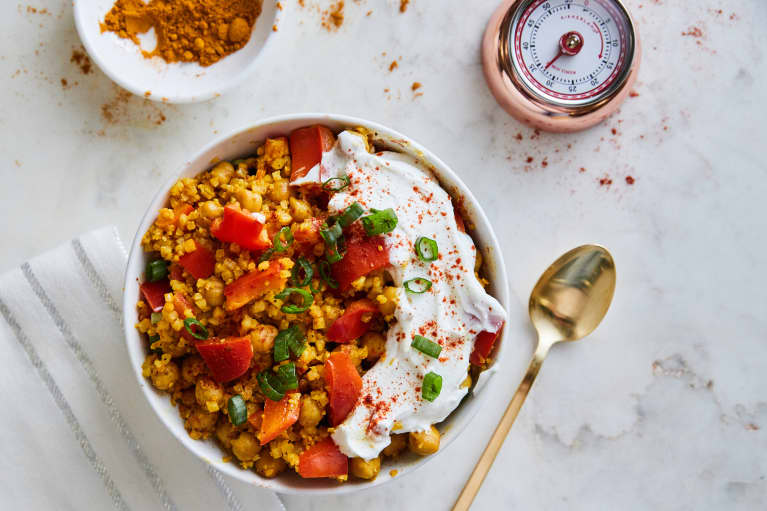 Here at mbg, we're all about Food With Benefits—whether those benefits save you money, time, or help heal your body. In our video series, we'll show you how to make delectable recipes, each with a unique benefit. Whether it's a dinner for four for under $5, or a dessert designed to heal your thyroid, these meals, snacks, and desserts will make inspire you and make your mouth water! Up today: how to make a protein-packed dinner in under 5 minutes (actually!).
In less than the amount of time it takes to even scan a takeout menu, you could have an anti-inflammatory feast on your plate. The first of our new video series Food With Benefits, this dinner comes together in five minutes flat, courtesy of the frozen cauliflower rice base, canned chickpeas, and a few key flavor-boosting spices. "Turmeric has been used in ayurvedic medicine for centuries; the active ingredient is curcumin, which is a powerful healer," explains Charlotte Press, the registered dietitian who developed the recipe. "Turmeric has been found to reduce inflammation in numerous studies. Turmeric can also help relieve pain, as shown in many studies, including one that showed it was as powerful as Advil in certain instances."
With a savory, umami flavor, plenty of satisfying texture, and just the right hint of spice, this is a dinner you'll find yourself reaching for over and over. Do note that we always recommend using high-quality, organic spices, which have a stronger flavor, which is so important when you're relying on just a few ingredients to make a delicious meal (we love Simply Organic spices). Feel free to switch up the fresh vegetables based on what you have on hand for an easy custom take.
5-Minute Anti-Inflammatory Dinner
1 tablespoon avocado oil
1 15-ounce BPA-free can of drained, rinsed chickpeas (try Eden Organic, which pressure cooks the beans to eliminate lectins)
½ teaspoon ground turmeric
¼ teaspoon plus a pinch of paprika
¼ teaspoon ground ginger
¼ teaspoon sea salt
Pinch of fresh ground pepper
1 red bell pepper, chopped into 1-inch pieces
2 cups frozen cauliflower rice
1 5-ounce container of plain coconut or Greek yogurt (we love Kite Hill almond-milk based Greek-style yogurt)
3 scallions, chopped into ¼-inch rounds
Chop scallions and bell pepper. Drain chickpeas.
Heat a nonstick skillet over medium heat with avocado oil. Add chickpeas, turmeric, ¼ teaspoon paprika, ginger, salt, and pepper. Cook for 2 minutes, stirring occasionally, then add bell pepper and cauliflower rice. Cook for 3 more minutes, stirring occasionally.
Spoon into two bowls. Top with dollop of yogurt, sprinkle of paprika, and fresh scallions.