These Plant-Based Tacos Might Be The Best Thing You Can Do With A Can Of Black Beans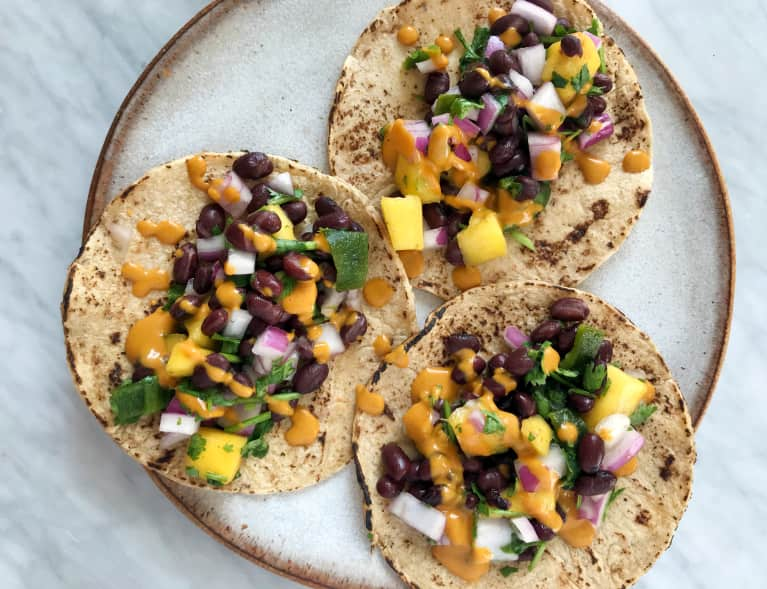 Our new
Well Fed
series is all about simplifying healthy food—and adding in a hefty serving of fun. Come hang out with me every Monday night on our
Instagram stories
, where I'll be making this recipe, answering your questions, and, this week, teaching you how to properly cut a mango!
In my Californian-filled Brooklyn apartment (my husband is born and raised, while I split my time between Tucson, on the border of Arizona and Mexico, and California's Central Valley), every day is Taco Tuesday. Tacos are the great unifier of the disparate vegetable world—folded into a warm, (non-GMO) corn casing, cauliflower and broccoli and tomatoes somehow become a gourmet Mexican-esque dish that people are excited to eat.
These tacos are based around a simple can of black beans, an ingredient I recommend everyone keep on hand as an easy, protein-packed meal starter. Combined with tropical mango, a quick, stovetop charred poblano pepper, red onion, cilantro, and a hit of sea salt and lime, the basic legume is elevated to a ceviche-type plant-based taco that's sweet, crunchy, bright, and a bit smoky from the pepper's char. Beyond roasting the pepper and warming the tortillas, you don't even need to turn on the stove, and the meal comes together in 10 minutes flat.
While you can eat the results as a salad (and we'll still be friends), I highly recommend spooning them into a slightly-blackened tortilla, drizzling on some hot sauce, and cracking open a cold, organic beer. Kick your feet up and pretend your sticky hot skin comes from the balmy breeze of the Mexican Riviera before taking a deliciously satisfying bite.
Plant-Based, No-Cook Black Bean & Mango Tacos
2 poblano peppers
1 (15-ounce) can black beans, preferably organic in a BPA-free can
1 red onion, diced
1 mango, diced
Juice of 1 lime
Generous pinch of sea salt
¾ cup chopped cilantro
4 tortillas of choice
Hot sauce, sour cream, or Greek yogurt, for garnish (optional)
Using heatproof tongs, hold one poblano pepper at a time over the open flame on your stovetop. Let roast on all sides until completely blackened, then transfer to a bowl and cover with plastic wrap to trap in steam. Repeat with second poblano. Set aside.
In a large bowl, mix together black beans, red onion, mango, lime juice, and sea salt until well-combined.
When poblanos are cool enough to touch (after about 10 minutes), remove the plastic wrap and use a towel to gently remove the skin. Remove the pepper's stem, then slice in half and remove the seeds. Dice, then repeat for second pepper.
Gently fold the diced peppers and cilantro into the bean mixture.
Warm the tortillas in a dry pan or directly on the burner until flexible (I personally like a bit of char from the open flame—it's not healthier, just more delicious). Spoon a generous amount of filling into the middle of each tortilla, then top with hot sauce or sour cream, as desired. Serve immediately. To eat later, store filling separately from tortillas in a tightly sealed container in the fridge.
Want to turn your passion for wellbeing into a fulfilling career? Become a Certified Health Coach! Learn more here.