For When You Just Can't: This Gut-Nourishing Dinner Takes 5 Minutes To Make (And You Already Have All Of The Ingredients)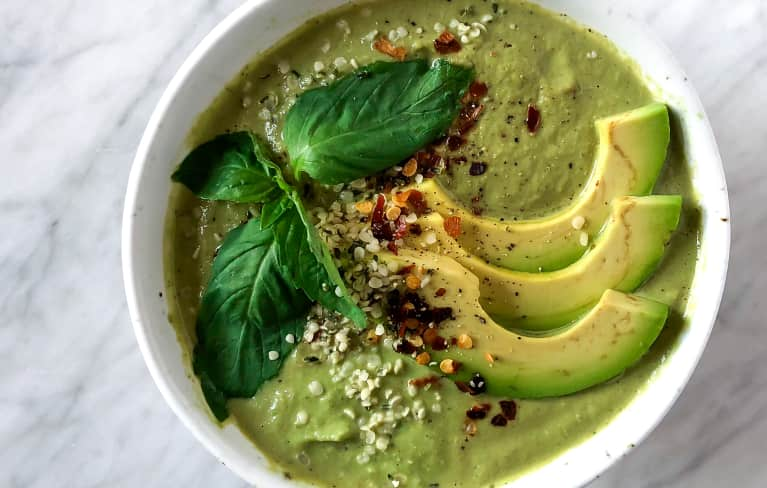 This is the first post in our new Well Fed series, which is all about simplifying healthy food—and adding in a hefty serving of fun. Come hang out with me every Monday night on our Instagram stories, where I'll be making this recipe and answering your questions!
After a hard day, the last thing I want to do is brave the fluorescent aisles of my local grocery store, but I'm also not keen to succumb to the siren call of greasy takeout made with questionable ingredients. That's when I reach into my metaphorical back pocket and pull out this trusty soup recipe, which is basically the quickest route to a delicious, healthy dinner, no special shopping trip required.
The base is just three ingredients—whatever vegetables you have stashed in your freezer (dig around a bit—you definitely bought a bag of peas in 2009), an onion, and some broth or stock, which you should always keep on hand in your pantry, if only to feel like you're a person who cooks. After that, you can kick up the flavor and health benefits with whatever else you can scrounge up: that lemon or lime leftover from Saturday's cocktails will brighten the whole dish; hulled hemp hearts you store for smoothies add a satiating complete protein; any fresh herbs (thyme, basil, cilantro, mint) provide tons of anti-inflammatory polyphenols while bringing freshness and life to the finished soup; avocado adds filling, mitochondrial-nourishing healthy fats.
The vegetable base, of course, is already packed with gut-loving fiber, and the flash-freezing process locks in nutrients (a farmer once told me that unless he picks broccoli from his own garden, he'll only eat frozen since so many vitamins are lost in the transit process).
Play around. Don't overthink it. That way, when the compliments roll in, you can smile and say in all honestly, "Oh, this? This was nothing."
3-Ingredient Freezer & Pantry Soup
1 tablespoon avocado oil
1 medium yellow onion, diced
Fine-grain sea salt
2 cups of frozen vegetables of choice (broccoli, peas, carrots, sweet potato, corn—anything you have on hand!)
Vegetable broth or stock to cover
Optional add-ins: fresh herbs, hulled hemp hearts, avocado, juice of 1 lemon or 1 lime
Heat a medium-size pot over medium heat. Add avocado oil.
When it shimmers, add the onion and a generous sprinkle of salt.
Let cook until golden, stirring occasionally, about 5 minutes.
Add vegetable of choice, with just enough stock to cover. Let simmer over medium until vegetable is fork tender.
Let cool slightly before transferring to a blender (you can also use an immersion blender directly in the pot). Add optional add-ins of choice and blend until smooth. Add additional salt to taste before dividing between two bowls and serving.
Want to turn your passion for wellbeing into a fulfilling career? Become a Certified Health Coach! Learn more here.