The Easy Dinner That Will Help Keep You From Getting Sick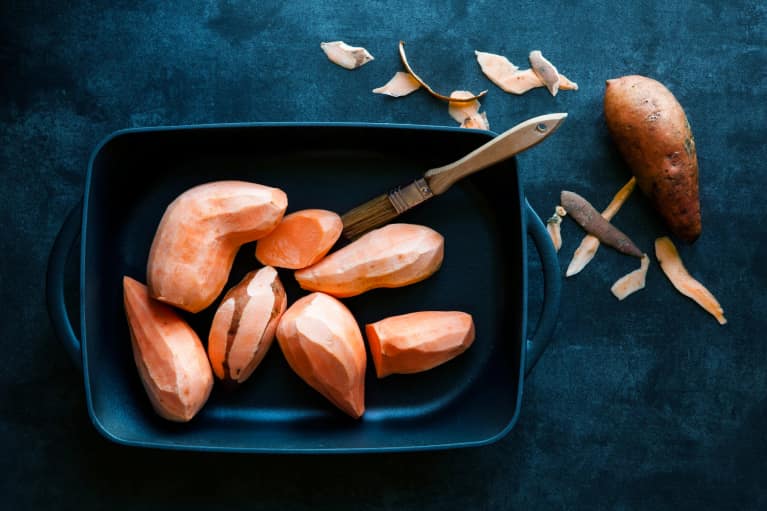 Our editors have independently chosen the products listed on this page. If you purchase something mentioned in this article, we may
earn a small commission
.
Building up your immune system is never more important than in the depths of the winter. Jean Choi, author of her new cookbook Korean Paleo, nutritional therapy practitioner, and founder of the blog What Great-Grandma Ate, has a sweet potato dish that will stop colds before they start. Choi is passionate about feeding your body and soul with whole foods and provides easy recipes that support your health on multiple levels. After learning she had sensitivities to gluten and dairy, she started developing traditional Korean recipes without dairy, gluten, or grains. In her new cookbook she shares 80 paleo recipes and finds creative substitutes for all her favorite traditional dishes.
This stir-fried sweet potato noodle dish is perfect to ward off sickness: Sweet potatoes are anti-inflammatory and high in fiber and vitamin C, all critical components of building a healthy immune system. It also includes spinach (high in vitamin A, which supports our white blood cells), garlic, black pepper, and onions, all ingredients known to help keep us from getting sick.
Dish out a serving—and keep the germs at bay.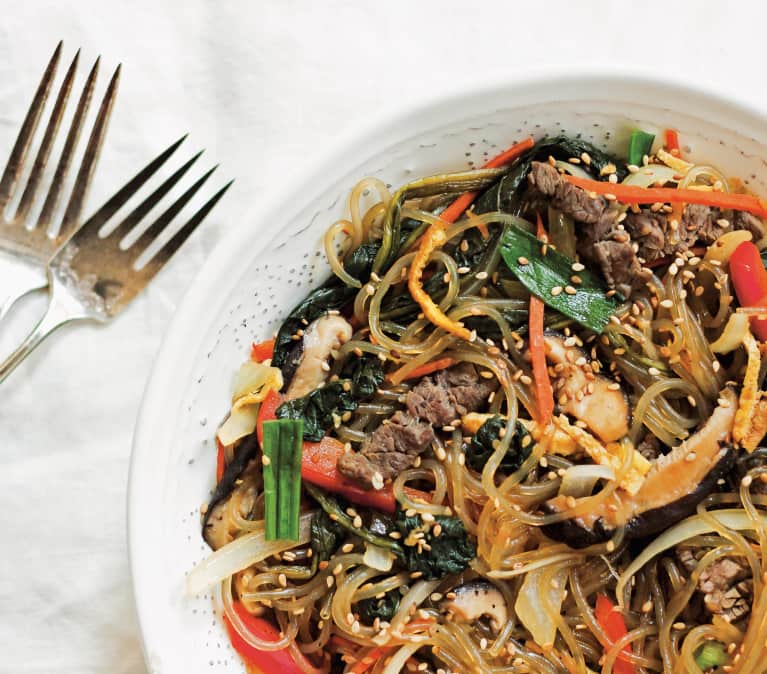 Japchae (Stir-Fried Sweet Potato Noodles)
Makes 4 servings
Ingredients
6 tbsp coconut aminos
2 tbsp sesame oil
2 tsp maple syrup
2 tsp fish sauce
2 tsp toasted sesame seeds, plus more for garnish
½ tsp ground black pepper
2 cloves garlic, minced
8 oz beef sirloin or ribeye
4 shiitake mushrooms, stems removed
5 to 6 oz fresh spinach
1 tsp sesame oil
¼ tsp sea salt, plus more to taste
6 oz sweet potato starch noodles (also called dangmyeon)
5 tsp cooking oil, divided
1 large egg, beaten
1 onion, sliced
½ red bell pepper, cut into thin strips
1 carrot, julienned
2 green onions, cut into 1-inch (2½-cm) pieces
For the marinade, combine the coconut aminos, sesame oil, maple syrup, fish sauce, sesame seeds, black pepper, and garlic in a bowl, and mix until well-combined.
Cut the beef into bite-size strips and the shiitake mushrooms into thin slices. Combine the beef and mushrooms in a bowl. Add 2 tablespoons of marinade to the beef and mushrooms and mix. Set aside.
Bring a large pot of water to a boil over high heat. Add the spinach leaves and blanch for 30 seconds.
Drain and rinse the spinach in a colander under cold water for 1 minute. Squeeze the spinach with your hands to get rid of any excess water. Add the sesame oil and sea salt and mix. Set aside.
Bring another large pot of water to a boil over high heat. Add the sweet potato starch noodles and boil for 5 to 7 minutes, according to the package directions.
Drain and run the noodles under cold water for 1 minute. Cut the noodles 2 to 3 times. Place them in a bowl and mix with 1 tablespoon of the marinade. Set aside.
Heat 1 teaspoon of cooking oil in a large skillet over medium-low heat.
Add the beaten egg and let it spread out in a thin layer. Cook for 2 minutes until the edges firm up. Flip the egg and cook for 2 more minutes. Transfer to a cutting board and let it cool. Cut into thin slices that are 2 to 3 inches (5 to 7½ cm) long. Set aside.
Heat 2 teaspoons of cooking oil in the same skillet over medium-high heat. Add the onion, red bell pepper and carrot. Stir-fry for 2 to 3 minutes. Add the green onions and cook for 1 minute. Transfer the vegetables to the same bowl as the noodles.
Heat 2 teaspoons of cooking oil in the same skillet over medium-high heat. Add the beef and mushroom mixture and stir-fry for 3 to 4 minutes, until the meat is browned and the mushrooms are tender.
Reduce the heat to low and add the bowl of noodles and vegetables back into the skillet. Cook, stirring, for 1 minute. Turn on the heat and add the spinach, egg strips, and the rest of the marinade. Stir well. Add more salt, if needed. Sprinkle with more toasted sesame seeds, and serve warm or at room temperature.