This Super Quick Dinner Has 2 Secret Ingredients That Will Eliminate Insomnia, Stat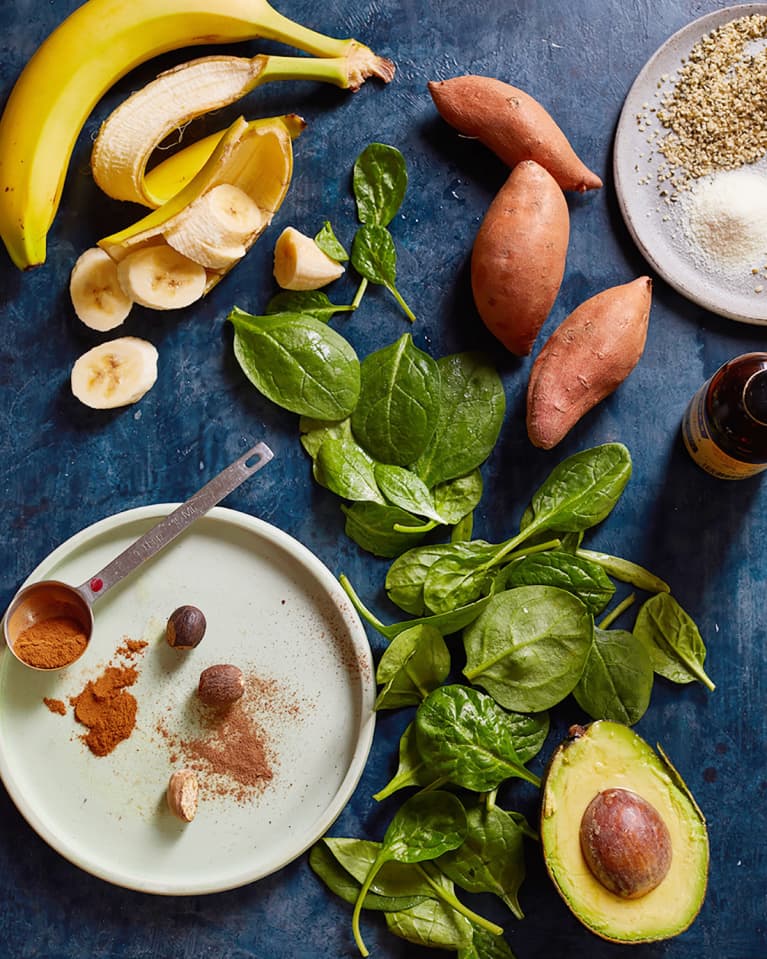 Our editors have independently chosen the products listed on this page. If you purchase something mentioned in this article, we may
earn a small commission
.
If you've been following my writing here on mbg, you know my love for a smoothie runs deep—and of all the types of smoothies, I think the dinner smoothie is the least appreciated. I love it for nights when I'm feeling rushed (it comes together in five minutes flat, with almost no cleanup), or when I feel like I've eaten less than my ideal amount of vegetables over the course of the day.
When I was writing my new cookbook, Healthier Together: Recipes for Two—Nourish Your Body, Nourish Your Relationships, though, I wanted to take the dinner smoothie up a notch. As you might expect, the cookbook (which is out today—I can't believe it!) embodies the food philosophy you read every day here on mbg: Every recipe needs to be super delicious, easy to make, accessible to everyone (read: no crazy, fancy ingredients), and super functional, whether it's Enchilada Lasagna that fights inflammation, a grain-free Extra Crumbly Coffee Cake that helps balance hormones, or a gut-healing Fully Loaded Baked Potato-less Soup. Because this smoothie was made to be consumed at dinnertime, I wanted to pack it with ingredients that would help even the most anxious and restless among us (raises hand) sleep like a baby.
The first secret ingredient I used in the smoothie to make it extra sleep inducing was sweet potato, which is consistently named by doctors as one of the best foods to send you straight to the land of Nod. According to mbg Collective member Vincent Pedre, M.D., "They are rich in potassium, which helps your muscles relax. They also have magnesium, which promotes GABA secretion in the brain—a relaxation-inducing neurotransmitter. As a complex carb, they digest slowly, providing the steady energy your body needs to make it through the night in a fasting state. And their vitamin B6 content becomes a cofactor for a number of important chemical reactions in the brain, including serotonin and melatonin production—the sleep-inducing hormone."
It also contains collagen, which, among its myriad other benefits, contains glycine, an amino acid that helps promote falling asleep and having deeper, more quality sleep. Finally, it has plenty of protein and healthy fat to make it super satiating and dinner-worthy—no waking up in the middle of the night with low blood sugar! All that, and it pretty much tastes like a Pumpkin Pie Milkshake.
You can find the rest of the 100-plus gluten-free, dairy-free, inflammation-fighting, gut-healing, anxiety-lessening, hormone-balancing recipes in Healthier Together—but in the meantime, try this smoothie and see if it doesn't convert you to Team Dinner Smoothie.
Sleepytime Dinner Smoothie
2 cups spinach
1 tablespoon chia seeds
2 tablespoons hulled hemp hearts
2 tablespoons unflavored collagen peptides
1 small avocado
1 banana, fresh or frozen
2 cups peeled, cubed sweet potato, steamed and cooled (one from 1 medium sweet potato)
2 teaspoons cinnamon
¼ teaspoon nutmeg
¼ teaspoon allspice
1 teaspoon vanilla extract
Pinch of fine fine-grain sea salt
Ice (optional; see Tip)
Place the greens, chia seeds, hemp hearts, collagen peptides, and 3 cups of water in a blender and blend until very smooth.
Add the avocado, banana, sweet potato, cinnamon, nutmeg, allspice, vanilla, salt, and ice (if using), and blend again until very smooth. Serve immediately.
Tip: To save time, I like to steam sweet potatoes in batches and keep them on hand in my freezer. To freeze steamed sweet potatoes, spread them out on a parchment-lined pan and place in the freezer until they're frozen (about 4 to 5 hours), then transfer them to a plastic bag. This way, they'll avoid clumping together. For this recipe, either frozen or freshly steamed sweet potato cubes work well.
Based on excerpts from Healthier Together: Recipes for Two—Nourish Your Body, Nourish Your Relationships by Liz Moody, with the permission of Clarkson Potter, a division of Penguin Random House. Copyright © 2019.
And do you want to turn your passion for wellbeing into a fulfilling career? Become a Certified Health Coach! Learn more here.