5 Reasons You Need Apple Cider Vinegar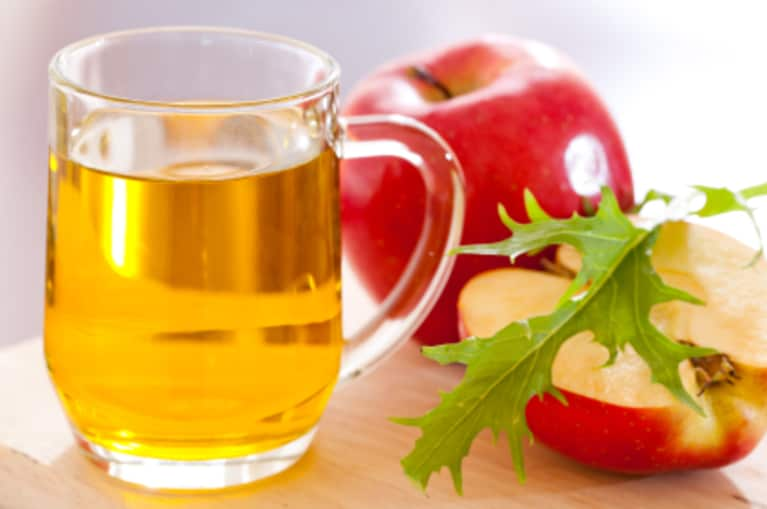 I used to pay no attention to the vinegar aisle in the grocery store.
Well, that was then! Now that I'm interested in a healthy, holistic lifestyle, I'm obsessed with vinegar, specifically apple cider vinegar!
So what's all the hype about this weight-sucking, grease-cutting, skin-primping vinegar anyway?
Well, lovelies, you just might be in for a surprise (the good kind).
While commonly used in salad dressings, this particular vinegar has also been used to kill weeds, polish armor, clean household appliances, and make homemade pickles. Yes!
Curious? Well, read on darling…
1. It helps with detoxification. 
It's believed that apple cider vinegar assists with detoxification by aiding circulation and boosting the liver's ability to purge toxins. The acids found in apple cider vinegar are believed to be responsible for the cleansing effects. The acids help to eliminate impurities by binding to free radicals and other toxins stored in the blood, fat cells and organs, and 'pulling them out' of the body. In addition, apple cider vinegar supplies the body with a large amount of vitamins, minerals and enzymes, which is essential to a body that is purging out toxins.
2. It's great for your skin. 
Apple cider vinegar is touted as a natural remedy for a wide variety of skin conditions. From removing warts and freckles to treating acne and soothing the pain of sunburn, its use as a topical treatment is widespread. You want raw, unfiltered apple cider vinegar that is still full of enzymes, minerals, nutrients, and beneficial strains of bacteria (called the 'mother'). My favorite by far is Bragg's, but I also like Eden Organics. Add your ACV to a small glass container mixed with filtered water. Start with a 1:1 ratio (50% ACV, 50% water), but you might want to dilute the mixture more based on the sensitivity of your skin. Take a cotton pad or the corner of a washcloth and dip it into the solution. Spread evenly all over your face after washing it. Don't rinse it off, but just let it air dry, then finish with a light layer of coconut oil as moisturizer.
3. It's an eco-friendly household cleaner. 
Mix 1/2 cup of apple cider vinegar with 1 cup water. You can use this concoction to clean microwaves, bathroom tiles, kitchen surfaces, windows, glasses and mirrors. This mixture also works as a disinfectant. Add in a sprinkle of baking soda and the shine on your counter tops will be sure to knock your granny panties off!
4. It's a super yummy, super preventative drink.
I love me a warm glass of apple cider and what better way than to make it with the real stuff? Here's a simple recipe: mix 2 Tbsp. ACV, 2 Tbsp. Honey, 1 Cup Water, 1 stick cinnamon. Warm ever so slightly in a pan and drink immediately. Drink 1-2X/day for two weeks on, two weeks off. Then maintain by drinking 3-4X/week thereafter. Drinking this mixture has been known to prevent flu and stomach illness, dissolve kidney stones, detoxify the body of heavy metals and toxins and regulate pH balance in the body.
5. It's a great hair conditioner. 
It may sound odd, but using apple cider vinegar as a rinse after shampooing really does work like a dream. It removes residue from the hair shaft and closes the cuticles. Just add half a tablespoon of vinegar to a cup of water, plus a few drops of essential oil if you like. Pour it on in the shower and then rinse it out. Sure, your hair will smell like salad dressing for a while, but once it's dry, the smell dissipates.
**
So there you have it! One of my all-time favorite products to have around the house. I call it my miracle potion and treat it as such. Nature has a lovely way of providing earthlings with everything we need to not only survive but also thrive! Next time you walk down the vinegar aisle, you know what to do. It sure saves me a pretty penny and has reduced my carbon footprint, too. All hail the mighty apple cider vinegar!