A Zesty Lemon Lentil Salad For The Low-FODMAP Diet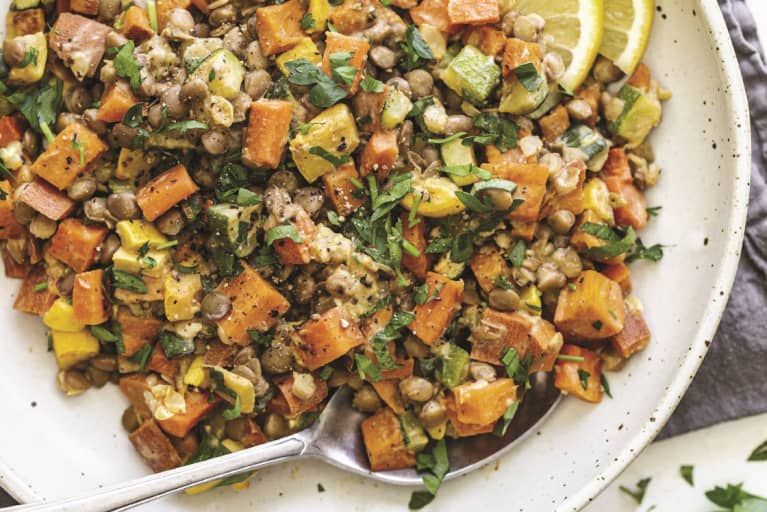 Our editors have independently chosen the products listed on this page. If you purchase something mentioned in this article, we may
earn a small commission
.
I don't know about you, but when it comes to dining in the summer, for me, some of the best memories come from picnicking. Sandwiches, fruit, and sparkling cider are all staples in any picnic basket, but it's also fun to throw in a seasonal-veggie-forward dish that features bright and bold flavors. One great example: This lemon lentil salad from The Fiber-Fueled Cookbook by gastroenterologist Will Bulsiewicz, M.D., MSCI. Not only is it low-FODMAP-friendly, but it's also packed with a variety of nutrient-dense and delicious produce that is easy on your gut.
Lentils are the base ingredient of this dish, providing a great source of plant-based protein while offering fiber and potassium, as well. As for veggies, zucchini season is in full swing, and this vibrant green veggie offers a healthy dose of vitamin A and ample antioxidants. Not to mention the blood-sugar-regulating benefits of carrots, and magnesium from yellow squash (a big win!).
"I can't decide if this is a summer salad or a fall/winter salad. The sweet potatoes and carrots feel like cooler-weather foods, but then the zucchini, yellow squash, and lemon are such classic summertime favorites," notes Bulsiewicz. "I guess it's just versatile for all seasons. What do you think?"
FODMAP note: 1 cup diced zucchini is a low-FODMAP-friendly serving.
2 cups diced sweet potatoes
2 medium carrots, diced
1 small zucchini, diced
1 small yellow squash, diced
¼ teaspoon smoked paprika
½ teaspoon ground cumin
¼ teaspoon salt, plus more for the dressing
¼ teaspoon freshly ground black pepper, plus more for the dressing
Olive oil (optional)
1 teaspoon Dijon mustard
2 tablespoons freshly squeezed lemon juice
2 tablespoons tahini
¼ cup finely chopped fresh flat-leaf parsley
1½ cups canned lentils, drained and rinsed
Preheat the oven to 400°F. Place the sweet potatoes, carrots, zucchini, and squash in a large bowl and add the paprika, cumin, salt, and pepper. Drizzle in the olive oil, then toss well to cover the mixture with the spices. Place in a single layer on a large baking sheet and bake for 25 to 30 minutes, until golden brown and tender.
While the vegetables are cooking, make the dressing. Whisk together the mustard, lemon juice, tahini, and 2 tablespoons water until creamy and smooth. Add in the parsley along with salt and pepper to taste.
Mix together the canned lentils and cooked vegetables with the dressing and serve.
Want to roast your veggies oil-free? Let's do it!
Simply steam the starchy vegetables (that is, the sweet potatoes and carrots) until just tender.
Combine them with your raw nonstarchy veggies (that is, the zucchini and squash) in a large bowl and add enough moisture to help the spices adhere.
Now add the spices (Step 1 above), mix, and set aside for 10 to 20 minutes before roasting to allow the spices to absorb moisture. Boom! Delish.
Note: If you are not following a low-FODMAP approach, add more zucchini and add 1 minced garlic clove to the dressing.
From THE FIBER-FUELED COOKBOOK: Inspiring Plant-Based Recipes to Turbocharge Your Health by Will Bulsiewicz, M.D., MSCI. Recipes by Alexandra Caspero, R.D., to be published 5/17/22 by Avery, an imprint of Penguin Publishing Group, a division of Penguin Random House, LLC. Copyright © 2022 by Will Bulsiewicz, M.D.