Why You Should Eat 2 To 3 Brazil Nuts A Day For Thyroid Health (But No More)

mbg Social Media Associate
By Olivia Giacomo
mbg Social Media Associate
Olivia Giacomo is mbg's Social Media Associate. A recent graduate from Georgetown University, she has previously written for LLM Law Review.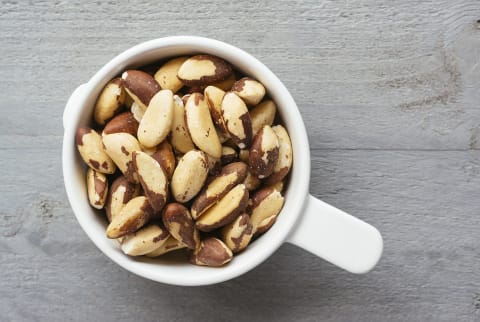 Image by Harald Walker / Stocksy
May 16, 2021
According to board-certified endocrinologist Brittany Henderson, M.D., the "best diet" for optimal well-being is entirely personal (and we wholeheartedly agree). Everyone's body reacts differently to certain foods, so it's difficult to say that one diet or eating plan truly trumps all.
This is especially the case when it comes to thyroid health: While certain food groups can be inflammatory for some, it really depends on personal experience to determine which triggers to avoid. However, there are certain foods that tend to be beneficial for a majority of people—one of which is the mighty Brazil nut.
Advertisement
This ad is displayed using third party content and we do not control its accessibility features.
Although, you don't want to munch on an entire bowl in one sitting. Rather, Henderson says on the mindbodygreen podcast that just "two to three Brazil nuts a day" is more than enough for thyroid health. Below, she explains why less is more.
Why you should eat 2 to 3 Brazil nuts a day.
According to Henderson, "Selenium is a vitamin that is good for peripheral conversion of thyroid hormone1, so it's good to help with the thyroid axis... It also is an antioxidant, so it helps with oxidative stress at the level of the thyroid."
Meaning, it can fight free radicals and lower inflammation, which has been shown helpful for many people struggling with thyroid dysfunction. Brazil nuts, it turns out, are the highest known food source of selenium2.
Sounds great! So why does Henderson mention the two- to three-nut limit? Well, Brazil nuts are so remarkably high in the trace element, that it's actually quite easy to overdo it. The U.S. Department of Health & Human Services recommends 55 micrograms of selenium per day for adults3, and just one Brazil nut can have between 68 and 91 micrograms4—so just one nut already exceeds the recommendation.
Plus, overdoing the selenium can lead to some unfavorable symptoms (like rashes, dizziness, and nausea4). So if you're already getting selenium sources into your diet—think yellowfin tuna, halibut, sardines, and sunflower seeds—you might not want to add a whole bowl of Brazil nuts to the mix. According to research, eating just two Brazil nuts a day5 can help you get adequate levels of the nutrient. We repeat: Sometimes less truly is more.
The takeaway.
Incorporating Brazil nuts into your diet is an excellent way to bolster your thyroid health (here's a recipe to get inspired!). However, because they are so high in selenium, you only need two or three to reap the benefits. Of course, always make sure to speak with your doctor if you have any questions or concerns about changing up your diet—even if you're just adding in two nuts per day.
Want to turn your passion for wellbeing into a fulfilling career? Become a Certified Health Coach! Learn more here.
Advertisement
This ad is displayed using third party content and we do not control its accessibility features.