If You Have Itchy Skin, Make Sure You're Getting Enough Of This Ingredient

mbg Beauty & Wellness Editor
By Jamie Schneider
mbg Beauty & Wellness Editor
Jamie Schneider is the Beauty & Wellness Editor at mindbodygreen. She has a B.A. in Organizational Studies and English from the University of Michigan, and her work has appeared in Coveteur, The Chill Times, and Wyld Skincare.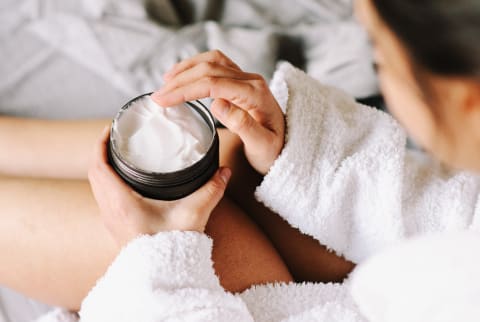 Image by Sky-Blue Images / Stocksy
June 24, 2022
If you frequently deal with itchy, tight, inflamed skin, you likely have a few hero ingredients on lock. Perhaps you always keep a vat of shea butter on your bedside table or never leave home without a tube of aloe—when itchy skin strikes, it helps to have the immediate skin soothers close by.
Allow me to add another skin savior to the roster: oat oil. If you haven't yet tried this smooth, liquid gold of an ingredient, you're in for a treat.
Advertisement
This ad is displayed using third party content and we do not control its accessibility features.
Why oat oil is A+ for itchy skin.
Oats have major skin care benefits—some people even swear by soaking in a lukewarm bath steeped with oats. But if you don't feel like brewing an oatmeal bath, using oat oil-infused products can give you a lot of bang for your buck.
How so? Well, oat oil is extracted from the highly nutritious seed kernels of the Avena sativa or oat plant, which means it has a remarkably high lipid content. "The lipid component of colloidal oatmeal is oat oil," says board-certified dermatologist Hadley King, M.D., about the ingredient, so by extracting the nutrient-rich oil, you're getting the most out of its fatty acid content.
And fatty acids are beloved skin care heroes, especially for those who have a weakened lipid barrier (people with itchy skin typically do). Oat oil is particularly high in linoleic acid, a fatty acid that "helps regulate and promote healthy functioning of the skin barrier," adds board-certified dermatologist Tiffany Jow Libby, M.D. In other words: Slathering on oat oil can be just as powerful as sinking into an anti-inflammatory oatmeal bath. Just, you know, way less work.
You can always apply straight oat oil onto your skin post-shower—just make sure the skin is damp so the occlusive has some moisture to trap. Or you can find an oat-oil-infused body lotion for a hit of hydration any time of day. The fatty acid-rich oil is a star ingredient in our postbiotic body lotion, along with other skin-conditioning agents, like coconut oil, shea butter, squalene, aloe, and moringa seed oil.
Plus, the cutting-edge pre- and postbiotic combo nurtures your skin microbiome, which improves epidermal framework and soothes inflammation—perfect for those with itchy, irritated skin. No lie, whenever I massage it onto the backs of my arms (which tend to become dry and itchy), I audibly sigh in relief.
Advertisement
This ad is displayed using third party content and we do not control its accessibility features.
The takeaway. 
Oat oil is supercharged with lipids, making it a wonder ingredient for those with sensitive, itchy skin. Find a lotion infused with the calming skin care hero, and you'll see why: It instantly soothes, conditions, and strengthens the barrier.