Why A Manuka Honey Mask Is The Best Thing To Ever Happen To My Face
mbg Health Contributor
By Gretchen Lidicker, M.S.
mbg Health Contributor
Gretchen Lidicker earned her master's degree in physiology with a focus on alternative medicine from Georgetown University. She is the author of "CBD Oil Everyday Secrets" and "Magnesium Everyday Secrets."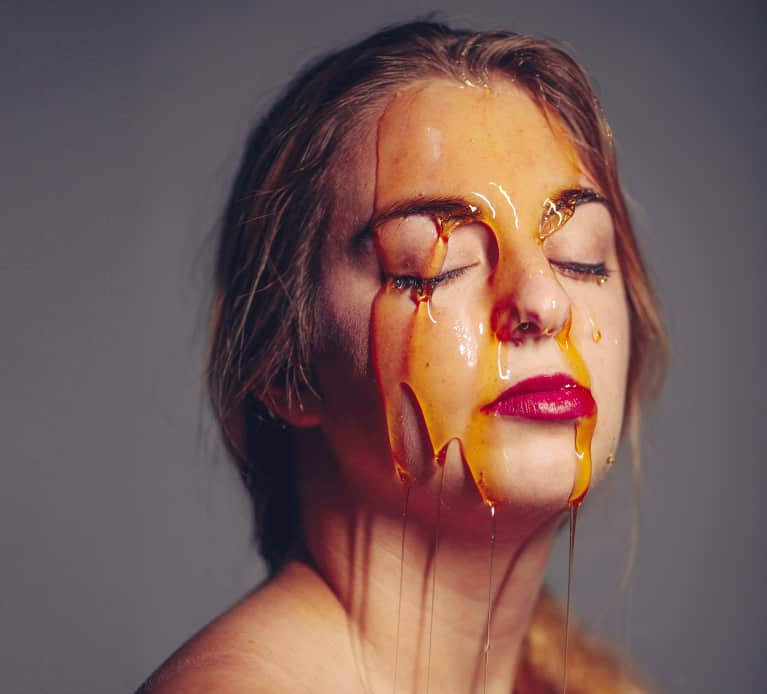 December 30, 2017 — 10:15 AM
There are so many reasons to love Manuka honey, it's hard to know where to start. It's been used as a natural remedy for thousands of years and has a lower glycemic index than other sweeteners. It's also great for digestion, and I can personally attest to the fact that it soothes symptoms of the common cough and cold (you'll often find me spooning it into my tea to soothe my throat when I'm sick). I didn't, however, know about its skin-healing properties until I found myself in the office of Dr. Cybele Fishman, an integrative dermatologist and expert in all things skin health. She suggested I try Manuka honey masks to soothe my hormonal breakouts, and what I experienced definitely surprised me.
Slathering honey on my face was not what I expected.
I was a little nervous about slathering honey all over my face, but my skin can get pretty red, irritated, and bumpy during certain times of the month, so I was willing to give it a try. Wedderspoon sent me a jar of their Raw Manuka Honey ($43.99) with a KFactor of 22. The KFactor is the authentication system used to identify and measure the complex properties that Manuka honey contains; Dr. Fishman recommended that I purchase honey with a KFactor of no less than 20 and leave the mask on for 10 minutes when my skin is flaring up. The first time I applied it, I was surprised by its texture—it's not as sticky as I thought it would be; in fact, it's more like honey icing and easily stayed on my face without any dripping.
Here's what Manuka honey did for my skin.
When I washed it off in the shower (which I recommend to reduce mess), my skin immediately felt hydrated and super soft. I didn't feel the need to apply a moisturizer that night before bed, and the next day my skin still felt soft and looked a little less red than it had the day before. After doing the masks regularly for a couple of months, I noticed that the redness and inflammation were greatly reduced and my skin felt much more hydrated. Dr. Fishman has not led me astray, and the $40 price tag per jar seemed well worth it.
So how do you explain this change in my skin? For starters, this type of honey has serious anti-inflammatory and antimicrobial properties. In fact, it's been used to heal cuts and burns for thousands of years and is even still used in hospitals today, as research has shown that Manuka can help with all phases of wound healing. In addition, the polyphenols in this special type of honey work to reinforce the skin's natural barrier, which helps it absorb moisture and explains why my skin felt happily hydrated.
Manuka honey has been a natural remedy for thousands of years.
If you've never heard of using Manuka honey for skin care, you're definitely not alone. According to a recent paper, published in Frontiers in Microbiology, Manuka honey is quickly transitioning from a folklore remedy often dismissed by the medical community to a topic that is sparking the interest of health practitioners, the research community, and many people simply looking to improve their own wellness. According to the authors of the paper, this paradigm shift is occurring for a few reasons: "First, the rise in antibiotic resistance by many bacterial pathogens has prompted interest in developing and using novel antibacterials; second, an increasing number of reliable studies and case reports have demonstrated that certain honeys are very effective wound treatments."
On top of that, the honey industry has been funding research on the healing properties of this natural product, and scientists are intrigued by the multifaceted nature of honey, which motivates them to study it. I'm definitely not the first person to benefit from the healing properties of Manuka honey, and if interest in this natural medicine continues to grow, I definitely won't be the last. In other words: We'll be seeing a lot more science on Manuka honey in the near future—and I'm going to keep putting it on my face.
Manuka honey is one of the nine things I always keep in my medicine cabinet.