Close Banner
Advertisement
This ad is displayed using third party content and we do not control its accessibility features.
Struggle With Seasonal Affective Disorder? Here's What A Neuroscientist Recommends
mbg Spirituality & Relationships Editor
By Sarah Regan
mbg Spirituality & Relationships Editor
Sarah Regan is a Spirituality & Relationships Editor, and a registered yoga instructor. She received her bachelor's in broadcasting and mass communication from SUNY Oswego, and lives in Buffalo, New York.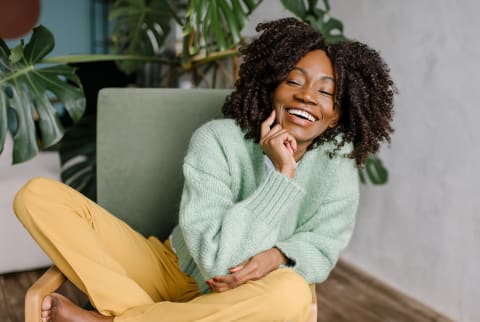 Image by Julia Volk / Stocksy
When winter rolls around, some of us are prone to seasonal affective disorder, with even more of us prone to a milder version known as the "winter blues."
These conditions can impact everything from our mood to our energy levels—but the good news is, there are a number of ways to combat the effects of SAD. Here's what a neuroscientist recommends.
How seasonal affective disorder works.
As a refresher, seasonal affective disorder (SAD) is nothing to take lightly: It's a recurring major depression with a seasonal pattern, occurring most frequently in the winter when the days are the shortest, explains neuroscientist Kristen Willeumier, Ph.D.
Roughly 6% of the U.S. population1 experiences SAD, with another 14% experiencing the less severe (but still very real) winter blues. As Willeumier tells mbg, symptoms associated with SAD include depression, low energy, fatigue, irritability, difficulty concentrating, and lack of interest in pleasurable activities.
"Those with SAD have difficulty regulating the neurotransmitter serotonin, which is responsible for balancing mood," she notes. "There may also be an overproduction of melatonin, a hormone produced by the pineal gland. An increase in melatonin production can lead to feelings of sleepiness and lethargy." And of course, a lack of sunlight means a lack of vitamin D, which is associated with depression2.
What to do about it, according to a neuroscientist:
1.
Try bright light therapy.
Willeumier tells mbg that bright light therapy has been the most widely used and extensively studied3 treatment for SAD. "It involves daily exposure to artificial light, which leads to a chemical change in the brain that lifts mood and can help with energy, sleep, and focus," Willeumier explains.
2.
Make sure you don't have a vitamin D deficiency.
Research shows that vitamin D deficiency is associated with an increase in depression. However, supplementing it has been shown in research to reduce negative emotions4. Willeumier explains that you can get more vitamin D in your diet through upping your intake of things like salmon, oysters, sardines, tuna, mushrooms, whole milk, egg yolk, and beef liver. You can also supplement vitamin D—just make sure it's a quality option. Here are our picks for the top vitamin D supplements.
3.
Get your omega-3 fatty acids.
According to Willeumier, having an optimal essential fatty acid profile does wonders for your health—and particularly your brain. "The highest concentration of essential fatty acids is in the brain; therefore, a depletion of omega-3 fatty acids can have a notable impact on brain health," she explains, including negatively impacting your mood.
Research shows that omega-3 polyunsaturated fatty acids have beneficial effects on depression, with dietary sources including wild salmon, mackerel, tuna, herring, sardines, oysters, anchovies, walnuts, flaxseed, hemp, sunflower, chia, and pumpkin seeds, Willeumier notes. This is another option that can be supplemented; check out these high-quality omega-3 supplements to start.
If you're experiencing SAD or the winter blues, the prospect of working out might not sound too enticing. But believe us when we say it will help! As Willeumier explains, aerobic exercise interventions in treating SAD have been found to reduce depression severity. And what's more, she adds, "A nationwide study published in ​Lancet Psychiatry5​ in 1.2 million adults across the U.S. reported that those who engaged in exercise had 43% fewer self-reported mental health issues."
Last but not least, if you're struggling with SAD, it might be worthwhile to talk to your doctor about a path forward. SAD is, after all, associated with dysfunction of serotonin regulation, Willeumier explains, so treatment with selective serotonin reuptake inhibitors (SSRIs) may help.
"SSRIs can also be combined with light therapy to improve remission rate," she adds, noting that serotonin-rich foods like sweet potatoes, avocados, plums, bananas, tomatoes, eggplant, walnuts, and pineapple can also help boost your serotonin levels.
The takeaway.
Winter can be an incredibly challenging time if you're someone who struggles with seasonal affective disorder, and the irony is, when you're experiencing SAD, you may not even be particularly motivated to do the things that would make you feel better. But with simple options like SAD lamps, supplements, and mood-boosting foods, it is possible to beat (or at least subdue) those winter blues.
Sarah Regan
mbg Spirituality & Relationships Editor
Sarah Regan is a Spirituality & Relationships Editor, a registered yoga instructor, and an avid astrologer and tarot reader. She received her bachelor's in broadcasting and mass communication from State University of New York at Oswego, and lives in Buffalo, New York.