Exactly What A Stanford-Trained MD Eats In A Day For Blood Sugar Balance

mbg Associate Beauty & Wellness Editor
By Jamie Schneider
mbg Associate Beauty & Wellness Editor
Jamie Schneider is the Associate Beauty & Wellness Editor at mindbodygreen, covering beauty and wellness. She has a B.A. in Organizational Studies and English from the University of Michigan, and her work has appeared in Coveteur, The Chill Times, and Wyld Skincare.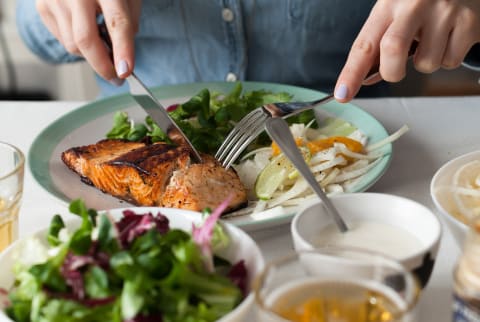 Image by Davide Illini / Stocksy
October 25, 2021
We can certainly number off blood-sugar-balancing foods (and we frequently do!), but at the end of the day, it's up to you to find what works for your body. For example: Some people do just fine after eating beans; others find their glucose spikes through the roof. All that to say, when it comes to blood sugar balance, a day of eating looks different for everyone—but that doesn't mean we can't take inspiration from experts' menus.
Advertisement
This ad is displayed using third party content and we do not control its accessibility features.
"With any meal, I'm thinking about what components I want to get into my body for optimal cellular health," says Stanford-trained physician and co-founder of Levels Casey Means, M.D., on the mindbodygreen podcast. For her, healthy fats, fiber, protein, and tons of micronutrients from colorful, nourishing plants make it into every recipe. "I think more in a modular sort of way when building a meal and less about the exact dish," she adds.
But if she had to pick a few favorites, this would be her daily spread:
Breakfast
In case you haven't heard, Means is a fan of savory breakfasts. In fact, she considers the switch from sweet to savory the best life hack for balancing blood sugar (especially if your sweet breakfasts typically include lots of refined carbs and sugar).
"[I enjoy] things like a free-range egg scramble with avocado and some sautéed greens, maybe some smoked salmon with eggs and some greens," she says. "I love to do a tofu scramble with some nutritional yeast and a bunch of veggies, maybe even some beans. It's really about leaning into that savory, lower-carbohydrate, less sweet [dish]."
You don't even have to incorporate traditional "breakfast" foods at all—who says you can't enjoy a filet of salmon and some greens for your morning meal? A nourishing breakfast is the most important meal of the day, and especially when it comes to metabolic health—so make sure your dish sets you up for a healthy, balanced morning.
Advertisement
This ad is displayed using third party content and we do not control its accessibility features.
Lunch
"Identify the culprits in terms of glucose spikes, and then just either take them out or swap them—that's the framework I would approach lunch with," says Means. Let's take a typical lunch wrap or sandwich, for instance: "A sandwich might have vegetables, hummus, and a protein in there, but then the bread or the wrap essentially thrives the glucose spike," she explains.
To mitigate this spike, she'll swap the bread or wrap for a grain-free alternative, like ones with cassava flour (which does still spike some people, we should note, so it's important to mind personal nutrition here), collard greens, or butter or iceberg lettuce. Sometimes she'll even use shaved jicama or nori sheets for her wraps. "There are lots of ways to get the same thing that you love without the glucose spike."
Dinner
Again, Means leans on swaps for her evening meals. "I've actually switched completely to cauliflower rice sushi, which I make at home," she shares. "It's so easy and super delicious." For her, the simple swap offers zero glucose spike, as opposed to the 80-point spike she typically sees with white rice sushi. You could also opt for quinoa sushi—registered dietitian Nour Zibdeh, M.S., RDN, calls quinoa one of the healthiest carbohydrates for blood sugar because of its high-protein and fiber content—or a veggie-packed poke bowl.
"Of course I will still have regular sushi every once in a while at a great restaurant," Means says. "But for the day-to-day, weekly meals at home, that's a swap that can basically cause the spike to be gone."
Advertisement
This ad is displayed using third party content and we do not control its accessibility features.
Dessert
For a rich, decadent dessert (with blood-sugar-balancing properties, too!), Means loves a chocolate chia pudding. "Chia is such an amazing superfood," she says. "It's got so much fiber and protein in just 2 tablespoons." You can customize your chia however you like (nut butter, berries, what have you), but Means is partial to this simple recipe: "I'll [add] some berries and coconut in a coconut-cocoa chia pudding. These are all things I know that are delicious but do not spike my blood sugar."
Find the full recipe here, and thank us later.
The takeaway.
The specific dishes may change from day to day, but Means always incorporates the blood-sugar-balancing basics: fiber, protein, and healthy fats. Feel free to take the above as your inspirational menu, and a few dishes might work for your personal glucose levels, too.
Advertisement
This ad is displayed using third party content and we do not control its accessibility features.