Behold: This Is An MD's Favorite Dessert That Won't Spike Your Blood Sugar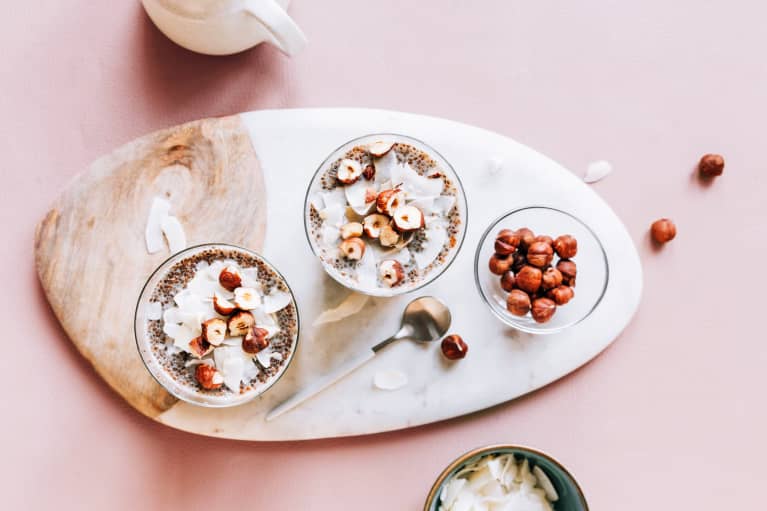 In a perfect world, you might stick to blood-sugar-balancing foods rich in protein, fiber, and healthy fats, eat dinner earlier in the evening, and get plenty of high-quality sleep. Balancing blood sugar is important for metabolic health, but sometimes, well, life happens—and you may indulge in a sweet after-dinner treat or spend a late night with friends. Your mental health is a vital component of your overall well-being, so if sharing a dessert with some loved ones makes you feel good, who are we to deprive you of that joy?
Although, if you really want to focus on avoiding glucose spikes, you could opt for protein- and fiber-rich desserts that actually have blood-sugar-balancing properties. For example, Stanford-trained physician and co-founder of Levels Casey Means, M.D., has her go-to recipe: "At dinner parties, I'll sometimes serve a really fancy chia pudding," she shares on the mindbodygreen podcast.
Behold: This is not your typical breakfast chia. It's a pudding so decadent and rich, it will satisfy your sweet tooth without sending your blood sugar sky-high.
How to make Means' fancy chia pudding.
Of course, the star ingredient here is chia: "Chia is such an amazing superfood," says Means. "It's got so much fiber and protein in just two tablespoons." Fiber is especially top-notch for slowing digestion and preventing blood sugar spikes—in fact, a 2016 study in the journal Nature shows that eating chia could slow down the glucose response.
"I'll [add] some berries and coconut in a coconut-cocoa chia pudding," Means says. "These are all things I know that are delicious but do not spike my blood sugar." That said, let's dive into the recipe (we're offering measurements for one serving here, but feel free to double or triple the recipe for a dinner party of your own).
2 tablespoons chia seeds
1 cup milk of choice
1 tablespoon raw organic cocoa powder
Monk fruit or allulose sweetener to taste (optional)
Handful of fresh berries
Handful of coconut flakes
Combine the chia seeds, milk, cocoa powder, and sweetener (if using) in a jar. Give it a good stir, then cover with a lid.
Place in the fridge to sit for at least 30 minutes, or overnight for the creamiest results.
To serve, scoop out the mixture into a bowl (or eat it straight from the jar) and top with berries and coconut flakes.
With sweets, there are tons of ways to get creative: With so many alternative options these days, you can recreate your favorite dessert classics and keep your blood sugar stable (Means also loves baking black bean brownies and chickpea cookie dough, by the way). This particular chia pudding is creamy and smooth, just like a rich chocolate mousse.