Introducing: The Key To Your Full-Body Barrier & Biome Protection
mbg Beauty Director
By Alexandra Engler
mbg Beauty Director
Alexandra Engler is the beauty director at mindbodygreen and host of the beauty podcast Clean Beauty School. Previously, she's held beauty roles at Harper's Bazaar, Marie Claire, SELF, and Cosmopolitan; her byline has appeared in Esquire, Sports Illustrated, and Allure.com.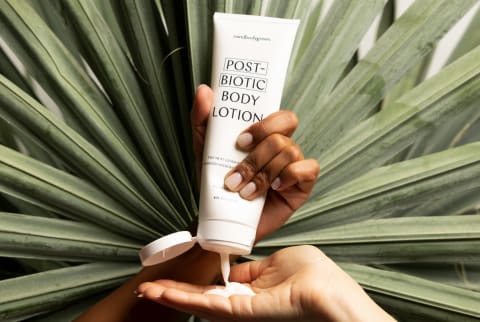 December 14, 2021
Taking care of your body should feel intuitive. Taking care of your body should be unique to your needs, wants, and preferences. Taking care of your body should feel good. And taking care of the skin on your body should be a priority.
Recently, we shared with you that we were starting a new and exciting journey of developing personal care products. It started with our postbiotic hand cream, a dense yet fast-absorbing number to keep your hands moisturized and healthy. And now we're introducing this new, velvety smooth, and ultra-hydrating body lotion—taking our skin microbiome-supporting actives to your entire body.
Welcome to the collection, mindbodygreen's postbiotic body lotion. It's the latest installment of our growing personal care line and is the silkier full-body counterpart to the instantly popular hand cream. When we first launched personal care, I spoke very proudly about how high the standards we set ourselves are when crafting up our formulas—and of course, that same care and intention went into the making of this product.
Why focus on the biome with postbiotics? 
The skin microbiome is your body's living, dynamic shield that is a vital part of your skin barrier function. Much like your gut microbiome has a huge impact on your overall health, your skin's microbiome does too. (I can go on and on about how important it is, and I have in much of my writing, but our skin microbiome guide is such an excellent explainer, I encourage you to check it out if you're looking for more information.) And while biome-forward skin care isn't new, in the past it lacked efficacy and true innovation. It relied on basic understandings of the microbiome and the public's lack of education on the nuances between the types of organisms, their functions, the various echo-niches, and the complicated nature of creating a topical formulation that proved stable.
But the science is evolving in real time—and I did a deep dive into the changes in the space recently as part of our 2022 wellness trends. And one area of notable discovery is high-tech and highly selective postbiotics. Created from pre- and probiotics, postbiotics are the most advanced version of microbiome skin care yet.
Your body makes postbiotics naturally, as they are the natural byproduct of the living organisms on your skin (probiotics) feeding on prebiotics: They are things like fatty acids, peptides, and enzymes that ensure your skin functions properly. One of the things I find most beautiful about the skin is how it works synergistically with the little organisms who call it home: The probiotics create beneficial, nourishing outputs—and in turn, the skin itself becomes a more hospitable place for those organisms to live.
However, when your skin's microbiome is off—it may not be producing these much-needed outputs as effectively. And the problem is that so much in mainstream skin care and modern living disrupts that microbiome and the skin barrier, making a less than ideal environment for both.
That's where applying postbiotics topically comes in. See, in the past, biome skin care was all about using probiotics, with the idea being if you could replant bacterial strains on the skin you'd solve the problem. However, probiotics are by definition living: Living things can't survive in topical formulations and their preservative systems used. So the biome-conversation was seemingly at a standstill.
But recently researchers have been able to identify very specific postbiotics that can achieve beneficial outcomes, such as calming the skin, reducing inflammaging, improving hydration levels, and supporting epidermal framework regeneration. Once those postbiotics were selected for their benefits, they were able to create next-generation biome actives that could be formulated into topical emulsions. And that's how they ended up in our body lotion and hand cream. For added biome support, we also included an algae-derived prebiotic that nurtures the microflora already present on the skin.
But what else is in it? 
But, of course, no body lotion is complete without a hydrating base. Ours contains a blend of certified organic aloe vera, coconut oil, shea butter, oat oil, and moringa seed oil—all botanicals selected for their conditioning qualities and decadent sensorial appeal. We included a variety, so they could all bring their own unique properties to the final product. The aloe vera acts as a humectant, attracting and holding water. Oat and moringa oil are beautiful emollients that soothe and soften the barrier. Coconut oil and shea butter lend the lotion its smooth texture while helping trap in the moisture underneath.
But then we also include antioxidants, such as stabilized coenzyme Q10 and a fruit complex, to protect skin from free radicals. The fruit complex is made of watermelon, lentil, and apple stem cells and provides an impressive assortment of benefits. These extracts contain antioxidants to boost this cream's free-radical-fighting power and protective benefits. Together, they create a complex that delivers a wide range of skin-supporting nutrients and benefits like citrulline and polysaccharides for water retention, vitamin B5 to smooth skin, and trisaccharides to enhance epidermal barrier function.
Our personal care standards. 
We believe in using only the highest-quality ingredients. If you've shopped our supplements, you likely know this to be true: Every bioactive and phytonutrient that goes into those formulas is curated with intention and exactness. We don't mess around with our efficacy or responsibility. So when we started looking into topical formulations, we knew we had a high bar.
While there is no regulated definition of "clean," we believe it has become a useful term for consumers to identify formulas that align with their wants. Every brand, retailer, and organization has its own set of standards of their version of clean—and we have always encouraged people to look for brands that match up with their own standards.
We excluded many of the common ingredients buzzed about currently, including parabens, phthalates, mineral oils, petrochemicals, formaldehyde and formaldehyde releasers, silicones, BHA, BHT, and over 1,000 other ingredients regulated by the European Union. We also use an eco-cert-verified natural preservative system that has been tested to keep it free from microbial contamination—as pathogenic bacteria are just as harmful as any "toxic" ingredient.
But in the formulation process, we actually didn't start by outlining what we didn't want. To us, creating a clean product with integrity was the baseline. So instead, we started by outlining the ingredients we did want. We wanted natural botanicals, naturally derived actives, and responsible synthetics. We wanted ingredients that were shown to be well tolerated by most people. We wanted high-tech, innovative actives that would nurture the skin microbiome and barrier. We wanted nutrient-dense botanicals that gave your skin antioxidants, lipids, and fatty acids. And once we outlined all of this, we were able to craft formulas with intention. See, we have always found that when you approach an endeavor from a place of abundance—not restriction—you're better able to thrive.
In addition to that, we want to make sure that we are selecting as eco-friendly packaging that was available to us. We're going to be honest with you: Making this collection as sustainable as possible was not easy. Many times throughout the process we were faced with hard choices in terms of packaging, supply chain, shipping (i.e., contributing to the carbon footprint), and more. But each time, we never took the easy way out—we always went with the most sustainable option available even if it cost us time and resources.
This is housed in a sugar-cane bioplastic, a plant-based polyethylene. The sugar cane is sustainably harvested and even helps remove three times its weight of CO2 from the air in the process. The polyethylene is FDA approved, BPA free, and 100% recyclable. And it is shipped to you in boxes that are made from 100% recycled paper and are fully curbside recyclable as well. We also manufacture our formula in a plant powered by 100% wind energy. As we move forward, we will make changes when new green technology becomes available to us.
I know you'll love this body lotion.
I have been testing and trying several versions of this body lotion for about two years. The one we landed on, and the one that you'll be applying to your skin, is hydrating, softening, and effective. Instantly, skin looks better—more luminous and quenched. But then it improves the look and feel of skin over time and as you use it: Your skin barrier and biome begin to function more thoroughly—how they are supposed to.
I don't go a day without applying this lotion. It is such an important part of my body care ritual. I hope it finds a way into yours.
Alexandra Engler
mbg Beauty Director
Alexandra Engler is the beauty director at mindbodygreen and host of the beauty podcast Clean Beauty School. Previously, she's held beauty roles at Harper's Bazaar, Marie Claire, SELF, and Cosmopolitan; her byline has appeared in Esquire, Sports Illustrated, and Allure.com. In her current role, she covers all the latest trends in the clean and natural beauty space, as well as lifestyle topics, such as travel. She received her journalism degree from Marquette University, graduating first in the department. She lives in Brooklyn, New York.