The One Drink This Nutritional Psychiatrist Turns To When Anxiety Strikes
Assistant Managing Editor
By Abby Moore
Assistant Managing Editor
Abby Moore is an assistant managing editor at mindbodygreen. She earned a B.A. in Journalism from The University of Texas at Austin and has previously written for Tribeza magazine.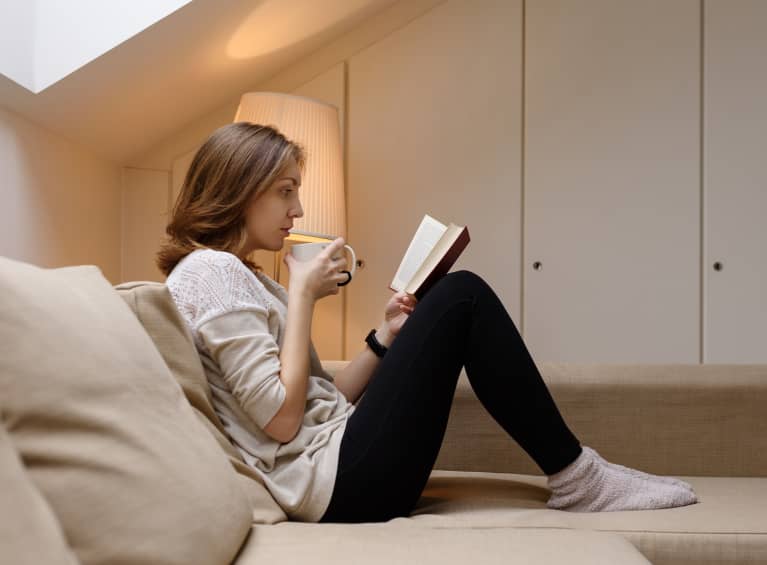 Our editors have independently chosen the products listed on this page. If you purchase something mentioned in this article, we may
earn a small commission
.
Whether you were prone to stress and anxiety before 2020, or the events of the past year and a half triggered first-time mental health issues for you, it's likely that somewhere along the way you felt a loss of control.
Though true and deep healing looks different for everyone, it usually requires support from loved ones and/or professionals, along with the adoption of healthy coping mechanisms. For Uma Naidoo, M.D., nutritional psychiatrist and author of This Is Your Brain On Food, that looks like drinking a warm, comforting golden latte.
That's right: "A golden latte is my go-to anxiety hack," she tells mbg.
Mental health benefits of golden lattes. 
A golden latte, otherwise known as golden milk or a turmeric latte, describes a milk-based beverage that's seasoned with spices—most notably turmeric to give it that signature golden hue. "I use my beloved grandmother's chai recipe for all the added spice benefits, too," Naidoo says.
Along with the warm and nostalgic factor, turmeric lattes have science-backed mood-enhancing benefits. Curcumin, the active ingredient in turmeric, is a powerful antioxidant. And since many cases of depression are rooted in inflammation, the anti-inflammatory effects of turmeric may be protective against it. Researchers have even gone so far as to call curcumin a "useful and potent natural antidepressantapproach," because of its ability to increase serotonin and dopamine levels in the brain.
"My tip: Always add a pinch of black pepper to turmeric, which enhances the absorption of curcumin 20-fold," she tells us.
So, if you're looking to enhance your mood or ground yourself in the midst of a stressful day, pause and make Naidoo's (well, her grandmother's) turmeric chai latte recipe.
Mood-Boosting Golden Latte
1 cup almond milk (or oat milk for creaminess)
1 teaspoon turmeric powder
½ teaspoon raw honey
¼ teaspoon grated nutmeg
1 pinch black pepper
Heat all of the ingredients, except the nutmeg, in a medium saucepan over medium heat.
Let it heat for about 5 minutes.
Pour into your favorite mug.
Sprinkle with nutmeg, and enjoy!