This Week Will Activate Your Inner Social Butterfly, Astrologers Say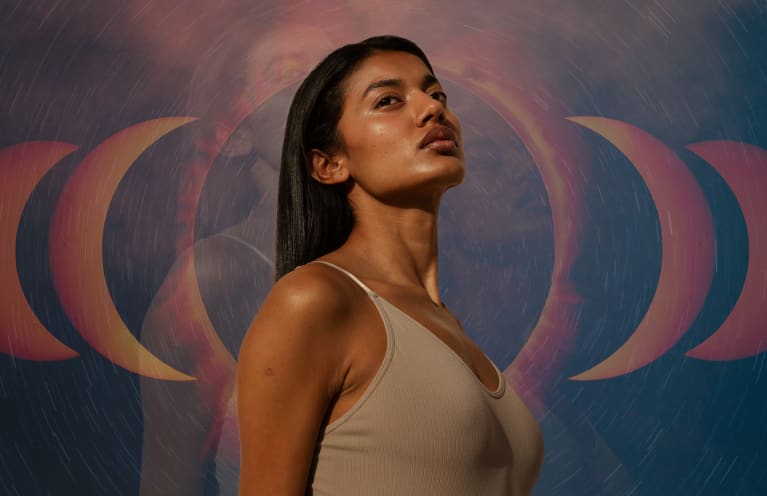 Gemini season kicks off this week—in the midst of a Mercury retrograde. Here's how to navigate the buzzy and sometimes befuddling energy, according to the AstroTwins.
The week begins with a total lunar eclipse that's already underway at the stroke of midnight on Monday, May 16.
In Scorpio, it's certain to stir up all sorts of esoteric intensity that could take weeks to parse through. Some of these intriguing developments could arouse your erotic impulses or inspire you to do things that help you feel a lot more comfortable (and seductive!) in your own skin. But in order to achieve that, you might also need to be a bit more discerning about who and what you get involved with. Hold out for the best, even if that means exerting willpower you didn't even know you could muster.
If you catch yourself in a lucid dream, don't panic! It's just the befuddling, biennial conjunction of aggressive Mars and passive Neptune this Wednesday, May 18.
As they meet up at the same degree of Pisces for a totally awkward dance, it's hard to tell an oasis from a mirage. That's a good reason to hold off on making any binding decisions, especially if fear or FOMO kicks in. Wait a few days until the fog of Neptune burns off—no matter how impatient Mars is making you feel! What this every-other-year transit is good for? Getting in touch with the "peaceful warrior" inside you. Mars is a planet of action, while Neptune rules compassion: How can you stand up for what you believe in while turning enemies into friends? This daunting task is worth taking on!
Two is everyone's favorite number starting Friday, May 20, as the Sun beams into Gemini until June 21.
But that's not to say three, four, or five is a crowd! This buzzy solar season turns us all into social butterflies, fluttering from one entourage to another.
This solar cycle is known to heat up neighborhood activity. Considering bi-city living? Test the commuter waters and see how it flows. In the sign of the Twins, it's fun to have a plus-one as a companion for all favorite activities. Find a buddy for working out, going to shows, or sharing services like babysitting and carpooling. (Note: You can have different "twins" for each activity!) As the cosmic communicator, Gemini gets us excited to write, broadcast, and make media. Get ideas out of your head and into the world!
But remember! Mercury is still retrograde until June 3, so you'll want to think through every word until then. And starting Sunday, details become ever-more devilish as Mercury slips back one zodiac sign, from buzzy Gemini into business-first Taurus. For the rest of its retreat—until June 3—we'll feel the plodding, stubborn slowdown of the Bull at play. Pro tip: If a string of green lights suddenly turns red, don't charge ahead like a tempestuous toro! Instead, see this forced timeout as a hidden blessing. Go back to the drawing board and review all your plans, from budgets to timelines. Don't make any sudden money moves! With Mercury scrambling signals, it's hard to tell a lemon from a luxury steal.