A Running Coach's Guide To Completing Your First 5K
mindbodygreen Editorial Assistant
By Sarah Regan
mindbodygreen Editorial Assistant
Sarah Regan is a writer, registered yoga instructor, and Editorial Assistant at mindbodygreen. She received her bachelor's in broadcasting and mass communication from SUNY Oswego, and lives in Brooklyn, New York.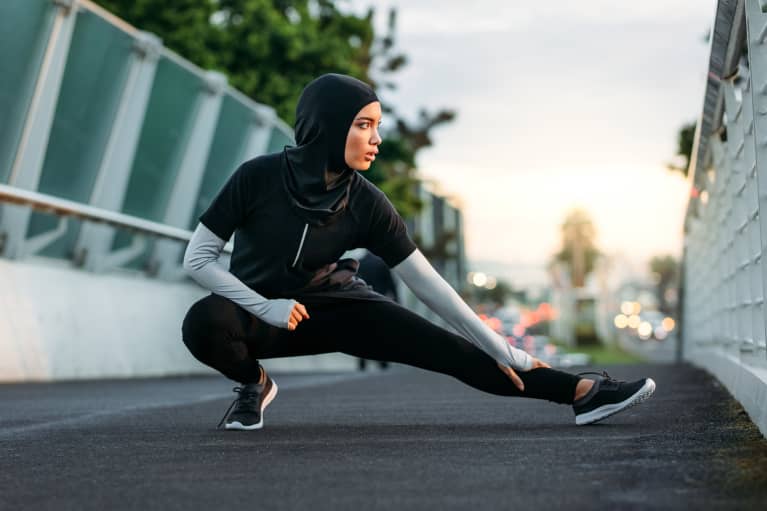 Whether you're completely new to the running game or you've just fallen off the wagon for a little bit, getting started on a new running routine can feel daunting and overwhelming. And if you have a particular goal in mind, like running a 5K (3.1 miles), you may have a lot of questions about how to get there.
How long is it going to take to get into shape? How long does it even take to run a 5K? What workouts should I be including throughout training?
To answer all the pressing questions that come with training for a 5K, we got in touch with running coach and personal trainer Elizabeth Corkum, aka Coach Corky. Here's what she had to say about tackling a 5K for the first time.
We asked Corkum how long it may feasibly take someone to build their endurance to 5K ability, to which she was sure to emphasize the importance of consistency. "Like anything, adaptation takes consistency and time," she says.
But according to her, "training to complete a 5K is easier than most people think! I would plan on six to eight weeks to safely build from nothing to a 5K with minimal aches, pains, and injury risk. If the person has an athletic background, adaptation can usually be a faster process and it may take four to six weeks."
Warming up and adding variety.
As far as a customized training plan, you'll need a personal trainer for that. But for ideas to get you on the right track, Corkum says to start small and easy. "This may mean three 20-minute walks or runs in the first week on nonconsecutive days," she says. "To a body that's not used to running or even walking that much, it's going to be enough."
She also recommends adding in some variety, to target different muscles but also just to keep things interesting. "Add in some things like striders or hill repeats to build fitness, running economy, turnover—and it's simply fun!"
As far as warming up and cooling down, "Ease into the workouts. A dynamic warmup is best at the beginning, while a static warmup should always be saved for after the workout, when muscles are warm. Dynamic warmups can consist of marches, butt kickers, leg swings, and jumping jacks. Static stretches for the cool-down can consist of calf, quad, glute, and hamstring stretches."
And speaking of stretching, "Yoga, strength training and cross training can greatly benefit the 5K goal," Corkum adds. "Cross training (elliptical, swimming, biking, rowing, etc.) are great alternatives, and use the body in a way that complements running while also mixing up the demand on the body."
The bottom line is anyone can reach that finish line 3.1 miles away—with a little effort. Switch up your routine to work your whole body, approach your goals realistically to avoid injury, and prioritize your training as you would anything else that's important to you.
"Creating a new habit takes time, and it's easy to lose momentum," Corkum says. "Mix up your running route to keep it interesting. Recruit a buddy for a run—this makes it social, and the accountability speaks for itself. And celebrate the little victories along the way," she adds. "Those new accomplishments and milestones should be celebrated!"
And Corkum's final piece of advice? "Start where you are, accept where you are, and understand things will change pretty quickly."
For more running inspo, check out these 13 science-backed reasons to hit the track.