Vegan Leather Purse Shopping Guide: The Pros, Cons & Top Brands

mbg Sustainability + Health Director
By Emma Loewe
mbg Sustainability + Health Director
Emma Loewe is the Senior Sustainability Editor at mindbodygreen and the author of "Return to Nature: The New Science of How Natural Landscapes Restore Us."
Last updated on January 12, 2023
Our editors have independently chosen the products listed on this page. If you purchase something mentioned in this article, we may
earn a small commission
.
A purse is an everyday wardrobe staple that can say a lot about the person carrying it.
If you're hoping that yours tells the world you have a classic style—but also care about animal livelihood—vegan leather purses are probably on your radar.
Shopping for a vegan purse that will spare animals without destroying the environment? We've got those in the bag.
Here are the pros and cons of this material, plus some of our favorite brands.
Advertisement
This ad is displayed using third party content and we do not control its accessibility features.
The pros and cons of vegan leather purses.
Vegan leather is not made from animals—a win for vegans and those concerned about animal cruelty in the fashion industry. It also avoids some of the greenhouse gas emissions associated with raising livestock.
And while conventional leather often needs to be treated with dangerous chemicals like formaldehyde1, vegan leather doesn't require the preservative.
Instead, vegan leather mimics some of the positive qualities of leather—durability, breathability, flexibility, wrinkle-resistance—using materials other than animal skin. So, what are those? What does the "P" in the infamous pleather stand for?
More often than not, vegan leather is made from polyvinyl chloride (PVC) or polyurethane (PU). "In other words," Preeti Gopinath, a textile designer and associate professor at Parsons' School of Fashion tells mbg, "it's plastic."
And as we all now know, plastics derived from fossil fuels come with a number of environmental concerns. They are energy-intensive to produce, difficult to responsibly dispose of, and tend to linger in the environment for a long, long time. From this standpoint, vegan leather is not the most sustainable material.
Part of what makes it so difficult to create a truly sustainable vegan leather—one that is petroleum-free and biodegradable—is that it takes chemicals to achieve many of the impressive qualities of leather.
As Gopinath points out, biodegradable fabrics are meant to degrade in sun, wind, and water, yet we want our leather alternatives to stand up to all of these elements when we use them.
"We are asking the material to do too many things," she says. "We are asking it to be biodegradable and resist water and sun. If it has to resist all of that, obviously it won't be biodegradable."
At the end of the day, sustainable stylist Cassandra Dittmer agrees that comparing vegan leather to animal leather is a bit like comparing apples to oranges. They're different, and one isn't inherently better than the other from an environmental perspective.
Which one you choose will require you to weigh the pros and cons, and then decide which qualities you value most.
Advertisement
This ad is displayed using third party content and we do not control its accessibility features.
Pros:
Cruelty-free
Long-lasting
Can be affordable
Cons:
Often slow to degrade in the environment
Often chemical-intensive to produce
Often contains plastic
Advertisement
This ad is displayed using third party content and we do not control its accessibility features.
Things to look for.
Pleather purses are long-lasting. That's a negative if they're sitting in a landfill but a positive if they're sitting in your closet. So if you are going to buy a vegan purse made from plastic material, the best thing you can do is find one you'll want to own for life.
"I will be the first person to say: Use nylon, use polyester, use these synthetics—but only if you're not going to throw them away," Gopinath says.
You'll also want to be careful how you care for your keepsake, as plastic microparticles can be shed in the wash and pollute waterways. Thankfully, this isn't as much of a concern with synthetic purses as it is with, say, bathing suits.
To guide your shopping, Dittmer points out that some vegan leathers made from PVC and PU incorporate recycled materials, like plastic water bottles. Better yet, there are also a number of up-and-coming vegan leather materials that are made from plants and not plastics.
"Piñatex is a common one from pineapple leaf fiber that has made its way to a bunch of big brands," Dittmer says, and leather made from mycelium hides and algae coating are also in development.
Gopinath is excited to see some of her own students working on these bio-based, plastic-free leathers, though she notes that it will take time and money for them to become as affordable, accessible, and readily available as animal leather. In the meantime, they tend to be tougher to find and cost a pretty penny.
Brand recommendations.
If you are willing to splurge on a vegan purse made mostly from plants, we rounded up some of the best options out there.
They are made using the best and brightest in renewable, plant-based materials, or recycled plastic materials where that isn't possible.
If you're not quite ready to shell out, we also included some more affordable polyurethane (PU) options that are responsibly made and easy to love for life.
Each brand also has some sustainability perks of its own, like low-waste packaging or a philanthropic commitment.
Advertisement
This ad is displayed using third party content and we do not control its accessibility features.
Best tote: Santos Agave Triangular Tote in Green
Main material: Cactus fiber
Price: $250
The outside of this funky purse is handcrafted from cactus fiber "leather," while the inside is lined with a blend of cotton and recycled plastic bottles. For each handbag sold, Santos also plants a tree with One Tree Planted.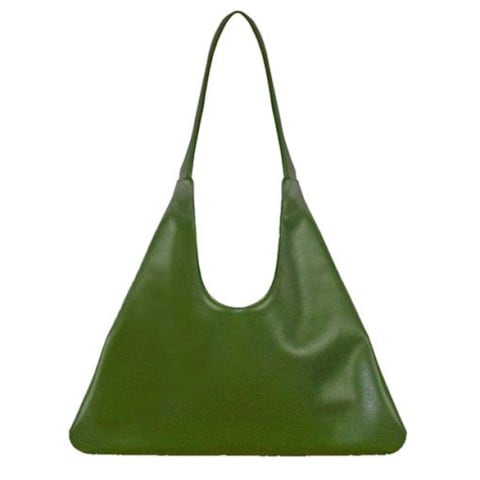 Santos
Best messenger bag: von Holzhausen The Sac
Main material: Bamboo fiber
Price: $295
This casual messenger bag may look like real leather, but it's actually made using quick-growing bamboo fiber that's been processed into yarn. Its interior is made from recycled plastic.
von Holzhausen The Sac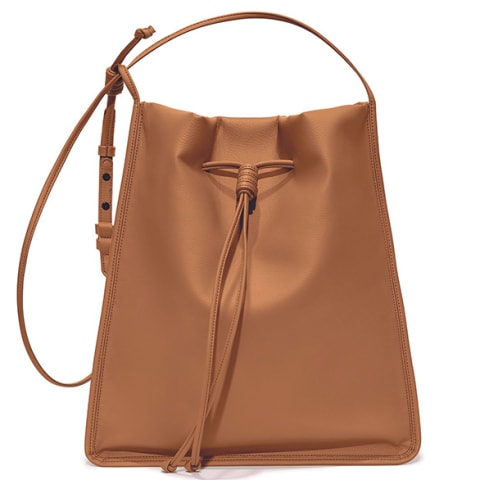 von Holzhausen
Best work bag: Alexandra K Model 1.4
Main material: Byproducts from the wine industry
Price: $346.14
This bag is worth the splurge for its transparency and commitment to innovative plant-based materials: The sleek black Model 1.4 is "grape leather," made from 75% wine leftovers and grape oil, 25% polyurethane. Held together with nontoxic glue and handmade hardware, it's a stunner down to the details.
Alexandra K Model 1.4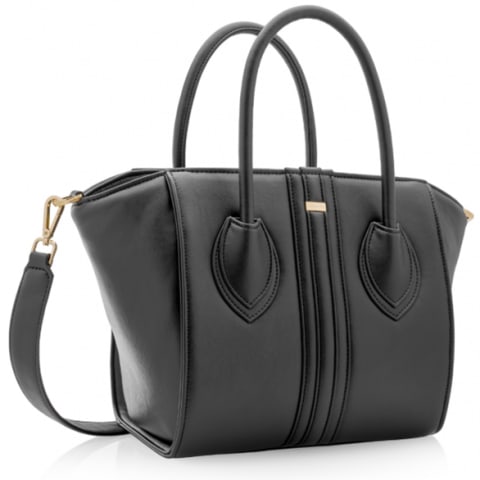 Alexandra K
Advertisement
This ad is displayed using third party content and we do not control its accessibility features.
Best clutch: Mashu Philippa White
Main material: Cactus fiber and cork
Price: $367.50
Both a clutch and a crossbody thanks to a removable chain, this versatile bag is made from 50% cactus fiber, 50% cork. Handmade in Greece, it would make a stunning impression worldwide.
Mashu Philippa White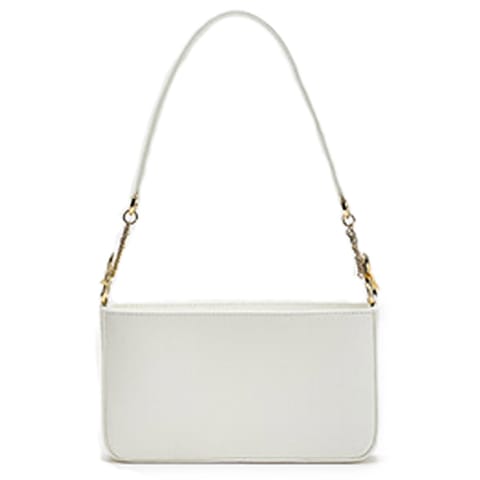 Mashu
Best crossbody: Angela Roi Grace Micro Crossbody
Main material: Polyurethane
Price: $195
This textured polyurethane bag from cult-favorite vegan brand Angela Roi is decked out with a cellphone compartment and an adjustable chain strap, making it a functional pick for daily use. The company also seeks to be transparent about its labor practices and claims to pay its hand-crafters fair wages to work in clean, comfortable factory conditions.
Angela Roi Grace Micro Crossbody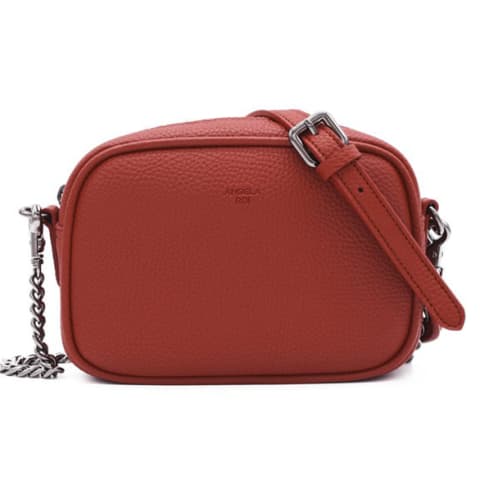 Angela Roi
Best statement bag: HOZEN Black Heart Bag
Main material: Polyurethane
Price: $160
Dittmer commends small L.A.-based company HOZEN for its give-back program. If you've outgrown any of their bags, you can send them in to be recycled (and snag a discount on your next one). Made from biopolyoil—polyurethane mixed with a byproduct of the grain industry—its heart-shaped bag is a vegan dream.
HOZEN Black Heart Bag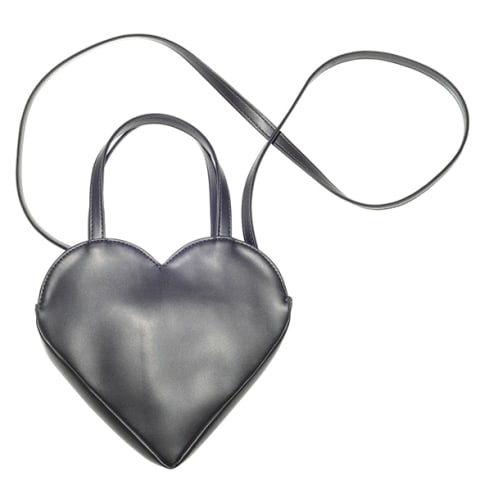 HOZEN
Best satchel: MATT & NAT Adel Micro Vegan Satchel
Main material: Polyurethane
Price: $77
This sharp satchel is made from polyurethane, and the interior lining is created from recycled plastic bottles. As part of the brand's "Purity" collection, its outer coating is made from recycled windshield glass resin. We love that it comes with a detachable, adjustable crossbody strap to fit multiple occasions.
MATT & NAT Adel Micro Vegan Satchel
MATT & NAT
Best budget: Pixie Mood Tiffany Crossbody
Main material: Polyurethane
Price: $37
This pretty poly crossbody features linings made entirely from recycled plastic bottles and is on major sale right now.
Pixie Mood Tiffany Crossbody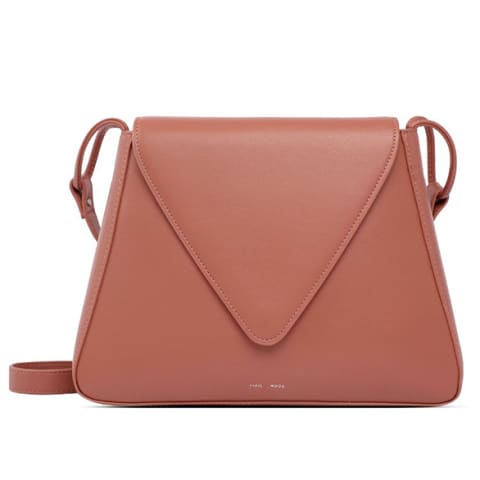 Pixie Mood
The bottom line.
While it's not a perfect material (very few are!), vegan leather can find a home in a sustainable, slow fashion wardrobe—as long as it's chosen carefully, well cared for, and loved for a long time.