Vegamour Vs Nutrafol: Which Hair Growth Line Is Better?

Commerce Writer
By Renee Cherry
Commerce Writer
Renee Cherry is a New York-based writer and editor specializing in beauty, health, fitness, and nutrition. Previously she served as associate editor for Shape.com.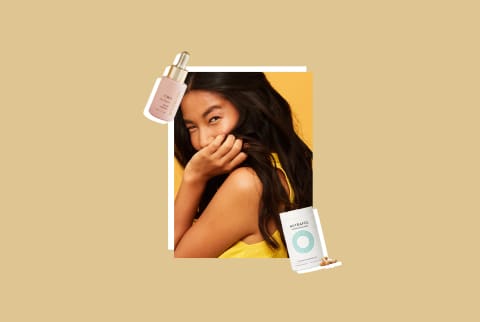 September 17, 2023
We carefully vet all products and services featured on mindbodygreen using our
commerce guidelines.
Our selections are never influenced by the commissions earned from our links.
Vegamour's signature pale pink and gold bottles and 100% vegan formulas are unique from Nutrafol's emphasis on dermatologist approval and clinical testing. So which one should you try? Keep reading to learn whether Nutrafol or Vegamour is a better solution for your hair goals.
What is Vegamour?
Vegamour is a brand centered in the clean beauty movement and inspired by a holistic approach to hair care. It uses plant-based ingredients to make Leaping Bunny-certified, cruelty-free, 100% vegan formulas.
Vegamour ingredients and products
The brand's topical products are designed to promote thicker and fuller looking hair, with ingredients such as curcumin, the main active component in turmeric, and caffeine.
Vegamour uses a vegan alternative to keratin, which it calls Karmatin. The b-silk protein is made from a plant-derived yeast and is designed to strengthen hair and promote shine.
Both contain ingredients that show promise for promoting thicker and healthier hair, according to International Association of Trichologists (IAT)-certified trichologist Celestine Gitau.* They "contain antioxidants such as vitamin E that help promote inflammatory balance and combat the effects of oxidative stress,"* she notes.
"The B vitamins in these supplements help prolong the hair growth phase while zinc helps regulate inflammatory processes and is a very important component in the structural formation and maintenance of hair follicles,"* adds Gitau.
Suboptimal inflammatory status creates an environment that is unconducive to hair growth, she says. "Promoting balance and the effects of oxidative stress will boost hair growth as the environment becomes conducive for the hair to grow thicker and healthier," she adds.
Vegamour benefits and effectiveness
Vegamour's products are mainly focused around promoting healthy hair growth, but some also target concerns like dryness or damage.
Vegamour has more than 14,000 reviews on its site, with many customers crediting the brand's products for making a noticeable difference in their hair growth. Many reviews include before and after photos to back up assertions that the products are effective.
Vegamour risks and side effects
As with any beauty product, Vegamour's products could potentially cause a reaction if you're allergic to any of their ingredients. It's best to read through the ingredient lists, especially if you're sensitive.
The supplements also have potential negative effects if you have underlying liver health considerations. "With specific supplements one must take caution as they get metabolized by the liver and can cause increased strain if one has liver issues," says Vlada Doktor, D.O., dermatologist and co-founder of Skin Center Boston.
Vegamour testing and feedback
Customer reviews on Vegamour's site point out some pros and cons of each product.
"Not only has my hair grown significantly. It's thicker than it's ever been," one reviewer writes in reference to GRO Hair Serum. "The one and only reason I give it 4 stars is because you really can only use it when your hair is greasy. When you use it on clean hair at tends to make it a little greasy so I kind of had to work around that but other than that this product is amazing."
"These gummies don´t upset my stomach, they taste great, and have helped my nails and hair grow stronger,"* another person says of the GRO Biotin Gummies. "However, I do feel pretty bummed when they arrive every month in a whole lotta packaging."
What is Nutrafol?
Nutrafol is a hair-care brand that was founded with the goal of creating holistic alternatives for hair loss. The majority of its products target women, with two products designed for men.
Nutrafol emphasizes the scientific backing of its products, with clinical trials that have been published in peer-reviewed journals.
Nutrafol ingredients and products
Nutrafol's supplements contain multiple ingredients that may promote hair growth. "Ingredients such as saw palmetto block DHT and thus have the potential to increase hair density on thinning hair,"* says Gitau.
Additionally, "curcumin, vitamin D, and vitamin E play a significant role in support scalp inflammatory balance,"* says Gitau.
"​​Nutrafol [supplements offer] ingredients like Sensoril® ashwagandha sustainably sourced in India, which acts to calm the immune system as an adaptogen to help destress and thus potentially decrease hair loss,"* adds Kseniya Kobets, M.D., dermatologist and director of cosmetic dermatology at Montefiore Einstein Advanced Care.
"Nutrafol is special in that it offers a marine collagen complex, which is fish derived," she says. "It also offers certain vitamins and minerals such as selenium and vitamin D as well as biotin."
Nutrafol benefits and effectiveness
Nutrafol's supplements are all formulated around the goal of thicker, fuller hair, while its topical products offer benefits like boosting strands' strength and volume.*
Per the brand, you'll typically start to experience reduced shedding within one to three months. Visible changes like thicker, fuller hair tend to be experienced at the six month mark.*
While the Nutrafol site does not have customer reviews, its products have been heavily reviewed on Amazon, where some people have posted their before-and-after photos.
Notably, you can read through full, published reports from clinical testing on Nutrafol products, which are accessible on the brand's site.
Nutrafol risks and side effects
Nutrafol's products should be avoided if you have any sensitivities to their ingredients.
It's best to check in with your healthcare provider before starting a supplement to make sure it won't interfere with a medication you take or lead to other issues.
Nutrafol testing and feedback
Ashley Antonini, a 26-year-old from Chicago, found Nutrafol Women's Capsules to be effective. In 2021, her dermatologist informed her that her hair struggles were likely stress-related.
While this issue tends to resolve itself with time, Antonini's dermatologist provided information on Nutrafol as a potential way to catalyze the process.*
Antonini began taking Nutrafol in addition to avoiding heat and tight hairstyles, going to therapy for stress management, and altering her diet. She noticed an improvement within a few months, she says.*
"It took around two and a half to three months to start seeing the regrowth come in,"* she recalls. "It was so exciting to see results, because hair loss can be such a depressing issue to deal with and you can become obsessed with looking at your evolving 'bald spots' and the amount of hair that comes out in your brush."
Vegamour vs. Nutrafol: How to choose
Both brands have their success stories, each including tales of stronger, healthier, fuller hair. Here's a breakdown of the factors you might want to consider to choose the best option for you.
Comparing the cost of Nutrafol vs. Vegamour
Both brands offer subscription discounts with free shipping.
Comparing the ingredients of Nutrafol vs. Vegamour
You'll find biotin, vitamins A, C, D, and E, iodine, and zinc in both of the brand's supplements.
Vegamour's and Nutrafol's shampoos and conditioners are color-safe and sulfate-free. Vegamour's formulas contain ingredients such as red clover and Karmitin, whereas Nutrafol's contain vegan protein to strengthen hair.
Comparing the products available from Nutrafol vs. Vegamour
Vegamour has a GRO line focused around hair thickness and fullness, a GRO+ Advanced line enhanced with hemp, a hydration-focused HYDR-8 line, and GRO Ageless products centered around delaying graying. The brand has a more extensive selection of topical products than Nutrafol, and Vegamour GRO Serum is its hero product.
Comparing the results of Nutrafol vs. Vegamour
Products from both brands contain ingredients that could boost hair growth, and have thousands of positive customer reviews.*
"I would not say either of them is more effective than the other, because elements in each of the supplements play different but very critical roles in hair growth and development,"* says Gitau, in reference to the brands' ingestible options.
"I would recommend both equally to promote hair growth and development," she continues. The best option for you may boil down to your individual needs, Gitau says.
Per Gitau, if you have suboptimal vitamin D levels, you might benefit more from an option like Nutrafol Women's Capsule, which contains more vitamin D per serving than Vegamour GRO Biotin Gummies.
"If someone has hair loss and is more inclined to suboptimal B vitamin levels, using Vegamour which has B vitamins would be more beneficial,"* she adds.
"If being vegan is a critical factor in someone's decision, then they may want to choose Vegamour," Kobets agrees.
"However, Nutrafol's Synergen Complex has been well studied to help target hair loss causes such as a lack of inflammatory balance, oxidative damage, and stress,"* she adds. "One can consider taking one supplement for three to six months and switching out to a different supplement to mix things up in order to offer the body potentially different ways to [achieve] calm in distress."*
Nutrafol vs. Vegamour: Our verdict
We're big fan's of Nutrafol's science-backed approach, but appreciate Vegamour's commitment to creating animal-free products. Experts confirm both contain ingredients that are critical to hair growth and development, so it mainly comes down to your preferences and individual needs.
Just make sure you stick with your supplement of choice for at least six months to best evaluate the effectiveness.
FAQ:
What is the difference between Vegamour and Nutrafol?
Can you use Vegamour and Nutrafol?

When it comes to the brands' supplements, it's best to avoid taking them together.

"Since many of the ingredients [that both products have] overlap (including saw palmetto, ashwagandha and biotin to name a few), I would not recommend taking them together," Kobets confirms. "This is especially true since excessively high levels of biotin have been associated with some side effects and lab abnormalities."

Additionally, while you can theoretically take a supplement while using a topical product at the same time, it will be more difficult to identify which product is responsible for any results.
What is comparable to Nutrafol?
Do dermatologists really recommend Nutrafol?

Yes, as in the case of Antonini recounted above, some dermatologists recommend Nutrafol to clients who have noticed hair loss.
Does Nutrafol help with hormonal hair loss?

Nutrafol could help with hormonal hair loss, among other forms of hair loss, Doktor says.*
The takeaway
Whether you should choose Vegamour vs. Nutrafol depends on your budget, the type of hair loss you're dealing with, and your personal preferences. If you're still not sure, we recommend visiting a dermatologist or healthcare professional who can help you pinpoint the cause of your hair loss before you decide which hair growth products to try.
*These statements have not been evaluated by the Food and Drug Administration. These products are not intended to diagnose, treat, cure, or prevent any disease.

Renee Cherry
Commerce Writer
Renee Cherry is a New York-based writer and editor specializing in beauty, health, fitness, and nutrition. She earned a B.S. in journalism with a specialization in fashion in beauty communications from the S.I. Newhouse School of Public Communications at Syracuse University. She completed internships at Cosmopolitan and Shape.com before taking a full time position at Shape as a digital writer and producer. Renee spent the next six years working at Shape.com, most recently as the brand's associate editor, before transitioning to freelance work.