5 Tips For Staying Keto During The Holidays, From a Functional Medicine Practitioner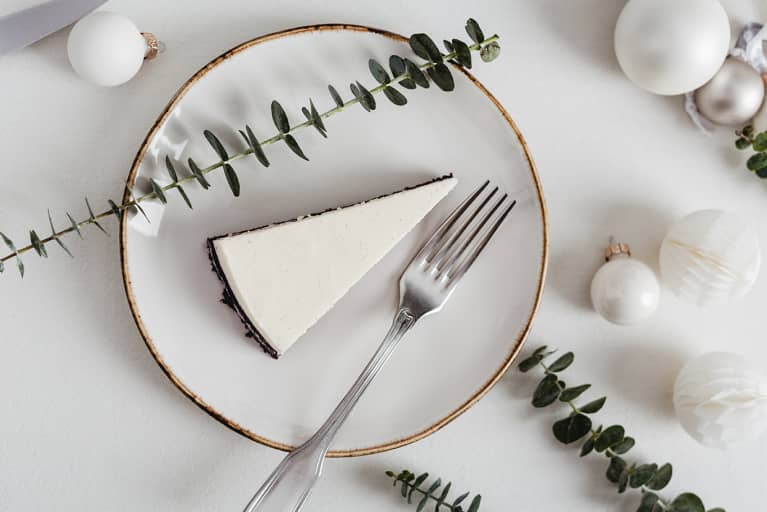 The holidays can bring about a lot of food-related stress for those trying to make healthier choices, especially if you are following a specific eating plan, like a ketogenic diet (high fat, moderate protein, low carbohydrate).
With a barrage of holiday parties and the accompanying carb-heavy, sugary foods, it's easy to get overwhelmed and be tempted to throw keto out the window.
As a functional medicine practitioner and author of the mostly plant-based keto book Ketotarian, I am familiar with navigating my way and my patients' way around a holiday party menu, though.
These are my top tips for navigating a holiday party keto style—no stress or concessions:
One of the best bets for staying on top of your keto game is to eat beforehand—especially if you aren't sure what is going to be served at the party. Eating beforehand will help curb your hunger so you make healthier, more conscious choices when it comes to whatever food is available.
Fat bombs are my favorite snack to keep my hunger at bay before a party. They are loaded with energy-boosting healthy fats like coconut oil or almond butter to keep your blood sugar balanced, curb cravings, and keep you satiated.
2.
Consciously fill your plate.
Being aware of what dishes are keto-friendly and which ones are not will give you confidence when it is your turn to fill your plate. While you can make almost anything compliant to a keto diet, that doesn't mean your host actually will. Here's a quick holiday dish cheat sheet for what's generally keto-friendly:
Keto-friendly
Veggie trays (skip the dip, though)
Roasted green vegetables (Brussels sprouts, broccoli, green beans)
Turkey, ham, or roast
Green salad (look out for dressing with added sugar, and stick with olive oil and/or vinegar to be safe)
Not keto-friendly
Mashed potatoes
Stuffing
Corn
Rolls
Traditional desserts
3.
Make your own dessert.
Most traditional holiday desserts (looking at you, gingerbread men) are made with carb-loaded grain flour and conventional sugar. But just because you've "gone keto" doesn't mean you have to skip the dessert course. By making your own dessert with approved sweeteners like stevia, monk fruit, and coconut or almond flour, you'll ensure you have something to partake in alongside everyone else. And you may just introduce someone to a new favorite recipe if you bring enough to share! Try my crustless pumpkin pie with coconut whipped cream if you don't believe me.
4.
Say no to sugary drinks.
While nothing says festive quite like a seasonal flavored latte, those merry beverages are loaded with sugary syrups that are anything but keto-friendly. Not to worry, though, with a few simple swaps, you can make your own at home. Try this keto-friendly peppermint mocha recipe, and you'll be sporting a keto-friendly foam mustache in no time.
5.
Make keto-friendly versions of your favorite foods.
Almost every food can be made keto-friendly. Let the host know that you are following a special diet, and to alleviate stress on their end, offer to cook something special. This way, you are able to have a variety of traditional dishes with zero compromise to your diet or stress about what you can and can't have. Try one of these easy-to-convert dishes ideas:
Mashed cauliflower instead of mashed potatoes
Gravy with arrowroot powder instead of flour
Grain-free rolls and stuffing with coconut or almond flour