This Is All You Need To Fight Post-Holiday Inflammation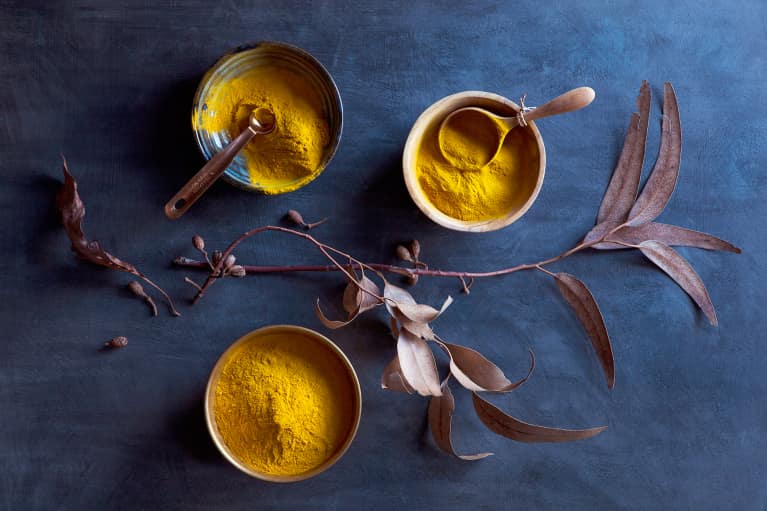 If you're into wellness, even just a little bit, you've probably heard about inflammation. Everyone experiences inflammation to some degree; in fact, it's a normal and healthy reaction in your body. However, what starts out as beneficial can quickly turn detrimental when inflammation becomes chronic and ongoing. This cascade of chronic systemic inflammation in your body becomes a factor in many serious health problems, including autoimmune conditions and even heart disease.
Although inflammation can be a major player in many health problems, it's also something that can be reduced, which means the symptoms it's causing can also be reversed. The first step to healing is finding out what's fueling your inflammation to begin with. As a functional medicine practitioner, I am an advocate of having lab work done to be as informed about your health as possible. But in general, if you know that you're struggling with inflammation, there are a few key supplements that work to help get it under control and support areas of the body that play a role in inflammation control:
This superfood is creating quite the buzz in the health world for its powerful inflammation-busting properties. When looking for a supplement, you'll want to look for curcumin—the antioxidant compound inside turmeric that is responsible for much of this spice's inflammation-fighting ability. While adding turmeric to season foods is a great option, if you are looking to really target inflammation, a supplement is probably the way to go. A good safe and effective maintenance dose of curcumin is as much as 10 grams per day. Make sure to look for a supplement that also contains piperine from black pepper, which has been shown to increase curcumin's bioavailability by 2,000 percent!
When your gut is in a bad place, so is the rest of your health. Leaky gut syndrome happens when your intestinal lining is damaged, leading to increased gut permeability. This allows bacteria and food particles to enter your bloodstream, triggering an overload of inflammation in your body. There are multiple things that lead to leaky gut syndrome, some of which include diet and medications, which create an imbalance of good bacteria in your gut. Besides eating a clean diet filled with natural fermented foods like sauerkraut and kimchi, a probiotic supplement can step up your gut-healing game. Look for one that is at a dosage of at least 10 billion CFU and contains strains of Bifidobacterium and Lactobacillus. Both of these have been shown to help reduce inflammation. Soil-based probiotics (SBO) are also great to further support bacterial diversity.
Methylation is a biochemical process that occurs a billion times every single second in your body and plays a vital role when it comes to moderating inflammation. B vitamins are the fuel methylation needs to function optimally, especially if you know you have any sort of genetic mutations. There are multiple types of B vitamins, so it's important to get a well-rounded amount of each type. Look for a B-complex vitamin that contains methylated B vitamins. You'll want to look for activated B vitamins like B6 Pyridoxyl-5-Phosphate (P5P), B9 L-Methylfolate (L-5-MTHF), and B12 versions such as Adenosyl B12, Hydroxycobalamin B12, Cyano B12, or Methyl 12. A good dose is between 400 and 800 mcg for methylfolate (B9) and 1,000 mcg methylcobalamin (B12) per day.
Nrf-2 is a protein that works to regulate antioxidant gene induction, which turns on genes responsible for detox pathways. When Nrf-2 is activated, inflammation levels decrease. But when it's low, inflammation rises. Certain antioxidants have been found to activate Nrf-2 such as:
Pterostilbene
EGCG
Resveratrol
L-sulforaphane
Glutathione
Quercetin
Curcumin
While these antioxidants can be found in certain foods like green tea (EGCG), broccoli (l-sulforaphane), and turmeric (curcumin), a supplement containing these antioxidants can give you an added boost of these nutrients to further target the Nrf-2 pathway.
In your body there are many different pro-inflammatory cells that can trigger inflammation. And one in particular is the nuclear factor kappa B, also known as NF-kB. When this is activated, it actually binds to your DNA causing various inflammatory cascades. Research has even pinpointed NF-kB in the pathogenesis of many autoimmune-inflammation spectrum disorders.
There are many food medicines that have been shown to bring down NF-kB levels, and adaptogens are one group of plant medicine that works well on inflammation. Personally, I love adaptogens of all types and their ability to balance systems of the body that are out of whack. Astragalus and ashwagandha, in particular, are great for targeting NF-kB. These can be found in powdered form and easily added into teas, smoothies, or sprinkled on food to reduce the number of capsules you need to take in a day.
With any supplement, it's important to work with your doctor or a functional medicine practitioner who is familiar with your health case to determine which supplements are right for you. What works for one person doesn't always work for the next, but these are generally safe and a great place to start when working toward winning the battle against inflammation.
Tired ALL the time? This is the best adrenal-healing advice we heard in 2017.