TheraFace PRO Review: It Changed My Skin (& I'd Repurchase In A Second)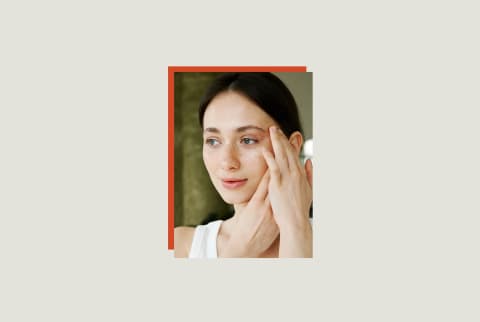 September 20, 2023
We carefully vet all products and services featured on mindbodygreen using our
commerce guidelines.
Our selections are never influenced by the commissions earned from our links.
I have a deep affinity for my Theragun Mini, but I was skeptical about a brand that's built on sports recovery also playing a role in my beauty routine. But then the TheraFace PRO went viral last summer, and I was eager to test out beauty's newest "it" tool.
Could this multitasking facial tool really smooth, plump, brighten, sculpt, and tone, all while reducing tension? I tested the TheraFace PRO for eight months to find out.
What is the TheraFace PRO?
A collection of these tools might run you closer to $1,000; but the FDA-approved TheraFace PRO costs just $399. Each kit includes the device, six attachments, a conductive gel (more on that later), USB charging cable, carrying bag, and a small base to stand it on. The carrying case is convenient for travel; the base offers a great home for the sleek tool to live on.
The sheer variety of attachments means the FDA-approved TheraFace PRO offers a lot of benefits, like relieving tension, treating acne, cleansing skin, and lifting, sculpting, and toning the face to promote skin longevity.
The brand also offers additional attachments for hot and cold therapy, which I'll say right now are totally worth the added cost (+$86). These game-changing hot and cold rings are designed to reduce puffiness under the eyes, while also easing tension, pain, and inflammation.
TheraFace PRO attachments
If the idea of spending $399 on one skin care tool seems extreme to you, you're not alone. But hear me out: The TheraFace PRO truly combines eight treatments into one device. Seriously, it's garnered much of my aforementioned skin care collection useless.
The kit comes with the following six attachments, which can be easily swapped out thanks to the tool's magnetic head:
The microcurrent ring: Utilizes microcurrent technology to firm and tighten the skin, improving muscle tone in your face and neck
The percussive attachments: Delivers a gentle 3 mm of amplitude (compared to the Theragun's 16 mm) to relax facial muscles and relieve tension in the face, jaw, neck, and head. Three nodes included: pointy, flat, micropoint
The cleansing attachment: Uses percussive therapy with a soft silicone exfoliator to cleanse the face and remove dead skin
The hot & cold rings: Utilizes warming or cooling technology to reduce puffiness and ease tension, pain, and inflammation
The light therapy attachment: three light settings (red, blue, and red+infrared) to treat concerns such as acne, sun damage, fine lines, and discoloration
The microcurrent attachment
Arguably my favorite attachment, the microcurrent ring emits low (micro) levels of electrical currents to mimic your body's own natural pulses, effectively lifting and toning the skin. Prior to using this tool, I'd only experienced microcurrent during splurgy professional facials—so being able to utilize this technology from home is a luxury that I don't take lightly.
Microcurrent waves strengthen your facial muscles and prompt the skin to replenish its collagen and elastin. Celebrity esthetician Shani Darden previously told mindbodygreen, "[Microcurrent] stimulates the facial muscles underneath the skin, which help to improve the facial contour, tone the skin, and reduce wrinkles."
Essentially, when the muscles in your face are not healthy, your skin won't be as healthy either (e.g., if they droop, your skin droops, too). Microcurrent devices help build up that muscle so your skin will be tighter and your face will appear more lifted and toned.
The technology improves your skin's longevity, showing better results with consistent, prolonged use—but it's also one of the quickest-acting facial treatments. I personally noticed a slightly more sculpted face immediately after my first use.
How to use the microcurrent attachment
To use the microcurrent attachment, you'll first need to cover your face and neck with the conducive gel (included with your purchase). I'm not the biggest fan of the gel's slimy texture, but I expected it after having experienced this treatment in professional facials—and I know it serves a purpose, to help activate the microcurrent through your skin and muscles.
Next, you'll want to slowly glide the device across the face, with the two metal balls touching your skin. Swiping in upward motions, you can use the tool on all areas of the face and neck.
The device will beep throughout, indicating that it's time to move to a different area. In all, the process should take less than eight minutes (a maximum of eight, to be exact).
The percussive attachments
A massage gun for your face? Like I said, I was skeptical too. Sure, the Theragun is one of my must-have recovery products, but I couldn't imagine using the same technology on such a sensitive area.
To my delight, the percussion therapy actually feels quite gentle. It delivers 3 mm amplitude—compared to the intense 16 mm of the Theragun—to effectively melt away tension.
The TheraFace PRO comes with three percussive attachments, each with its own purpose: a flat node for general use on any area of your face, a pointy node for more targeted areas, and a micropoint node to increase circulation in larger areas. The nodes are magnetic and as easy to swap out as the larger attachments.
I'll preface this by saying I (thankfully) don't suffer from much tension in my jaw or face, but I still enjoyed the relaxing nature of the percussive attachments, and I can totally see how beneficial they'd be for anyone with TMJ or other tension.
How to use the percussive attachments
These attachments can be used on their own or in combination with the LED light ring, to create a fully customized facial. Swapping them out couldn't be simpler: Simply pull off whichever attachment is on the device and pop one of these nodes on.
The device has three speeds, depending on how intense of a vibration you'd prefer. You can control the speed by using the top button on the handle, and the digital screen will indicate which setting you're on.
The percussion therapy mode is the only setting without time restrictions, so the device won't beep throughout unless you're using it with the LED Light.
The light therapy attachment
In case you're new here, I'm a bit obsessed with light therapy. I've tested just about every red light therapy mask under the sun, and they're a regular part of my skin care routine.
So truthfully, the ability to use light therapy with my beloved Therabody's percussive technology had me geeking out more than I'd care to admit.
Similar to the other attachments, there are three settings to choose from when using the Theraface light therapy. You'll use the same ring for each but can control the type of light by using the bottom button on the device's handle.
Red light: anti-aging
Blue light: acne clearing and preventing
Red+Infrared light: to target fine lines and wrinkles
Another technology many estheticians incorporate into professional facials, LED light technology is meant to smooth fine lines, fade hyperpigmentation, and enhance your complexion. Some LED light (specifically blue light) can even treat acne.
While research is limited, one study resulted in improved skin complexion1, skin tone, skin smoothness, and collagen density in patients who received red light therapy on their face twice per week for 30 total sessions.
How to use the light therapy attachment
You'll use this attachment in a similar way to the others. Choose which light you want to try (and whether you want to add the percussive therapy) and simply direct the attachment at your face.
As with the other settings, the device will beep once to signal it's time to move on to a new area, and three times when it's ready to turn off (after eight minutes).
While I do love my red light therapy masks, I sometimes feel a bit odd having the light directly on my face. That in mind, I love that the Theraface allows you to simply hover the light over your skin, directing it exactly to the area you want to treat.
I use the red+infrared setting the most and started to notice a reduction in forehead wrinkles and fine lines around the eyes after just a few weeks. I recently used the blue light on a breakout and was shocked to find it had almost disappeared by the very next morning.
One thing to note: While the LED light ring can be used in conjunction with the percussive nodes, you'll want to avoid using this feature at the same time as the blue light. The combination of blue light and percussion can actually spread acne-causing bacteria instead of clearing it.
The cleansing attachment
If you've ever used or seen a Clarisonic (or any other cleansing tool), this attachment will likely look familiar to you. I have mixed feelings about this type of device, and it's admittedly the attachment I've used the least over the past few months.
The silicone attachment is fairly self-explanatory. It's meant to stimulate with percussion therapy while simultaneously deep-cleaning and exfoliating the skin.
How to use the cleansing attachment
The cleansing attachment can be used with any facial cleanser, but the brand recommends against those with beads or added exfoliants, as the device is an exfoliator in itself.
It's completely waterproof, so you can thoroughly clean the attachment itself—but I still tend to be a bit wary of bacteria building up in this type of tool. That said, my skin does feel noticeably softer after I use it (so maybe I just need to get over my fears?).
The Theraface will beep three times to indicate your eight minutes are up, but I've never hit that point with this attachment.
The hot & cold rings
These attachments are sold separately for $99 or $86 when bundled with the TheraFace PRO. To double down on my previous claim, they're worth every additional penny (and they've gotten a lot of buzz to prove it).
Each ring has three temperature settings: the hot reaches 95, 102, and 109 degrees Fahrenheit, and the cold goes down to 78, 71, or 65 degrees Fahrenheit. The warmer temperatures are meant to increase circulation and blood flow to ease tension, while the cold ring reduces inflammation and puffiness.
How to use the hot & cold rings
The temperature on the hot and cold attachments is controlled by the bottom button on the device's handle. Once you choose your ring and temperature, you'll simply glide the attachment over any areas of concern.
I personally love using the cold rings around my eyes. Not only does it feel amazing on my tired morning skin, but it visibly depuffs.
The warm ring is relaxing and tension-easing whereas the cold ring is rejuvenating and brightening, but I do find myself using the cold setting more often (read: every morning).
Is the TheraFace PRO worth it?
After seeing the benefits of these skin care technologies individually, I'd likely spend $399 on either a microcurrent device or light therapy tool on its own. So the idea that the TheraFace PRO combines these two game-changing treatments into one tool is kind of a no-brainer. Add in the percussive therapy and hot and cold treatments and I'd have to say yes, the TheraFace PRO is totally worth it.
After all, I wouldn't have continued using it for eight months if the device didn't prove its benefits. My face looks more lifted and toned, my skin is softer, and it overall feels healthier.
What's more, I actually enjoy using the TheraFace PRO—which is saying a lot since I don't particularly long for added time to my skin care routine. I find myself looking forward to the five to 10 minutes per day I spend with the device (and, of course, the results it brings).
Still, the Theraface may not be a worthy investment for everyone. It all depends on your preferences, skin care concerns, budget, and how often you'll actually use it.
Who should try the TheraFace PRO?
If you find yourself spending money on facials, wishing you could achieve those results from home, the TheraFace PRO is a worthwhile investment. Sure, the $399 price tag may seem steep, but you'll likely save a ton of money extending the time between professional treatments.
People who experience jaw pain or other facial tension could benefit from the unique percussion therapy setting.
Ultimately, skin care enthusiasts who enjoy trying new technologies and want to cut down on the sheer number of tools in their toolbox (while still maximizing results) will thoroughly enjoy the TheraFace PRO.
Who should skip the TheraFace PRO?
To put it simply: Don't buy it if you don't plan to use it. After all, you can't see the results if you don't actually use the device.
If you don't enjoy using skin care tools, you should save the money or spend it elsewhere. Similarly, if you've tried these technologies before and don't enjoy them, or you have sensitive skin that doesn't respond well to light therapy or microcurrent, there won't be much use for this device in your routine.
The takeaway
After eight months, I can confirm what I predicted after my very first use: The TheraFace PRO is worth the hype. The percussion therapy is relaxing, the cold rings are refreshing, and the microcurrent is rejuvenating. Plus, the immediately brighter, glowier complexion is nothing to scoff at.

Carleigh Ferrante
mbg Commerce Editor
Carleigh Ferrante is the Commerce Editor at mindbodygreen. She is a certified Health & Nutrition Coach and a born and raised New Yorker with a B.A. in Creative Writing and Psychology. Her work has appeared in Bustle, The Zoe Report, PureWow, The Everygirl, and more, covering topics such as fitness, travel, home, fashion, beauty, and dating, sex, and relationships. When she's not testing and reviewing products and services, you can find Carleigh training for her next World Major marathon, planning her next vacation, or interviewing experts on her dating podcast, Mostly Balanced.