An In-Depth Talkspace Review + How It Compares To Traditional Therapy Options
Writer, Reiki Master, and meditation teacher
By Jessie Quinn
Writer, Reiki Master, and meditation teacher
Jessie Quinn is a Los Angeles-based wellness, fashion, beauty, and lifestyle writer with words published in Shape Magazine, NYLON Magazine, Chopra, Brides, Byrdie, and more.

Medical review by
Darja Djordjevic, M.D., Ph.D.
Psychiatrist
Darja Djordjevic holds an MD PhD from Harvard Medical School and She is a Clinical Fellow in Child and Adolescent Psychiatry at Nassau University Medical Center in New York.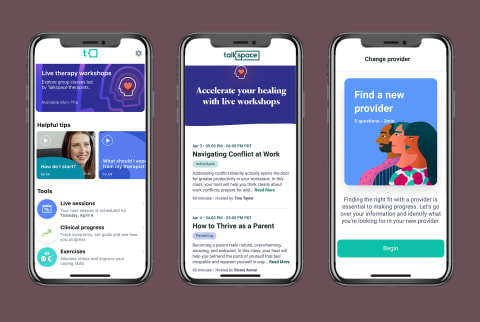 June 9, 2023
We carefully vet all products and services featured on mindbodygreen using our
commerce guidelines.
Our selections are never influenced by the commissions earned from our links.
Therapy is one of the greatest gifts you can give yourself. But, with outrageously high costs, mental healthcare can unfortunately feel more like a luxury than a necessity, especially for those who don't have the privilege of health insurance. With this in mind, online therapy apps provide more accessible and affordable mental health support to those who seek it. I've personally tried a few, so today I'm sharing a full Talkspace review and diving deeper into my experience with online therapy.
As someone who has participated in weekly talk therapy sessions for years, the idea of a more convenient and affordable therapy service was ultra-appealing to me. Curious to see how Talkspace compared to my more "traditional" (aka, going through my insurance and working with a therapist under a private practice) experience, I set out on my online therapy adventure to see what the platform is all about.
So, is Talkspace worth the hype? Find out ahead, in our Talkspace online therapy review.
Our verdict at a glance:
Pros:
Multiple plans and costs available
Accepts insurance
Offers individual therapy, psychiatry, and couples therapy
Strong vetting process & licensing requirements
Easy-to-use app
Cons:
Sessions cost more out of pocket compared to Betterhelp
Phone sessions not available
Not all therapists are in-network for health insurance
What is Talkspace?
Talkspace is an online therapy app and website that exists to provide affordable therapy options, whether you have insurance or need to pay out of pocket. The service features user-friendly technology that allows you to seamlessly sign up for online therapy and be matched with a therapist who can support your needs. To do this, the platform feeds you a questionnaire about your history, goals, and personal details. At its core, the app provides talk therapy services. However, Talkspace takes things a step further than many of its competitors, by providing psychiatry and couple's therapy, too.
One reason many people choose Talkspace over more traditional routes is because of its affordability. Sessions can cost significantly less than traditional talk therapy, depending on your coverage, location,plan selected, and other factors. Another major selling point is that you can receive therapy support in several ways, including video calls, messaging, and workshops.
How Talkspace works
Signing up for Talkspace is easy. Through a web browser, simply visit the platform's homepage and click "get started." Alternatively. You can download the mobile app, which offers a very intuitive experience. Whichever you choose, you'll be prompted to fill out a questionnaire to provide information about yourself, why you're interested in therapy, and what you're hoping to get out of your sessions. Once you answer these questions, you'll create an account using your email address and a unique password.
Talkspace then pairs you with a therapist based on your needs, so you don't have to worry about reviewing a ton of mental health expert profiles and choosing on your own, as you would with a traditional insurance database. From personal experience, this makes the signup and matching process way less overwhelming. When I signed up, I felt confident that I was being matched with a therapist that met my needs, with expertise relevant to the issues I wanted to work on. What's more, if you do want to switch your therapist, you can do so at any time by navigating into your account settings and selecting the "change therapist" option.
Talkspace offers several forms of therapy and mental health support. With the platform's subscription-based plans, mental health professionals support you through talk therapy, also known as psychotherapy. In addition to talk therapy, you can also register for psychiatry for an additional cost as well as couple therapy. Session times range from 30 to 50 minutes, depending on availability (though, in my experience, 30 minutes is the standard time). In terms of how you want to communicate with your therapist, you'll have the option to choose between video calls or messaging. Just note, some therapists have limited availability for video calls, so you'll want to pay attention to their schedule when determining what is best for you. One other caveat is that phone sessions are not an option, which is certainly worth considering if you're someone who prefers phone-based therapy.
The Talkspace platform also offers workshops, which are hosted by licensed therapists and held on weekdays on Zoom. Each workshop centers around a specific topic, such as how to navigate conflict at work, how to thrive as a parent, and how to reconcile after conflict.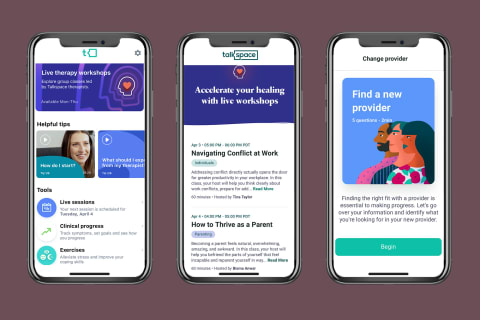 How much does Talkspace cost?
Through its online platform, Talkspace offers recurring subscriptions that are billed monthly, quarterly, or biannually, depending on your preference. Prices vary based on which plan you select, but access to chat-based therapy starts at $69 per week, while a plan that includes video calls costs $99 weekly. The top-tier plan, which includes video and messaging therapy as well as access to workshops, costs $109 per week. If you wish to add additional sessions and are a Talkspace subscriber, each additional live session is $65. For extra savings, you can get between 10 and 20% off your plan by selecting a quarterly or biannual billing cycle.
When I joined Talkspace, I selected the video and messaging therapy option and was quoted $396 per month, which nets down to $99 per session. To me, this felt like a fair amount when I considered that it included access to both chat-based messaging and video sessions, and was less than what I tend to pay out-of-pocket for my traditional talk therapy sessions. That said, everyone has a different budget, so it's important to consider how much you are willing to pay and choose your plan accordingly.
While Talkspace costs slightly more per session compared to its main competitor, Betterhelp, what sets this online therapy platform apart is the fact that it accepts some insurance plans, which can drive the cost down significantly and, in some cases, cover up to 100% of your plan. Just note, not all therapists will be in-network, so make sure you double check before scheduling your first session.
Is Talkspace worth it?
For some background, I have attended weekly virtual therapy sessions since early 2020, with a therapist who I found through my insurance. After experiencing Talkspace's therapy platform, I was pleasantly surprised at how similar the actual therapy experience was when compared to those sessions. It in no way felt like a downgrade from a more "traditional" route. In fact, the therapist I was matched with has her own private practice and treated me as if we were meeting through that practice, rather than an online platform. With this in mind, plus how much Talkspace costs per session, and the fact that it accepts insurance, I believe Talkspace is absolutely worth it.
My experience with Talkspace
In addition to the quality of care, the experience felt significantly more personable than my past experience with Betterhelp. The Talkspace therapist I met with not only did a fabulous job of supporting me mentally and emotionally, but also made sure I wasn't lost in the shuffle of an online platform, providing me with useful insight on my insurance, how to find out if I could get my plan covered, and how to set up my next appointment.
It's worth noting that we went over our allotted session time during our first meeting, and the therapist waited for a good stopping point instead of abruptly ending the conversation as others have in the past. She even took additional time to leave me with a useful takeaway, rather than rushing me out the (digital) door. This was above and beyond what I would have expected from an online therapy platform, and greatly appreciated. Overall, the experience felt very similar to mine with the therapist I've seen for years, and not like an awkward first meeting.
For me, the biggest drawback to using a platform like Talkspace is that there isn't an option to attend sessions in person. Right now, I choose to meet with my therapist virtually, but there might come a time when I feel like an in-person session is a better option for me. With Talkspace, you don't have that option. That said, with the app's technology and the quality of the therapy provided, Talkspace does a great job to make you feel supported despite the virtual nature.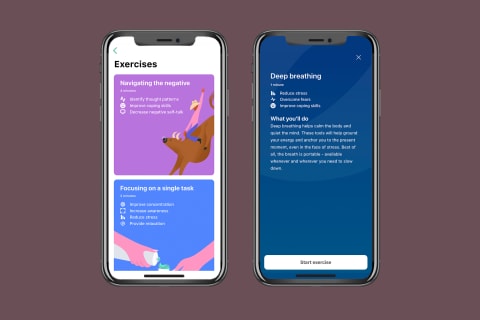 How safe is Talkspace?
Talkspace takes privacy concerns very seriously, with a number of techniques and practices in place to keep your information safe and secure. From a technology standpoint, everything is compliant with the Health Insurance Portability and Accountability Act (HIPAA), and all data and communication is encrypted. As a member, you have the option for two-factor authentication and a secure passcode. When using the app, you'll be prompted with Touch ID or Face ID, depending on your device. You can read up on the platforms full privacy policies here.
The takeaway
After testing a few platforms and researching the best online therapy options available today, I've discovered that online therapy can be as effective as in-person sessions—and companies like Talkspace are making it more approachable, accessible, and affordable. Particularly useful for people who have good mental health coverage in their insurance plan, Talkspace is a great choice for anyone who wants to test out online therapy and prioritize their mental health and wellbeing. I focused on individual therapy, but Talkspace also offers couples therapy, and is one of our top picks for the best online therapy options for couples, as well as the best online psychiatry services.
Jessie Quinn
Writer, Reiki Master, and meditation teacher
Jessie Quinn is a Los Angeles-based wellness, fashion, beauty, and lifestyle writer with words published in Shape Magazine, NYLON Magazine, Chopra, Brides, Byrdie, and more. She is also a member of the American Society of Journalists and Authors (ASJA) and has worked for top experts in the wellness space. Outside of writing, Jessie is a certified Reiki Master, meditation teacher, and artist who focuses on the intersection of healing and creativity.