Close Banner
Advertisement
This ad is displayed using third party content and we do not control its accessibility features.
Talkspace Vs. Betterhelp: Our Experience With Both + How They Compare
Writer, Reiki Master, and meditation teacher
By Jessie Quinn
Writer, Reiki Master, and meditation teacher
Jessie Quinn is a Los Angeles-based wellness, fashion, beauty, and lifestyle writer with words published in Shape Magazine, NYLON Magazine, Chopra, Brides, Byrdie, and more.

Medical review by
Darja Djordjevic, M.D., Ph.D.
Psychiatrist
Darja Djordjevic holds an MD PhD from Harvard Medical School and She is a Clinical Fellow in Child and Adolescent Psychiatry at Nassau University Medical Center in New York.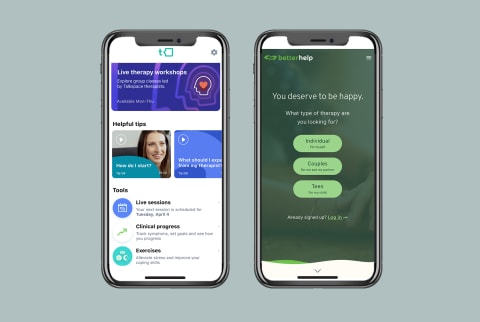 We carefully vet all products and services featured on mindbodygreen using our
commerce guidelines.
Our selections are never influenced by the commissions earned from our links.
As people become increasingly accustomed to at-home healthcare and virtual services, online therapy apps are making therapy sessions more accessible (and often less expensive) than traditional in-person visits. Talkspace and Betterhelp are two of the most popular online therapy apps today, both of which provide subscription-based care plans with access to licensed counselors through messaging, phone, and video sessions. When it comes to comparing Talkspace vs. Betterhelp, each has its own features, pros, and cons.
At first glance, and even through the sign-up process, these two online therapy apps are mostly the same. However, there are a few features and services that set Talkspace and Betterhelp apart, along with some specific nuances that really only become clear when trying them out. As someone who's had a traditional therapist for years, I decided to test Talkspace and Betterhelp to see which one is better. Find out whether I think these apps are good alternatives to traditional therapy, plus how they compare to each other in my Talkspace vs. Betterhelp review, ahead.
A brief rundown on Talkspace
Pros:
Multiple plans and costs available
Accepts insurance
Offers individual therapy, psychiatry and couple's therapy
Cons:
Sessions cost more out of pocket compared to Betterhelp
Phone sessions not available
Who Should Try It: Those looking for an online therapy app that accepts insurance, as well as those interested in additional offerings such as psychiatry and couple's therapy.
Who Should Skip It: Those who don't have insurance and have a lower budget, or who prefer to speak to a therapist over the phone, rather than over chat or video calls.
What Customers Say: With 4.7 stars on Apple from around 17,000 app users, Talkspace receives praise for how easy it is to navigate and the insurance coverage options. That said, some patients are frustrated by it not being in network with their insurance plan. Overall, people rave about the quality of the therapists, with plenty of reviews about how convenient the app itself is.
A brief rundown on Betterhelp
Pros:
Various session options (phone, live chat, video, or a combination of the three)
Costs less per week than Talkspace
Specialty sites for couples (Regain), teens (Teen Counseling), and LGBTQ community (Pride Counseling)
Cons:
Does not accept insurance
Does not offer psychiatry and cannot prescribe medicine
Who Should Try It: Those looking for an affordable therapy option who prefer various options for how to access and communicate with their therapist.
Who Should Skip It: Those looking to connect with a psychiatrist, receive medication, or use insurance for online therapy sessions.
What Customers Say: Betterhelp has 4.8 stars from over 101,000 app users and is ranked number 41 on Apple's health and wellness charts. While the app doesn't accept insurance, one patient reviewer says Betterhelp offered 40 percent off after learning they had tried Talkspace and didn't qualify for the Betterhelp financial support. Overwhelmingly, users are pleased with the app's functionality, the providers available, and the wide range of options in terms of how to access your therapist.
Comparing the sign-up process
Signing up for Talkspace
Talkspace is an online therapy app aiming to make therapy more accessible and affordable than traditional routes. To get started, simply download the app and complete the questionnaire to provide basic information about yourself, your mental health history, and what you wish to get out of therapy. From there, the app's algorithm matches you with a therapist to best meet your needs. The match process can take up to 48 hours— however, I was matched within just a couple hours.
Talkspace has three talk therapy plans to choose from: a messaging plan, messaging and video plan, and a messaging, video, and workshop plan. If you sign up for the messaging plan, you'll be able to access your therapist through the private chat room as soon as you match. The same goes for the messaging and video plan, but if you wish to book a video call with them, the therapist might not have availability right away (in my experience, the earliest I could be seen over video was two days after signing up). The video plan includes four video sessions per month, and no matter which membership you have you can book additional sessions for $65 each.
In addition to talk therapy, Talkspace offers psychiatry for those seeking a diagnosis or prescription. This service is separate from the talk therapy plans and has an additional cost, with an equally simple enrollment process. You can either select psychiatry services upon your initial sign-up, or add these services to your existing plan through the private chat room.
Signing up for Betterhelp
The sign-up process and therapist matching on Betterhelp is virtually the same as Talkspace. The questions are mostly the same, and the company uses your answers to match you with a therapist and to provide a monthly rate. Each plan includes options for messaging, phone, and video therapy. According to the company's website, it can take up to 24 hours to be matched with a therapist on Betterhelp. Much like my experience with Talkspace, I was matched in just a few hours.
What sets Betterhelp apart from Talkspace is its subscription plan. Rather than offering three plans with various modes of communication and support, Betterhelp provides all users access to phone, messaging, and video therapy, with monthly rates based on your location, frequency, and additional needs.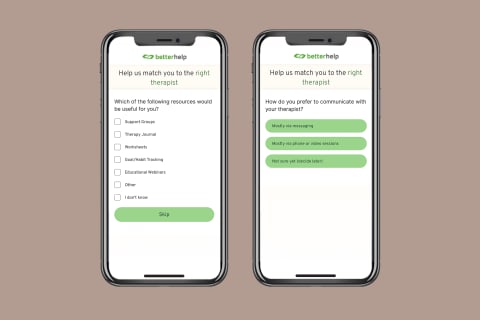 Verdict on cost
Betterhelp and Talkspace have very similar sign-up processes, with user-friendly interfaces and plans that make online therapy extremely accessible. What sets them apart from each other are the types of subscriptions offered, as well as the types of therapy. Talkspace offers both talk therapy and psychiatry, allowing patients access to a diagnosis and prescription treatment, whereas Betterhelp focuses on talk therapy only. However, Betterhelp offers more modes of communication to all subscribers and has phone therapy, which Talkspace doesn't have.
Comparing the services
What Services Does Talkspace Offer?
At its core, Talkspace is a talk therapy platform for individuals, with messaging and video communication options. The online therapy app also offers workshops to individuals in the top-tier plan for further mental health support—and the additional services don't end there. Separate from the subscription plan, Talkspace offers couples therapy and psychiatry, each for an additional cost per session. With access to psychiatry, individuals can not only receive support through talk therapy on Talkspace, but those with more extensive mental health concerns can also receive a diagnosis and/or prescription medication, which is not as common in the online therapy space.
What Services Does Betterhelp Offer?
Verdict on services
Betterhelp only offers talk therapy services through its online platform, but has additional resources and services for the LGBTQ community, teens, and relationships through sister sites, Pride Counseling, Teen Counseling, and Regain. Talkspace, on the other hand, has talk therapy (for individuals and couples) and psychiatry services, which means you can get a diagnosis or prescription through the online therapy app. Depending on your needs, both are excellent choices.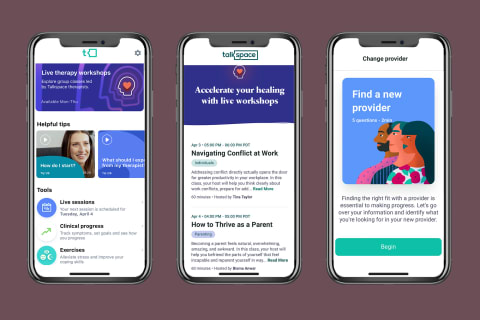 Connecting with a therapist
How does Talkspace connect you with a therapist?
When you sign up for Talkspace, you're asked to fill out a questionnaire to provide the app with insight on your mental health history, preferences, what you're looking to gain from therapy, and more. From there, the app's algorithm puts the pieces together and matches you with a therapist based on your location, preferences, and the support you seek, as well as therapist availability. Some Talkspace therapists are experts in certain aspects of mental health, such as anxiety, addiction, and PTSD, which the app takes into account when matching you. Once you're paired with a therapist, you'll gain access to a private chat room which you can use to communicate and set up video calls, if your plan covers that.
How does Betterhelp connect you with a therapist?
Similar to Talkspace, Betterhelp utilizes insight from a questionnaire to find the right therapist for you. Through this, the app gains useful information, background, and history, which it uses to find a therapist that can provide the best support based on where you live, your mental health history, and your preferences. Once matched, you'll gain access to a chat room where you can message your therapist and review their schedule to set up a phone or video session.
Verdict on therapist matching process
Both Talkspace and Betterhelp use similar practices to connect you with a therapist, and in terms of the signup process or ease of use, one doesn't quite stand out over the other. Both utilize a questionnaire that asks you a set of basic questions, as well as questions about your mental health history and what you wish to get out of therapy to find the right therapist for you. While I didn't need to use this function, I especially appreciated that Talkspace and Betterhelp make it possible to change therapists with ease. On Betterhelp, there is a "change therapist" button located directly on your homepage. If you're using Talkspace, you'll need to click the dropdown on your home page and select "change provider" to make the switch, which (if we're splitting hairs) doesn't feel quite as intuitive as Betterhelp's option.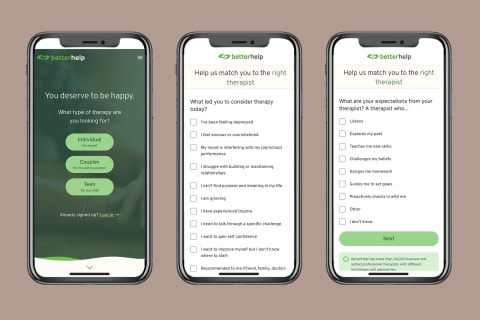 Comparing the costs
How much does Talkspace cost?
Talkspace offers online therapy through a few subscription options that are billed monthly, quarterly, or bi-annually, depending on your preference:
Messaging plan: allows you to text a therapist through the app's secure messaging feature for $69 per week
Video and messaging plan: allows you to meet with a therapist on a video call four times per month, plus access to a therapist through the app's messaging feature for $99 per week.
Top-tier plan: gives you access to video and messaging therapy as well as workshops for $109 per week.
*All Talkspace subscribers have access to pay for additional video therapy sessions for $65 each.
As far as savings are concerned, Talkspace offers between 10 to 20% off plans if you pay on a quarterly or bi-annual basis, which helps drive the cost down. Additionally, Talkspace accepts some insurance providers, which could help significantly.
How much does Betterhelp cost?
Similar to Talkspace, Betterhelp is a subscription-based platform. Those subscribed to Betterhelp can expect to pay between $60 to $90 per week, billed monthly at $240 to $360. The actual cost of a Betterhelp membership depends less on the membership offering, which is based on location, preferences, and therapist availability (for reference: I registered for Betterhelp in Los Angeles, California, and was quoted $80 per week). Betterhelp does not accept insurance, but it does offer financial assistance to those who qualify.
Although Betterhelp doesn't accept insurance, there is a bit of a workaround to this downside through the Mental Health Parity Act, which requires employers to offer medical and mental health coverage equally. This means some insurance companies cover "online behavioral health," which Betterhelp could qualify as. To find out whether or not your insurance will reimburse some of your Betterhelp subscription fees, we recommend contacting your provider.
Comparing the quality of care
Review of my Talkspace therapy session
When signing up for Talkspace, I was immediately impressed by the experience. The survey at the beginning is easy to complete, and the algorithm did a fantastic job of assigning me a therapist based on my answers. I was actually really happy with the first therapist I was matched with, which definitely isn't always the case with therapy. The virtual therapy room is easy to navigate and, depending on your plan (I chose the messaging and video plan), allows you to leave messages and chat with your therapist, as well as schedule a video appointment.
I have spent the last three years in weekly virtual therapy sessions with a traditional therapist (aka, someone I found through my insurance) and found that the meetings with the Betterhelp therapist were no different from what I've experienced previously. The therapist was incredibly personable and did a great job of navigating our initial conversations, which can often be really uncomfortable and awkward in the beginning. She was also extremely helpful in answering my initial questions about insurance coverage and navigating the Talkspace website.
One thing that really stood out to me about the quality of care was that my appointed therapist made me feel like a long-time patient, and ensured I didn't get lost in the shuffle. She was highly accommodating and, even though we went over the time limit on one of our sessions, she waited for the best stopping point and reminded me to set up a call for our next session before ending the call. This felt very similar to my experience with my long-time therapist.
Review of my Betterhelp therapy session
Betterhelp is similar to Talkspace in that the sign-up and therapist-matching process is almost identical. And, much like my Talkspace experience, I felt my Betterhelp sessions were impactful. In my initial Betterhelp appointment, we got into a little more detail than my Talkspace session, and I got a lot out of it from a therapeutic standpoint. After that appointment, the therapist sent me several worksheets to utilize in between sessions, which were in line with what we discussed and offered more support.
The one thing I don't love about Betterhelp is that the company does not accept insurance. While the out-of-pocket fees are significantly less than more traditional therapy providers, Betterhelp isn't a great option for someone with insurance, since, chances are, your co-pay with another platform will be less than one session on Betterhelp. That said, it does cost less than Talkspace. So, if you are going the out-of-pocket route, the price is definitely right.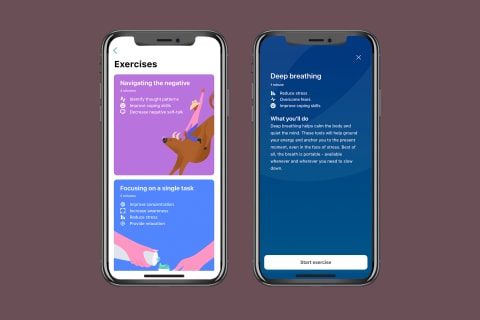 How the features, extras, and resources compare
How does Talkspace support your care outside of therapy sessions?
If you have a plan that includes video sessions, you can chat with your therapist outside of your therapy sessions through the app's private messaging platform. In addition to this support, you can sign up for online workshops, which are hosted on Zoom by licensed therapists. The workshops occur Monday through Friday and are centered around a variety of topics, including how to navigate conflict at work, how to thrive as a parent, and how to reconcile after conflict.
Talkspace also features a clinical progress section that allows you to track your progress over time and set both long-term goals and short-term objectives. And, there are also lots of amazing exercises to try between therapy sessions, which take only a few minutes and can teach you how to focus on a single task, how to navigate negativity, and how to overcome worry. There are even some great mindfulness exercises, such as deep breathing sequences.
How does Betterhelp support your care outside of therapy sessions?
With video and phone therapy options on Betterhelp, you can access your therapist through live chat and messaging for further support. In my experience, my therapist also left me with several worksheets to go over between sessions. Betterhelp has a journal feature where you can write down your thoughts and feelings on a daily basis, with a few optional prompts to help you get started.
When accessing Betterhelp from a web browser, you can review the advice column, an online magazine with insightful articles that support a variety of mental health concerns and cover a variety of topics, such as how to overcome social anxiety and how to find the right psychiatrist for you.
How to choose between Talkspace and Betterhelp
After testing both online therapy apps, we discovered a few important things to consider when choosing between Betterhelp and Talkspace.
First, consider the services each company offers. If you seek psychiatric services in addition to talk therapy, Talkspace is the better option for you, since Betterhelp doesn't offer psychiatry and therefore can't diagnose or prescribe medication. That said, Betterhelp's sister might be a better choice for those looking for more focused care, such as therapy services for the LGBTQ+ community or teens. For couples, both companies offer relationship support, though Talkspace is the only one that offers it within the same app. If you wish to receive couples therapy from Betterhelp, you'll need to go through its sister site, Regain.
Cost is another important factor to consider when deciding which online therapy app is best for you. Out-of-pocket, Talkspace costs slightly more than Betterhelp. Keep in mind, Talkspace is also the only therapy provider (at least, of the two) that accepts insurance, making it entirely possible to receive therapy sessions for the price of your insurance co-pay fee, depending on your provider. Before choosing Talkspace over Betterhelp, first check to see if Talkspace accepts your insurance and how much each session costs with your coverage.
The subscription plans are also worth looking at, especially since they both have different offerings. With Betterhelp, your subscription includes messaging, video, and phone therapy sessions and the cost is based on your location, preferences, and therapist availability. Talkspace has three subscription offerings, each offering a set price point. As outlined above, the cheapest option gives you access to a therapist through messages, the mid-range plan gets you therapy through messaging and four video calls per month, and the top-tier option gets you messaging, video, and workshop access.
If you wish to complete your therapy sessions over the phone, or to have more options depending on how you feel, Betterhelp might be the better option, since every user has access to messaging, phone, and video calls.
FAQ
How is Talkspace different from Betterhelp?

The standout differences between Talkspace and Betterhelp are the subscription pricing and therapy offerings. Talkspace offers three talk therapy options: messaging only, video and messaging, or video, messaging, and workshops—each with its own flat rates. Betterhelp subscriptions range from $60 to $90 per week (billed monthly at $240 to $360), and the actual cost of membership depends on a person's location, preferences, and therapist availability.

In addition to one-on-one talk therapy, Talkspace offers couples therapy and psychiatry for additional costs. This means you can seek a diagnosis or prescription through Talkspace. Unfortunately, Betterhelp does not offer these additional services.
Is Talkspace or Betterhelp cheaper?

At full price, Betterhelp is cheaper than Talkspace. However, since Talkspace accepts insurance, this could drive the cost down significantly, since you might be able to book sessions for as low as your insurance co-pay fee. Additionally, Talkspace offers between 10 to 20% savings on subscription plans to those who select the quarter or bi-annual billing cycle instead of paying on a monthly basis.

All that considered, traditional therapy can cost anywhere between $100 to north of $200, making both Talkspace and Betterhelp excellent options for more affordable and accessible therapy.
Is Betterhelp actually reliable?

Betterhelp offers online therapy with licensed mental health professionals, making it just as reliable as more traditional therapy services. After testing the app and experiencing a few therapy sessions through Betterhelp, I found that this online therapy app actually made therapy much more accessible, not just from a cost perspective. The overall user experience is highly intuitive and it is easy to communicate with your therapist through messaging, video, and phone. It's also easier to switch therapists than with more traditional options.

In addition to the therapy provided, Betterhelp therapists also support patients through worksheets and practices they can utilize in their own time, which makes you feel like you are supported in and out of your sessions.
Is Talkspace worth it?

Considering Talkspace costs less than traditional therapy, accepts insurance (which can drive the cost down even more), and offers subscription plans based on how you wish to receive support from a therapist, I'd say Talkspace is absolutely worth it. After testing the online therapy platform, I was impressed by the fact that the care provided was no different from the care and communication I received from my more traditional in-person therapy sessions. Similar to my thoughts on Betterhelp, I loved how easy it is to change therapists within the app.

Talkspace is also worth it for its psychiatry services, which is an additional cost but still likely much less than traditional psychiatry sessions. Through Talkspace psychiatry, you can get a diagnosis as well as access to prescription medication, which Betterhelp does not offer, and could be a major selling point for some.
The takeaway
Both Talkspace and Betterhelp are excellent options for online therapy. A few aspects, such as the signup process, are virtually the same, and both make therapy more affordable and accessible. Still, there are some advantages to choosing Talkspace over Betterhelp. While I love that Betterhelp provides more modes of communication through phone, video, and messaging, the fact that Talkspace takes insurance is reason enough for many to go this route.
Additionally, Talkspace offers more resources than Betterhelp, which provides additional support between therapy sessions. I loved that my Betterhelp therapist provided me with worksheets related to what I focused on in our sessions, but the workshops and exercises on Talkspace's app took things to a different level and allowed me to feel supported and informed on how I can grow in my mental health journey. If you're ready to continue or embark on your own therapy exploration, check out our deep dive on the best online therapy platforms.
Jessie Quinn
Writer, Reiki Master, and meditation teacher
Jessie Quinn is a Los Angeles-based wellness, fashion, beauty, and lifestyle writer with words published in Shape Magazine, NYLON Magazine, Chopra, Brides, Byrdie, and more. She is also a member of the American Society of Journalists and Authors (ASJA) and has worked for top experts in the wellness space. Outside of writing, Jessie is a certified Reiki Master, meditation teacher, and artist who focuses on the intersection of healing and creativity.