Reviewers Swear By This Supplement For Stronger Nails & Hair Health (& It's 30% Off)*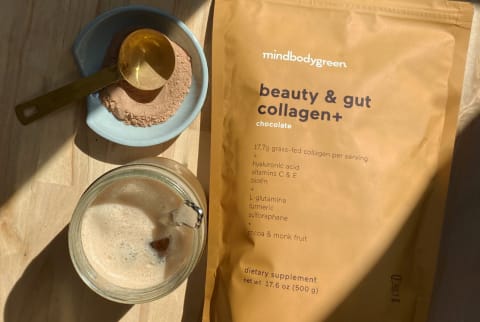 November 21, 2022
We carefully vet all products and services featured on mindbodygreen using our
commerce guidelines.
Our selections are never influenced by the commissions earned from our links.
If a clean ingredient list is a nonnegotiable for you, you'll love what's inside mindbodygreen's beauty & gut collagen+. Sourced from grass-fed, pasture-raised Brazilian cows, the formula combines 17.7 grams of premium collagen peptides (types I & III) with hyaluronic acid, biotin, L-glutamine, turmeric, SGS from broccoli, and vitamins C and E.
Available in both chocolate and an unflavored variety, this collagen powder can be combined with your morning cup of joe, or added to your favorite smoothie, soup, or other favorite recipe for an easy nutrient boost. What's more, the powder is currently 30% off right now with promo code MBG30, as part of mbg's Black Friday sale. The sitewide discount is our biggest savings of the year and extends to our entire lineup of bestsellers and personal care items.
If a steep discount isn't enough to convince you to give this collagen powder a go, the reviews should be. This blend earned glowing praise from experts—including functional medicine practitioners, fitness trainers, and nutrition experts—and now, real customers are seeing the results for themselves. Below, uncover some of the benefits shoppers noticed after adding collagen to their routine (and the science behind them):
"I haven't missed a day taking my collagen since trying MBG. It tastes amazing and I could really feel a difference in my gut health, and I love how my skin looks and feels."* —Jennifer S.
What the science says: There's a pretty strong link between collagen and your digestion. A clinical study published earlier this year showed the impact of taking 20 grams of collagen peptides every day for eight weeks, with a majority of participants (40 women) seeing improvements in digestion and bloating. What's more, research shows that people with digestive challenges have lower levels of certain types of collagen4. To better understand the link, it's important to know that one of the main amino acids in collagen peptides is glutamate5, which plays a role in the GI tract's neuronal connections. Collagen also contains proline and glycine, which are used by the cells in the gut lining for energy.*
"I love how easy this is to use. I personally put it in my morning coffee and blend it with other good stuff for a bulletproof coffee. I have noticed a big difference in my skin since I have been using this. Less dryness and fine lines seem fuller. Also, my joints are not as stiff. Very happy with MBG products!"* —Fran P.
What the science says: While all kinds of collagen can support healthy joints, type 2 plays a particularly significant role. In one randomized clinical trial, those that took a type 2 collagen supplement for 180 days saw improved joint mobility and comfort.*
"Within a month of using it, I got compliments that I was glowing and specifically my skin is glowing! Going on month 2. Can't wait to see more positive changes!"* —Giovanna H.
What the science says: There is a strong amount of research backing collagen's skin-health benefits. One randomized, placebo-controlled clinical trial performed in 2018 found that participants who took collagen supplements had skin moisture levels up to seven times higher6 than those who took no collagen at all. Since then, extensive research has further echoed these benefits. A 2022 systematic review and meta-analysis of 19 clinical studies demonstrates that hydrolyzed collagen supplementation has favorable results in terms of skin hydration, elasticity, and wrinkles.*
"I've struggled with weak, short nails for YEARS. This has made my nails grow so long and thick. I am so happy."* —Sara K.
What the science says: Research shows collagen may help with improved growth rates and breakage of nails. One study found that taking collagen daily for 24 weeks helped support participants' nail health7.*
"Love this product. I use it in my coffee everyday. I have lost track of the day I started. I am on my second or third package. (Guess it has not helped my memory yet?) I noticed within weeks, my nails are stronger and best of all I have more hair! I feel good using this product."* —Peggy M.
What the science says: Amino acids are essential for the body to build keratin, which is the primary material in hair. Collagen peptides8 have many of these essential amino acids, including proline.*
Just remember the amount of time it takes to see results from collagen supplementation varies, so it's important to understand the timeline. Luckily, we have a full guide to understanding how long it takes to see results from collagen.
The takeaway.
The secret to getting real results is finding a high-quality formula with ingredients you can feel good about. If your skin, hair, nails, or gut could use a little extra support, mindbodygreen's beauty & gut collagen+ supplement could be just what you need.* And right now it's 30% off with promo code MBG30. (FYI, the on-site quiz also helps you find the right additions to your well-being routine.)
If you are pregnant, breastfeeding, or taking medications, consult with your doctor before starting a supplement routine. It is always optimal to consult with a health care provider when considering what supplements are right for you.

Carleigh Ferrante
mbg Commerce Editor
Carleigh Ferrante is the Commerce Editor at mindbodygreen. She is a certified Health & Nutrition Coach and a born and raised New Yorker with a B.A. in Creative Writing and Psychology. Her work has appeared in Bustle, The Zoe Report, PureWow, The Everygirl, and more, covering topics such as fitness, travel, home, fashion, beauty, and dating, sex, and relationships. When she's not testing and reviewing products and services, you can find Carleigh training for her next World Major marathon, planning her next vacation, or interviewing experts on her dating podcast, Mostly Balanced.