paid content
 for

Sinuses Interfering With Your Summer Plans? This Ancient Spice May Help
Image by Natasa Mandic / Stocksy
July 12, 2022
Long revered for its extensive list of health benefits, turmeric has rightfully earned its reputation as a superfood spice. A beloved staple in ayurvedic tradition, this herb has been used to support everything from gut health to skin, joints, and more.* But there's one benefit that hasn't been given its chance to shine—and that's seasonal support.
When the world starts to bloom again, for many of us, that means one thing: sinus woes. While trees may be done with their pollen-fest by late May, grasses and weeds make their appearance all summer long. However, this year our favorite golden herb is stepping in to offer some much-needed assistance—and Gaia Herbs is taking the support to a whole new level with their Turmeric Supreme Sinus® Support, which combines the power of turmeric root with a handful of other superstar herbs.* But let's look at turmeric a little closer…
Advertisement
This ad is displayed using third party content and we do not control its accessibility features.
3 ways turmeric's anti-inflammatory actions support our health.
Whether it's sprinkled over a stir fry, added to oatmeal, or mixed into a latte, turmeric has made a frequent appearance in many meals and beverages over the last several years. Widely studied1 for its many health benefits, this vibrant spice and its most well-known phytonutrient bioactive (we see you, curcumin) has become one of the most talked-about ingredients in the wellness world—which is why it should come as no surprise that it's showing up in the context of seasonal support as well.* Here are three ways turmeric works to promote anti-inflammatory actions during times of seasonal change:*
Advertisement
This ad is displayed using third party content and we do not control its accessibility features.
Bolsters the immune system.
When it comes to seasonal support, maintaining a strong immune system is critical. Turmeric's most famous bioactive compound, curcumin, is known to boast anti-inflammatory, antioxidant, and antimicrobial properties2, which contribute to healthy immune function and thus, a resilient immune system response.*
On its own, curcumin is not easily absorbed into the bloodstream, but combining it with piperine (i.e., the major bioactive in black pepper) is thought to enhance its absorption3.* Gaia Herbs' Turmeric Supreme Sinus® Support not only includes black pepper, but it also provides quercetin, which is thought to help promote the bioavailability of curcumins, at least according to in vitro cellular research.* Quercetin is known as one of the most abundant natural flavonoids and has been studied4 for its support of a healthy histamine response, pivotal for robust immune function.*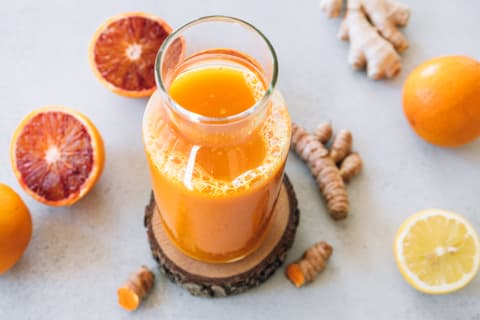 Image by Natasa Mandic / Stocksy
Advertisement
This ad is displayed using third party content and we do not control its accessibility features.
Keeps the liver happy.
While liver health may not be top of mind when it comes to times of seasonal transition, it turns out the liver plays a large role in maintaining the health of our immune system, as well as the body's ability to reduce the effect of things we're personally sensitive to (think allergens). The ultimate metabolizer, the liver is not only responsible for purifying blood and removing toxins from the body, but it's also tasked with breaking down compounds like extra histamine.
All that liver activity, day in and day out, leads to inflammatory processes and oxidative products like free radicals. Thankfully, according to experts, turmeric can be highly effective at helping to buffer against oxidative stress5, an imbalance between free radicals (aka oxidants) and antioxidants in the body.* In addition to turmeric, Gaia Herbs' Turmeric Supreme Sinus® Support contains nettle, an herb packed with polyphenolic compounds that help support optimal liver health and anti-inflammatory pathways.*
Delivers anti-inflammatory properties.
Regulating anti-inflammatory pathways is an important part of supporting our sinuses all the time but particularly when the seasons are changing. As we well know, turmeric was put on the map for its powerful anti-inflammatory properties6, making it a useful ally during seasonal shifts.*
But for even more targeted and comprehensive support, consider checking out Turmeric Supreme Sinus® Support, which brings together a dynamic group of other herbs—like feverfew, goldenseal, and ginger—to further promote anti-inflammatory actions.* As pioneers in the herbal industry, Gaia Herbs has been cultivating the connection between plants and people for over 30 years, producing high-quality herbal supplements you can trust.
Advertisement
This ad is displayed using third party content and we do not control its accessibility features.
The bottom line.
Summer is all about living your best life. So this year, rewrite the script by giving your body the support it needs to take the season by storm. That means throwing some extra turmeric into your smoothie and grabbing your daily Turmeric Supreme Sinus® Support to promote easy breathing all summer long.* With turmeric on your side, the possibilities are endless… Sunshine here we come!
*These statements have not been evaluated by the Food and Drug Administration. This product is not intended to diagnose, treat, cure, or prevent any disease.
Advertisement
This ad is displayed using third party content and we do not control its accessibility features.

Ryan Brady
Ryan Brady is a Content Freelancer at mindbodygreen. She received her B.A. in Visual Arts from Yale University and is currently finishing her M.A. degree in Clinical Psychology, with concentration in Spirituality and Mind-Body Practice, at Columbia University.
Ryan is passionate about holistic health, fitness, and spiritually-centered living. She loves using her knowledge and personal experience to help others improve their well-being. When she's not working or studying, Ryan can be found traveling to new places, snuggling her dog, or experimenting with gluten free, vegan baking.