How To Do A Quadruped Leg Extension For Full-Body Strength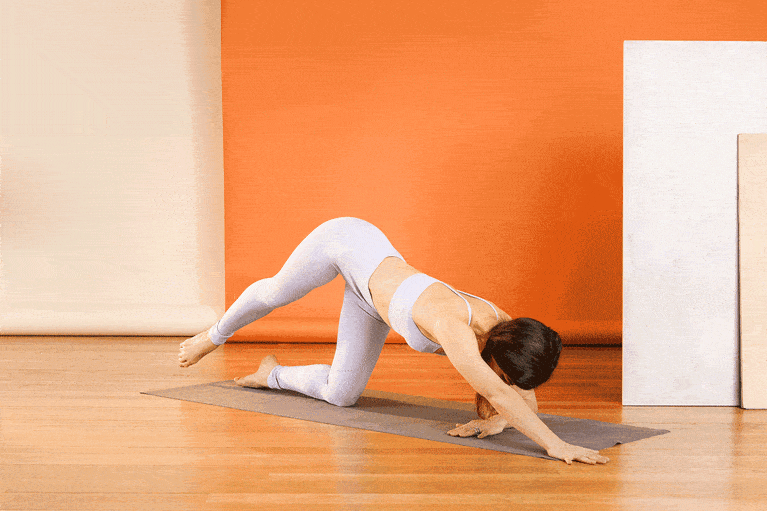 Last updated on February 4, 2021
How to do quadruped leg extension:
Start on your hands and knees.
Place one forearm on the ground beneath you, parallel to the front of the mat. Extend your opposite arm out in front of your body, with palms facing down.
Keeping your core engaged and back straight, lift your leg (on the same side as your extended arm) into the air until it's in line with your spine.
Lower your leg with control until your toes nearly touch the ground. That's one rep.
Complete five reps on both sides.
Try to keep your hips as level as possible, avoiding splaying out with the lifted leg.
To really engage the backside of the body, focus on where the hamstring meets the glute as you lift and squeeze.
As you lift your leg, don't just swing it up; press it back, as well.
Gaze down at your hand, keeping your neck in line with the spine.
This move works the full body, meaning legs, glutes, core, arms, chest, and shoulders. It strengthens the backside of your body and lengthens the front, in addition to opening up the shoulders—ideal if you've been sitting more than usual lately.
On top of that, it's also an inversion, meaning your heart is higher than your head. An active inversion like this is great for getting energized quickly, as it improves circulation from the head.
The bottom line is, it's never a bad idea to have a steady arsenal of full-body moves at your disposal whenever you should need them. With this quadruped leg extension, you'll be feeling the burn in no time.