Pomegranate Seed Oil: 7 Major Skin Benefits, Uses & DIY Masks
mbg Beauty Director
By Alexandra Engler
mbg Beauty Director
Alexandra Engler is the beauty director at mindbodygreen and host of the beauty podcast Clean Beauty School. Previously, she's held beauty roles at Harper's Bazaar, Marie Claire, SELF, and Cosmopolitan; her byline has appeared in Esquire, Sports Illustrated, and Allure.com.
May 16, 2021
We carefully vet all products and services featured on mindbodygreen using our
commerce guidelines.
Our selections are never influenced by the commissions earned from our links.
The list of botanical oils we adore is a long one. That's because there are just so many beautiful, nutrient-dense, sensorially appealing extracts to be found in the big ole natural world out there. And sometimes, those delightful botanical ingredients come from our favorite snacks: Avocado oil comes to mind, as does almond oil. Another number our skin just loves drinking up—about as much as we love consuming it? Pomegranate oil. Yes, that richly hued wonder makes for a lavish face oil, too.
Here, everything you need to know about using pomegranate oil in skin care.
What is pomegranate seed oil? 
Pomegranate seed oil, or simply pomegranate oil, is an oil made from the seeds of a pomegranate, or Punica granatum. Yes, the delicious, juicy seeds you may eat for a snack. The fruit is native to the Mediterranean region and has long been used for its therapeutic properties.
The oil is often cold-pressed from the seeds and then used in oils, serums, or creams. You may also look for pomegranate skin oil, which is oil made from the skin of the fruit, pomegranate extract, which takes certain components (like specific antioxidants) from the pomegranate, or pomegranate essential oil, which should always be mixed with a carrier oil.
It's been hailed as a super fruit and beloved in skin care for its potent fatty acid, polyphenol, and other antioxidant properties—which can account for its many benefits.
So let's get into them, shall we?
What are the potential benefits of using pomegranate seed oil on skin?
Much of the therapeutic skin benefits of pomegranate come down to its antioxidants. "It contains vitamin C as well as other antioxidants such as anthocyanins, ellagic acid, and tannins," says board-certified dermatologist Hadley King, M.D. "Ellagic acid is a polyphenol found in high concentration in pomegranates."
Here's what you may expect according to research and the professionals:
1.
It can support healthy aging.
There are many pathways to healthy aging—from cell regeneration and evening tone to hydrating otherwise dry, crepey skin. Luckily, pomegranate seed oil checks almost all the boxes.
"Traditionally, pomegranate seed oil compounds have been touted for their anti-aging effects," says board-certified dermatologist Raechele Cochran Gathers, M.D. "Pomegranate seed oil has both strong antioxidant and anti-inflammatory properties, which may make it useful in helping decrease signs of aging such as wrinkles and dark spots.
2.
It can support skin hydration.
Perhaps one of its most famous benefits is hydration: Pomegranates make for a star hydrator. "It contains punicic acid, an omega-5 fatty acid that helps to hydrate and prevent moisture loss," says King. "And it helps to support the skin barrier."
Aesthetician and Alpha-H Facialist Taylor Worden agrees: "Pomegranate seed oil is rich in fatty acids, which helps your skin look more hydrated, plumper. The oil can also nourish and soften dry, cracked skin—and also help redness and flakiness. Additionally, pomegranate seed oil works great as an emollient for the skin and helps with eczema and psoriasis—but it can also moisturize acne or oily skin without clogging the pores." Essentially it's a hydrating ingredient that benefits all skin types!
3.
It can help manage inflammation.
Antioxidants work by neutralizing free radical damage in the skin, which in turn eases inflammation. By using antioxidants consistently, you can help manage inflammation long term—especially the sneaky microscopic, low-grade inflammation called inflammaging.
"Because it's rich in many antioxidants and contains a high amount of vitamin C, it works as an anti-inflammatory to decrease inflammation, fight the free radicals, and will lighten, tighten, and brighten the skin," says Worden.
4.
Antioxidants can provide sun and pollution protection.
Antioxidants, among their many other duties, provide environmental protection against stressors, UV damage, and pollution. "Rich in antioxidants, it helps protect the skin from damage from free radicals from UV rays and pollution," says King.
5.
It has antimicrobial benefits.
For those with acne-prone skin, pomegranate seed oil is one of the best oils for you to consider. This is because it can actually help tend to the bacteria that plays a role in acne formation. "It has antimicrobial properties, which helps fight P. acnes bacteria and controls acne," says Worden.
Not to mention, acne is itself an inflammatory condition, so it's vital that you also alleviate inflammation while controlling sebum.
6.
Has scalp and hair benefits.
Remember that your scalp is your skin—and should be paid attention to as such. Certainly there are many popular hair and scalp oils out there (jojoba and argan come to mind), but we're going to argue that you also add pomegranate seed oil to the list.
"Use it in the hair," notes Worden. "It nourishes the hair, stimulates blood circulation, which promotes hair growth and balances scalp pH."
7.
It may promote collagen production.
"It also promotes the synthesis of collagen and elastin, and it promotes skin regeneration, tissue repair, and wound healing," says King. Why is this? Well, as we've noted, the oil contains vitamin C. Vitamin C is actually a very important nutrient for collagen production: It's an essential part of the collagen synthesis process. But it doesn't just stimulate collagen production; it stabilizes the collagen2 you have, leading to overall wrinkle reduction.
How to use pomegranate seed oil in your skin care routine.
Lucky for you, pomegranate seed oil is a very common addition to skin care products as it is. (You may be using something with the ingredient, and you don't even know it!) Because of its popularity in skin care items, this is likely the easiest way to incorporate it. "Moisturizing serums and facial oils can contain pomegranate seed oil and are easy to incorporate into your skin care routine," says King.
If you need help narrowing down your selects, here are our clean, organic, and natural favorites.
The best oil
This brand has amassed a following absolutely dedicated to the high-tech, clean, and innovative formulas. Each ingredient is hand-picked to deliver results, like healthy aging, biome protection, and antioxidant repair. The addition of pomegranate extract certainly helps with all three.
The Face Oil, Augustinus Bader ($230)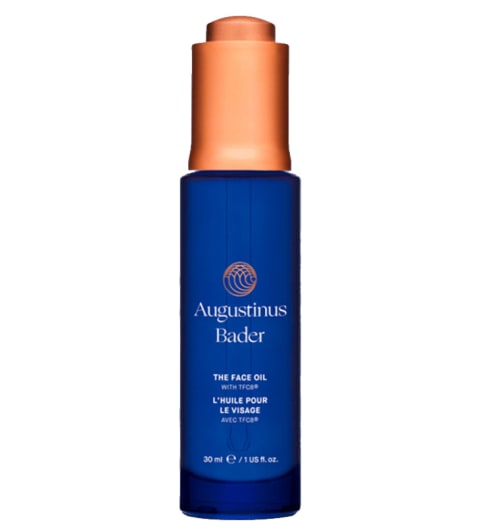 Augustinus Bader
Best budget
Pomegranate seed oil makes up the bulk of this more budget-friendly option. The other two antioxidant-rich oils that appear at the top of the list are argan and sunflower seed oil, two rich and lightweight options that suit just about any skin type. It's blended with a host of other botanical extracts, like blueberry, broccoli, and acai.
Antioxidant Face Oil, Mad Hippie ($24.99)
Mad Hippie
Best serum
This blend of 20 plants not only sports organic addition—but wild-harvested ones, too. (Talk about being dedicated to natural.) Sitting alongside the certified organic pomegranate is evening primrose, rosehip, and plum kernel—all known for their glow-inducing benefits.
The Youth Dew Balancing Face Serum, May Lindstrom ($140)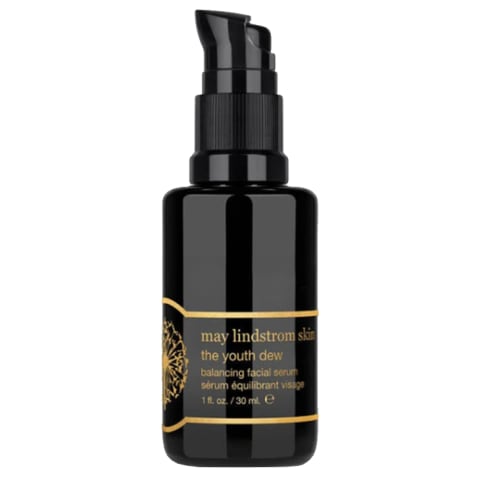 May Lindstrom
Other ways to get the skin benefits of pomegranate.
Here's how to incorporate pomegranate into your entire skin-healthy routine:
1.
Eat or drink pomegranate.
We always believe that beauty starts from the inside. Eating a diet full of antioxidants will help you manage inflammation internally, as well as help you deal with free radical damage. And as we've said plenty of times throughout this article, pomegranates are a great way to get your fill of those. But they also help you in other ways.
"One of the most important health-related functions of the pomegranate is their effect on gut microbiota and their potential use as antimicrobial agents. Fiber from the seeds contributes to gut health by serving as a prebiotic (food for probiotic, live gut-friendly bacteria) and providing the necessary bulk to keep the bowel movement regular and optimize digestive health." The latter point is helpful as we know how intimately gut health and your skin are connected.
Thanks to its moniker as a "superfruit," pomegranate has become a popular supplement for those looking for antioxidant and skin benefits. The supplements are particularly high in vitamin C, which has a host of skin-supporting benefits, which you can read about here.
3.
Use the seeds in a DIY face mask.
"Some people make DIY pomegranate seed masks out of crushed pomegranate seeds. Keep in mind that this type of mask could lead to irritation for some people, and a small segment of people may be sensitive to pomegranate seeds," says Cochran Gathers. This is why it's always essential to spot treat on your forearm before trying any new DIY trick.
But once you've done this, and you'd like to give DIY a go, here's an easy recipe to follow:
Deseed your pomegranate, putting all the seeds in a bowl. (Read all about how to deseed pomegranates without making a mess here.)
Mash the seeds with a fork until it reaches a paste consistency.
Incorporate any additional ingredients, like honey for hydration, oatmeal for soothing, or sugar for granular exfoliation.
Apply the paste to your face, and let it sit for 10 to 30 minutes.
Rinse off with lukewarm water. Be sure to seal in the hydration with a cream or oil after.
Conclusion.
This potent skin care ingredient has many benefits to its name—which accounts for why it's such a popular addition to creams, serums, and oils. Look for the oil or extract if you have concerns about aging, dark spots, or simply want a boost of hydration.
Want to turn your passion for wellbeing into a fulfilling career? Become a Certified Health Coach! Learn more here.
Alexandra Engler
mbg Beauty Director
Alexandra Engler is the beauty director at mindbodygreen and host of the beauty podcast Clean Beauty School. Previously, she's held beauty roles at Harper's Bazaar, Marie Claire, SELF, and Cosmopolitan; her byline has appeared in Esquire, Sports Illustrated, and Allure.com. In her current role, she covers all the latest trends in the clean and natural beauty space, as well as lifestyle topics, such as travel. She received her journalism degree from Marquette University, graduating first in the department. She lives in Brooklyn, New York.