Introducing A New Pillow Mist For A Relaxing Nighttime Ritual: mbg's dream mist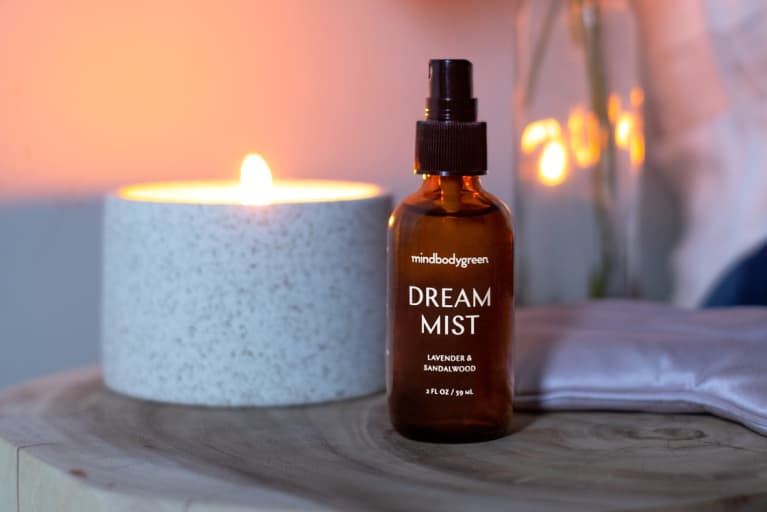 Let's take a moment to appreciate the nighttime ritual. Morning routines tend to get all the glory: A peek into someone's waking hours will reveal their secrets to productivity, motivation, and ultimately, success. Improving your morning routine is a worthy endeavor of course: The a.m. can set the tone for the rest of the day. But the evening hours, those are precious moments too. If the morning is about setting an intention for your day ahead, then the night is about reflection. (What is intention without reflection?) How you close out your day can have just as much impact on your well-being as how you start it.
I don't know about you, but more times than not, I let the day get away from me. As the hours tick on and the tasks pile up, I get caught up in the minutiae. Before I know it, the day has ended—and whatever goals or intention I set that morning has been lost to time. Then there's nothing left in me except the dwindling energy to wash my face, crawl into bed, and slowly fade into slumber. Not very mindful, no? But it is reality.
How I made my day—and now night—more mindful. 
Last year I decided to make myself a morning person. I scheduled my alarm for an hour earlier, and then an hour before that. I got up with the sun and moved my body. I luxuriated in my cup of coffee, savoring the sips rather than chugging while on the go. I won't claim to be the most pleasant person in the early hours, but at the very least I am making myself present.
And now it's time to take back some control of my evenings. Rather than letting a hectic day dictate how I end it, I want to carve out time—20 minutes, 30 minutes, an hour—that is just for me and my thoughts. A time when self-evaluation and self-care are the only events on my to-do list. A time in which I can create a more peaceful state of mind for myself before I fall to rest.
I'm someone who loves a ritual—the comfort that comes with a framework, the air of importance. And so in my attempt to create a proper nighttime for myself, I created a personal calming ritual. And one that starts with this dream mist.
As someone who finds fragrance and scents to be powerful, I often use them throughout my day. I wear a perfume that reminds me of a wistful vacation when I'm feeling stuck in a rut. I use a hand cream with a bright scent to invigorate myself during work hours (and keep my hands hydrated). I use a soft, earthy room spray when I'm craving the great outdoors in my Brooklyn apartment. And I use this aromatic linen mist to mark the beginning of my wind-down routine.
About mindbodygreen's new dream mist.
Cradle yourself with this soft blend of lavender, sandalwood, roman chamomile, and linden blossom essential oils. These ingredients were specifically selected for their research-backed relaxing abilities and soft, pleasing scents. While this is not a sleep aid or treatment, it can be used as part of your nighttime routine to create an atmosphere that will lull your senses and get you in the headspace for rest—just like putting away your phone or dimming the lights.
The basis is of course the lavender essential oil, created from the fragrant and beautiful lavender petals; this oil is a favorite in many households and loved for its tranquil floral scent. Now grown globally, it's native to the Mediterranean, the Arabian Peninsula, Russia, and Bulgaria, where ours is grown and sourced. The oil has long been used in people's nighttime routines, as research shows smelling lavender at bedtime can improve the quality of rest.
But we grounded it with a warm and woody sandalwood. It's an ancient oil that's essential to various meditative rituals for many cultures; this warm and rich note grounds our mist. Traditionally, it is used to help users find a quiet headspace. Originally found in India, more sustainable varieties are now grown all over the world. Ours is from Australian sandalwood, which is considered to be the most sustainable source.
But then we topped it off with an airy, herbal floral, roman chamomile, and linden blossom. Our Roman chamomile is wild-harvested in Europe, and the scent is delicate, herby, and gently sweet to ease the mind. Linden blossom is airy and light, reminiscent of a calm nighttime breeze; our oil is wild harvest in Bulgaria.
Just like sleep itself, how you prepare for rest is very personal and unique to the individual. We encourage you to be thoughtful about how you unwind, and if you think an aromatherapy-inspired linen mist will make for a calming addition to the ritual, then we think you'll be oh-so-pleased by our blend. As for more tips on how to get some rest, check out our science-backed guide.