This Skin Type Can Benefit Most From An Overnight Mask, According To Experts
Contributing Health & Nutrition Editor
By Stephanie Eckelkamp
Contributing Health & Nutrition Editor
Stephanie Eckelkamp is a writer and editor who has been working for leading health publications for the past 10 years. She received her B.S. in journalism from Syracuse University with a minor in nutrition.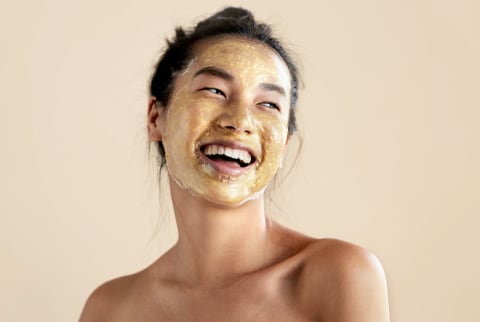 Image by Leandro Crespi / Stocksy
April 2, 2019
Charcoal masks, bubble masks, sheet masks, and even color-changing masks—clearly, our collective obsession with this skin care category is going strong. And now, the most recent face mask trend promises to have you glowing by morning. We're talking about overnight masks, which are giving new meaning to the term beauty sleep.
But what exactly are overnight masks, anyway? And do you really need one, or are they just a way to get you to unnecessarily spend more money? We talked to a holistic esthetician and a dermatologist—and even put one to the test—to find out.
Advertisement
This ad is displayed using third party content and we do not control its accessibility features.
What are overnight masks, and who should use one?
While there's no official definition, most overnight masks (sometimes called sleeping masks) are just really thick night creams that create somewhat of a barrier over the skin as you sleep. Some are ultra-rich and hydrating, while others claim to fight acne and contain detoxifying ingredients like bentonite clay and charcoal. But the ingredients included in some of these masks may not actually be appropriate for overnight use, according to experts.
"Because they're on your face for a prolonged period of time, I wouldn't use one that contains anything drying like clay or charcoal, which can pull moisture from the skin," says Nichola Weir, holistic esthetician and owner of Pacific Touch NYC. While these ingredients can be useful for shorter applications, they may be overly drying or irritating if used overnight.
Hydrating overnight masks, on the other hand, are far less likely to cause issues when in contact with skin for several hours, and "some of these can be a nice option for people who are really struggling with dry skin," says Weir, "especially if you're not in control of the heat in your apartment building." They can also be great for use on long flights, says Weir, as they help counter transepidermal water loss—the process by which we lose moisture through the skin, which is greatly accelerated on airplanes due to their extremely low humidity levels.
As for specific ingredients, Weir suggests looking for gentle ingredients that hydrate and support the skin's barrier like hyaluronic acid, peptides, ceramides, and non-comedogenic oils such as sunflower and rosehip seed oil (after all, if something's going to be on your face for seven or eight hours, you want to make sure it doesn't clog your pores). Dermatologist Amy Wechsler, M.D., agrees, adding that she'd focus on highly moisturizing ingredients like hyaluronic acid and glycerin.
Once you find a mask that seems like a good fit, do a spot test. "You don't want to leave it on your face all night only to find out you have a bad reaction," says Weir. To get a good idea of how you'll respond, use the mask in a small spot on a less obvious area like your arm for a couple of nights in a row to see how you respond, suggests Dr. Wechsler.
Image by Youth to the People / Contributor
Advertisement
This ad is displayed using third party content and we do not control its accessibility features.
What's it like to use an overnight mask? We put one popular option the test.
As someone with relatively dry skin who gets sporadic dry, flaky patches year round, I've been pretty intrigued by overnight masks. Armed with the above knowledge from Weir and Dr. Wechsler, I grabbed Youth to the People's new Superberry Hydrate + Glow Dream Mask, which contains sunflower seed oil, glycerin, and hyaluronic acid—so I knew it would be mega hydrating. The fact that it also contains squalane oil, which is similar to our skin's natural sebum so it doesn't clog pores, and loads of antioxidants from ingredients like maqui, goji, and moringa sealed the deal.
The first thing I noticed? The stuff is thick. Thicker than any night cream I've used. And while it went on relatively clear, the mask definitely created a nice moisture-rich barrier. By morning, my skin still felt moist to the touch; and, after washing my face and applying a lighter daytime moisturizer, I will say that my skin looked a bit dewier and felt a bit plumper and bouncier than usual—I'm guessing from the increased hydration. After a few nights of diligent application, my face was flake-free and pretty damn soft with no new breakouts or irritation in sight.
Overall, I thought it was a great way to deliver an intense dose of hydration to my skin, and I'll probably keep using one (as long as I can remember to pin my hair back so it doesn't adhere to my ultra-moisturized face in the middle of the night). But, as the weather gets warmer, I'll likely scale back to once a week. That said, if your skin feels adequately hydrated already, or if you have oily, acne-prone skin, you probably won't benefit much from adding an overnight mask to your skin care regimen.
Advertisement
This ad is displayed using third party content and we do not control its accessibility features.
Heal Your Skin.
Receive your FREE Doctor-Approved Beauty Guide