5 Light, Fresh & Nutritious Recipes For Mother's Day Brunch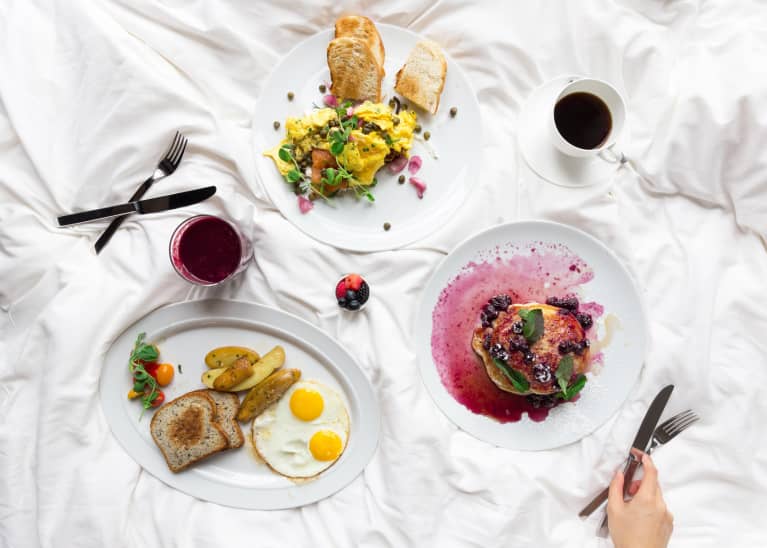 Who knows where the link between Mother's Day and brunch started, but at this point, it seems a pretty well-established way for many families to celebrate on this notable Sunday in May.
That said, brunch dishes can be a bit robust, so we dug into our recipe lists to find some fresher, lighter options for your morning meal celebration—whether it's served in bed or at the table:
Skip plain eggs in favor of this simple dish, made by combining olive oil, cherry tomatoes, thyme, spinach, and garlic in a pan before you add eggs to cook gently in the sauce. This recipe also comes with directions for an herby side salad, for some bonus greens.
Get the recipe here.
Looking to keep things vegan? This clever frittata uses chickpea flour and cooked quinoa in place of scrambled eggs, keeping a light, fluffy texture and a dose of protein for the base. The recipe also calls for classic veggie mix-ins: mushrooms, bell peppers, onion, and greens.
Get the recipe here.
If you want to make salad the main event, you could opt for this Beyoncé-approved breakfast salad (yeah, you read that right). It's from Marco Borges, who worked with Beyoncé and Jay-Z on campaigns promoting plant-based eating. The salad is topped with a homemade dressing, citrus, pomegranate, and pumpkin seeds for crunch.
Get the recipe here.
For a more traditional breakfast or brunch, make these pancakes, with a savory twist. They're colored green with spinach purée and topped with your favorite savory breakfast items: avocado, tomato, spinach, and scallions. Finish them off with a dollop of cottage cheese, which might not be as classic but is definitely delicious.
Get the recipe here.
5.
Berry Quinoa Breakfast Salad
Quinoa might not normally be the grain that appears on your breakfast table, but this twist on a fruit salad puts it front and center alongside blueberries and blackberries. Toss the mix with some sweet lemon dressing, and top with sliced almonds for a unique breakfast item you might even want to make for non-holidays.
Get the recipe here.
And if you want a cocktail to go with your brunch, we've got that covered with this homemade garden-to-glass Bloody Mary mix.