Nuobell Adjustable Dumbbells Vs. Bowflex, From A Certified Personal Trainer

CPT and certified nutrition coach
By Rachel MacPherson
CPT and certified nutrition coach
Rachel Macpherson is a CPT and certified nutrition coach.

Expert review by
BB Arrington, CPT
Personal trainer & holistic nutritionist
BB Arrington is NASM-certified personal trainer, holistic nutritionist, and sustainability advocate.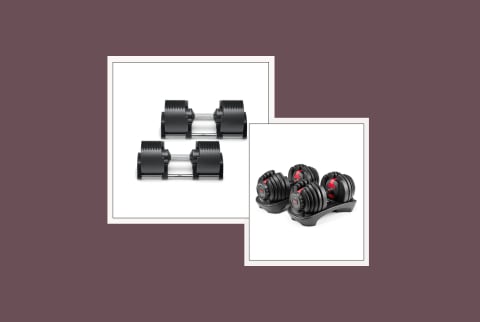 June 17, 2023
We carefully vet all products and services featured on mindbodygreen using our
commerce guidelines.
Our selections are never influenced by the commissions earned from our links.
As a strength and conditioning specialist and personal trainer, it's no surprise I love the gym—but admittedly, I am a homebody at heart. To that end, I've curated a pretty substantial home gym with everything I need and more to get a fantastic workout. One of the first notable pieces of equipment I bought was a set of adjustable dumbbells, and my life was forever changed. I've tested a number of models, but today I'm comparing two of my favorites: Bowflex vs. Nuobell.
I'll dive deep into each product's weight ranges, price, materials, and overall design. While I use and enjoy both Nuobell and Bowflex, there's one pair I tend to reach for. Keep scrolling to find out which set of adjustable dumbbells I favor.
What are adjustable dumbbells?
Adjustable dumbbells are dumbbells with plates or discs that slide in and out of the handles to add or remove weight. Since each one can be modified to create a range of weight loads, these dumbbells save a lot of space and a significant amount of money. Ultimately, they're an extremely appealing piece of equipment for home gyms.
Who should use adjustable dumbbells?
Dumbbells can be used for a vast number of excellent exercises that will work your entire body. Anyone wanting to improve body composition, build muscle, increase bone mass, or boost muscular endurance and longevity could use adjustable dumbbells. They typically go up to 50 or 80 pounds, so adjustable dumbbells are ideal for those who do not need super heavy weights.
If you're finally ready to cut the cord with an unused gym membership but don't want to invest in multiple sets of weights, you might want to consider adjustable dumbbells. But if you are not the type to lift at home, spending money on a hefty set is likely not a good investment.
What is Nuobell?
Nuobell is a Swedish designed brand offering adjustable dumbbells that come in sets of two. There are two choices: the Nuobell 550 which reaches 50 pounds, and the Nuobell 580 which reaches 80 pounds. The brand also makes a dumbbell stand to hold sets off the floor for easier accessibility.
What is Bowflex?
Bowflex is an exercise equipment company that makes adjustable dumbbells in sets, including the SelectTech 552s, which reach a max weight of 52.5 pounds, and SelectTech 1090s which go up to 90 pounds. Bowflex also has accessories for the dumbbells, including a stand and weight benches, which can be purchased separately.
Nuobell vs. Bowflex:
Nuobell adjustable dumbbells
Materials:
Machined steel
Weight capacity:
50lb
80lb
Who should try them?
These adjustable dumbbells are great for anyone who wants access to a wide range of weights, but doesn't have a lot of space. The flat edges make them perfect for pushups, and the sleek design is preferable over bulkier options. They're easy to use and even simpler to store.
Who should skip them?
If you're looking for weights that can be adjusted at 2.5-pound increments, you'll be better off with the Bowflex dumbbells. Additionally, if you often do exercises that involve holding weights by the plates, these might not be the most comfortable to use.
Bowflex adjustable dumbbells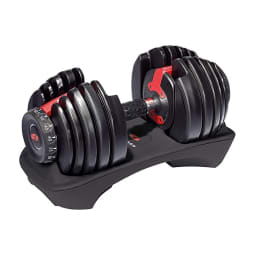 Materials:
Nylon
ABS plastic
Thermoplastic rubber
Weight capacity:
52.5lb
90lb
Who should try them?
It seems like everyone loves these adjustable dumbbells (including our commerce editor, Carleigh Ferrante, and I myself, the writer). They're an excellent option for anyone who wants a variety of weights (at 2.5-inch increments) but doesn't want to take up a ton of space in their home gym.
Who should skip them?
The length is a bit longer than other options (the Nuobells in particular), so some people may find these a bit awkward to use for specific exercises.
Advertisement
This ad is displayed using third party content and we do not control its accessibility features.
Nuobell adjustable dumbbells vs. Bowflex
Comparing the cost of Nuobell adjustable dumbbells vs. Bowflex
Nuobell dumbbells are only sold as a pair, with the 50 pound set priced at $595 and the 80 pound set priced at $745. Each comes with a 2-year warranty and includes portable cradles to house the dumbbells. You can purchase a one or 3-year extended warranty for extra assurance.
Bowflex SelectTech dumbbells are priced at $379 for the 552s and $699 for the 1090s. Each set includes a 2-year warranty on parts; additional warranties are available for purchase.
Comparing the weight capacity for Nuobell adjustable dumbbells vs. Bowflex
Nuobells are made with plates in 5 pound increments that start at 5 pounds and go up to 50 or 80 pounds, depending on your chosen set. The 50 pound set replaces ten pairs of dumbbells, while the 80 pound set replaces 16 sets.
The SelectTech 552 dumbbells include weight options of 5, 7.5, 10, 12.5, 15, 17.5, 20, 22.5, 25, 30, 35, 40, 45, 50, and 52.5lb to create 15 pairs of dumbbells. The SelectTech 1090s start at 10 pounds and increase in 5 pound increments going up to 90 pounds, providing 17 weight options.
Comparing the design for Nuobell adjustable dumbbells vs. Bowflex
Bowflex SelectTech dumbbells are made from nylon and ABS plastic, with thermoplastic rubber handles and ends. Steel pins keep the weight plates in place, and plastic storage trays protect the floor. To adjust the weight on the dumbbells, simply turn the dials on each end of the dumbbell so they are both pointing at the same number before you lift it off the storage tray.
The Nuobell adjustable dumbbells feature slim steel weight plates that fit together with no gaps. Similar to a traditional barbell or heavy-duty dumbbell, the handles are knurled steel. These dumbbells come in low profile, sturdy plastic cradles to protect your floor and keep the weights in place. When you want to adjust the weight of the Nuobells, you'll just need to twist the handle and both ends of the dumbbell will adjust to the new weight. This makes the dumbbells easy to use and fast to adjust.
Nuobell adjustable dumbbells vs. Bowflex: Our verdict
I happily use both my Nuobells and Bowflex weights—but for the most part, I reach for the Nuobells. The knurled steel grip, ease of use, and sleek design is preferable to the bulkier Bowflex weights. What's more, Nuobell's plates are firmly conjoined and do not move around or rattle when using them.
The Bowflex weight plates have gaps in between, which add to their length and can sometimes create an off-balance feeling. Note: This tends to only happen when they're set to a heavier weight capacity, or when performing exercises that require careful balancing to get them into the starting position, such as bench and shoulder presses. When performing these exercises, the length of the Bowflex weight can prohibit a full range of motion, especially if you are more narrow in your chest and shoulders.
That said, there are times when the Bowflex weights are a much better choice. For instance, the Nuobell plate edges are relatively sharp, making them uncomfortable for goblet squats, where you need to hold the weight by the plates. Most notably, the 2.5-pound increments are very useful. It's great to be able to slightly increase the weight capacity, particularly when I'm trying to increase weight in an exercise that uses small muscle groups.
Bowflex adjustable dumbbells pros & cons:
Pros:
Less expensive
Padded handles
Cons:
Large size makes some moves awkward
Plates can wobble
Nuobell adjustable dumbbells pros & cons:
Pros:
Compact, space-saving design
Easy to use
Knurled grip
Cons:
Can be tricky to set into cradle at heavier weights
Straight edges on plates can make some moves awkward
FAQ:
What is the difference between NÜOBELL vs Bowflex?

Nuobell adjustable dumbbells are made of machined steel, have knurled steel handles, and are adjustable with a single turn of the handle. Bowflex SelectTech dumbbells are made from ABS plastic and nylon with rubber padded handles and are adjusted by turning dials at each end of the dumbbell. The Nuobell dumbbells have a sleeker design and 5-pound increments, while the Bowflex dumbbells are a bit wider and can be adjusted in 2.5-pound increments.
How durable is NÜOBELL?

Nuobell adjustable dumbbells are extremely durable as they are made from machined steel.
Are Bowflex adjustable dumbbells worth it?

When compared to buying each dumbbell weight individually, Bowflex adjustable dumbbells are worth the cost. They also save space and are incredibly durable.
Can you do pushups with Nuobell?

You can do pushups with Nuobells by placing them on the floor a bit wider than shoulder width. Place your hands on the handles and perform a push-up. They are sturdy, and the flat bottom side will prevent them from rolling. The Bowflex dumbbells, on the other hand, are round—so you cannot do pushups on them.
How strength training impacts health & longevity
The takeaway
Meet The Experts
Rachel Macpherson is a CPT and certified nutrition coach.
BB Arrington is NASM-certified personal trainer, holistic nutritionist, and sustainability advocate.