Close Banner
Advertisement
This ad is displayed using third party content and we do not control its accessibility features.
The 6 Best Workout Mirrors Of 2023 For Smarter, More Effective Exercise


Expert review by
BB Arrington, CPT
Personal trainer & holistic nutritionist
BB Arrington is NASM-certified personal trainer, holistic nutritionist, and sustainability advocate.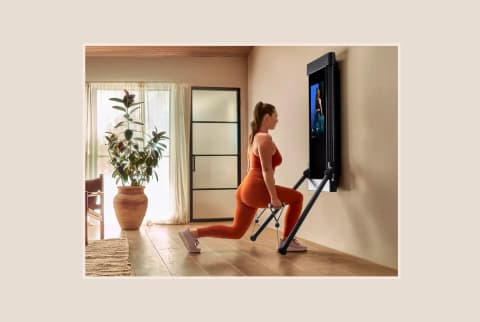 We carefully vet all products and services featured on mindbodygreen using our
commerce guidelines.
Our selections are never influenced by the commissions earned from our links.
Developing a fitness routine can be tough, but the benefits of regular exercise far outweigh the hurdle it might take to get there. With new advances in the fitness industry, you can now achieve these benefits without even leaving your house. The best workout mirrors feature technology that allows you to stream lifelike classes, receive real-time feedback, and enhance your physical and mental well-being through exercise.
The Mirror, the original wall-mounted home gym, hit the fitness scene in 2018. Since then, brands have continued to launch innovative takes on the newest home gym essential. The game-changing equipment can bring your favorite aspects of an in-studio workout to your living room, or pack the power of a personal trainer with smart A.I. that corrects your form in real time. Below, we unpack the pros and cons of the current workout mirrors available on the market—and tap experts for their take on the smart workout equipment.
The best workout mirrors of 2023:
The best workout mirrors of 2023:
What is a workout mirror?
Love the convenience of exercising from home but miss the energy of an in-person fitness class? Workout mirrors solve this issue by providing a full-length display that allows you to view live and on-demand classes in a truly immersive environment. The dual-functioning screen is reflective, meaning you can watch the workout while you watch yourself. Most of these mirrors have built-in cameras that allow either the instructors or smart technology to give real-time feedback on form.
Some workout mirrors also have two-way communication features so you can interact with your favorite instructors. Others use cameras and AI technology to automatically adjust your weights or suggest new workout classes and goals. Many models can be mounted to your wall to take up a minimal amount of space. There are a few free-standing options on our list as well, along with some that have an option for either free-standing or mounted.
While a few of our picks entail just the workout mirror itself, others are more of an all-in-one fitness solution, with weights and additional equipment included. Each mirror has its own features and capabilities, which we'll outline in our list below.
Who should use a workout mirror?
People who want access to an immersive fitness experience from home would likely enjoy a workout mirror. "Several of my patients really enjoy the workouts they get on their Mirrors," says dual board-certified doctor Seema Bonney, M.D. "Without leaving their homes, they can observe a fitness instructor and themselves at the same time so they can copy exactly what the trainer is doing."
Bonney adds that exercise is not a one-size-fits-all experience, so what works for one person will not necessarily work for another. That's why it's helpful that each of our picks includes a free trial of at least 30 days.
"I'm a fan of anything that makes it more convenient to exercise," Bonney says of exercise mirrors. "Exercise is vital for staying fit and improving your overall well-being, especially as you age. Not exercising regularly comes with high health costs and is inherently a pathologic state." Research has shown even just 10 minutes of exercise per day can improve longevity. "A study published earlier this year in the esteemed JAMA journal estimated that 110,000 deaths per year would be prevented1 if U.S. adults greater than age 40 increased their physical activity intensity to moderate, for just 10 minutes per day," Bonney explains, noting that even greater benefits were seen in those exercising for 20 to 30 minutes per day.
If you don't have enough time in your day (or the desire) to commute to the gym, don't want to pay for frequent boutique exercise classes, or simply want to step up your already existing home gym setup, a workout mirror could be a great choice for you. "Many years ago, exercising = going to the gym, but [that's] not the case anymore," Bonney says. "Pelotons, treadmills, at-home gyms, online classes, gadgets like the Tonal and Mirror are helping people exercise and gain all the benefits that come with regular use!"
How we picked:
Design
No matter which model you choose, your workout mirror is going to be a prominent fixture in your designated exercise area. We prioritized mirrors with aesthetically pleasing designs that do not take up too much space and will blend with the rest of your room.
Quality
These devices are not cheap, but they're an investment in your health. We looked for products of the highest quality, with clear visuals and audio.
Trial period
We only included workout mirrors from brands that offer a free trial of at least 30 days. Each brand also offers a warranty.
Reviews
Customer feedback is important, so we scoured hundreds of reviews to make sure we were choosing workout mirrors that the majority of people are pleased with. We included feedback from negative reviews as well.
Our picks for the best workout mirrors of 2023:
Advertisement
This ad is displayed using third party content and we do not control its accessibility features.
Advertisement
This ad is displayed using third party content and we do not control its accessibility features.
Advertisement
This ad is displayed using third party content and we do not control its accessibility features.
How to choose a workout mirror.
The right workout mirror for you will depend on your preferences, home setup, and budget. First, consider the amount you are willing to pay on this piece of equipment. Keep in mind, if you are using it as a replacement for in-person classes or other online memberships, you'll be saving the money you had been spending on those expenses. How often you plan on using your mirror will help inform what you might be open to spending.
You'll also want to consider the types of classes you're looking for and make note of the options available through each of these devices. Do you want a mirror that comes equipped with everything you need to work out from home, or do you already have a large selection of equipment?
Lastly, make note of the dimensions of each product and whether it is free-standing, mounted, or has the option for both.
FAQ:
Are exercise mirrors worth it?

As is the case with any exercise equipment, an exercise mirror is worth it if you plan to use it properly and frequently. Per our expert, daily exercise is extremely beneficial for our health and longevity—so if a workout mirror will help you meet your daily exercise goals, it is absolutely worth it.
What is the difference between Tonal and Mirror?

Tonal and Mirror are very similar workout mirror options, with some key differences. To name a few: Tonal has a touchscreen and The Mirror does not; Tonal has a built-in smart bar and a set of smart handles with cables, while The Mirror is just a freestanding (or wall-mounted) mirror; The Mirror has the option to mount it to the wall or stand it up, and Tonal must be mounted.
The takeaway.
The best workout mirrors have features that make any home feel like a fitness studio. With access to live and on-demand workouts, personal training sessions, real-time form feedback, and more, these devices help hold you accountable to your fitness goals. Not sure if this is the right equipment for you? Check out our picks for the best home exercise equipment—and don't sleep on the best gym shoes, either.
Meet The Experts
BB Arrington is NASM-certified personal trainer, holistic nutritionist, and sustainability advocate.