A Neurophysiologist Shares 3 Sneaky Factors Messing With Your Sleep

mbg Beauty & Wellness Editor
By Jamie Schneider
mbg Beauty & Wellness Editor
Jamie Schneider is the Beauty & Wellness Editor at mindbodygreen. She has a B.A. in Organizational Studies and English from the University of Michigan, and her work has appeared in Coveteur, The Chill Times, and Wyld Skincare.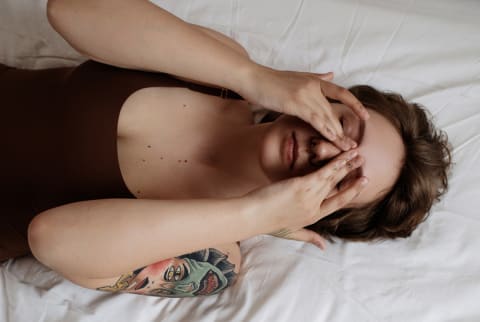 Image by SERGEY FILIMONOV / Stocksy
April 21, 2023
Our editors have independently chosen the products listed on this page. If you purchase something mentioned in this article, we may
earn a small commission
.
If you want to secure a younger brain, you have to focus on sleep—plain and simple. Take it from neurophysiologist Louisa Nicola, founder of Neuro Athletics: "Sleep is the most underrated high-performance tool that we have," she says on the mindbodygreen podcast. A good snooze is not only crucial for immediate performance, she notes (think memory and focus) but also for lifelong brain health.
But, sigh, enhancing your sleep is way easier said than done. Even if you commit to all the sleep-promoting tricks and gadgets you can find, you may still wake up feeling exhausted, groggy, or both. It's a frustrating situation to find yourself in, but according to Nicola, a few sneaky culprits may be at play.
Advertisement
This ad is displayed using third party content and we do not control its accessibility features.
Here, she shares three underrated factors that could be messing with your sleep—if you just can't seem to catch quality Zzzs, you'll want to take a peek:
Yes, alcohol totally messes with your sleep. You're probably thinking: But I feel so sleepy after a few drinks! Well, ethanol—the active ingredient in alcohol—is technically a sedative. But as Louisa notes: "Sedating is very different to sleeping." And as that alcohol gets metabolized through the night, it disrupts essential deep sleep stages like REM sleep1.
"If you drink, you actually block deep sleep and REM sleep; it's very hard to get into those stages," she notes. That's why you may wake up super groggy after a night of drinking, despite getting the same amount of shut-eye—it's the quality of your sleep that gets compromised.
Like alcohol, melatonin supplements are also known for relaxing the body and helping your eyes feel heavy before bed. But in case you weren't aware: Melatonin is a hormone you naturally have in your body. It gets released from the pineal gland when the sun goes down to prepare your brain and body for rest.
"We already secrete it naturally," Nicola says. So when you take melatonin, "your brain is getting an influx of this naturally secreting hormone, but it's a synthetic version," she adds. "It's probably thinking, What is going on?'"
Look, melatonin can be helpful as a short-term solution to reset your circadian rhythm. But when taken on a nightly basis, there is limited evidence2 that it will improve sleep quality. It may make it easier to fall asleep slightly quicker, but it won't necessarily make it easier to stay asleep or reach deep sleep stages. That's why experts—Nicola included—don't recommend taking it as a nightly sleep supplement.
"I'm really against it. The only time I'm not against it is to help get back on circadian rhythm due to jet lag," she notes. If you are in the market for a nightly solution, look for a nonhormonal formula with ingredients better suited for nightly use (here's a list of our favorites).
Advertisement
This ad is displayed using third party content and we do not control its accessibility features.
"One of the reasons why we feel so jet lagged is because we're dehydrated," Nicola declares. Plus, not enough hydration can mess with your quality of rest in general; a 2019 study even found that adults who had a short sleep duration (six hours or less) also had suboptimal hydration levels3.
But that doesn't mean you should chug a few cups before bed. Drinking too many liquids at night can result in multiple trips to the bathroom—which means more sleep interruptions throughout the night.
The solution? Focus on hitting your water quota during the day, so you're not backlogging your liquids at night. Make sure you get enough fluids so that you aren't parched at night (though if you are, feel free to drink some water; again, hydration is key!). In case you need some more prescriptive advice, urologist Vannita Simma-Chiang, M.D., recommends taking your last sip of the day three to four hours before bed.
The takeaway
If you just can't seem to optimize your sleep schedule, make sure you aren't dealing with one (or more) of the above factors. They might sound simple, but according to Nicola, they can easily build up into a problem over time.
Advertisement
This ad is displayed using third party content and we do not control its accessibility features.