Let's Upgrade Your Hand-Washing Routine: How To Infuse Joy Into The Habit
mbg Beauty Director
By Alexandra Engler
mbg Beauty Director
Alexandra Engler is the beauty director at mindbodygreen and host of the beauty podcast Clean Beauty School. Previously, she's held beauty roles at Harper's Bazaar, Marie Claire, SELF, and Cosmopolitan; her byline has appeared in Esquire, Sports Illustrated, and Allure.com.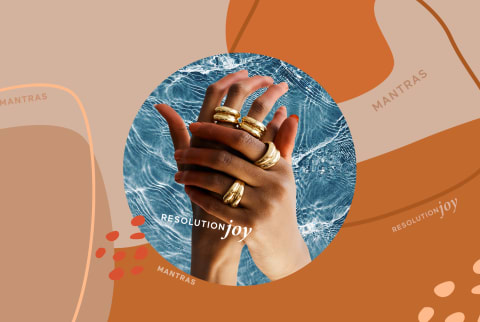 Graphic by mbg Creative x MATHIAS HANNES / Stocksy
January 3, 2021
In 2021, we're focusing on joy. After the year we've had, cultivating and celebrating small moments of happiness as they come has never felt more cathartic, life-affirming, and essential to lasting well-being. In the coming weeks, we're going to laugh, experience new things, and revamp stale aspects of daily life. Come back each day for a new "Resolution Joy" installment, where you'll find inspiration and expert-backed advice, free classes, and—dare we say?—fun activities.
Hand-washing is likely on the list of things you started doing a lot more of in 2020; almost overnight perfecting our hand hygiene became a top priority. Now that we've settled into it, however, it may be time we take a step back and infuse some joy into the habit.
Yes, you read that right: We're making hand-washing joyful.
How to make hand-washing joyful.
The CDC recommends washing your hands for at least 20 seconds1, and doing so before, during, and after food prep, after using the restroom, after entering the home, after interacting with others, and so on. That's a lot of time spent at the sink. By now you've probably heard the standard counting techniques: singing "Happy Birthday" twice or running through the alphabet. Perhaps helpful for kids, but not so inspiring for adults, no? You could also simply count out the 20 seconds, but that also seems like a wasted opportunity.
Instead, take a page from mantra meditation. "The practice of mantra meditation utilizes the silent repetition of a word or phrase as the point of focus to help hone a more focused awareness. It aids in the slowing down of mental activity and thought," writes meditation teacher Megan Monahan. Here, we should note that a hand-washing routine is certainly not the same as a proper mantra meditation practice. That requires you to adopt a more thorough approach—read our beginner's guide on mantra meditation here—but repeating a thoughtful phrase to yourself throughout the day is a worthwhile endeavor regardless. And if you find yourself enjoying the routine? Well, take it as a cue that mantra meditation may be for you.
For some mantra inspiration, here are some phrases—from various experts like author Belinda Anderson and physician Lissa Rankin, M.D.—you can say while washing your hands. How slow you say these phrases will adjust the amount you actually say them, but we included a safe range to get you over the 20-second benchmark:
I am gentle with myself. Repeat 12 to 15 times.
I am in agreement with life, and I resist nothing. Repeat 9 to 11 times.
I am capable. Repeat 18 to 20 times.
I know who I am, and I am enough. Repeat 10 to 12 times.
I choose to be present in all that I do. Repeat 10 to 12 times.
I share my happiness with those around me. Repeat 9 to 11 times.
I know with time and effort I can achieve. Repeat 8 to 10 times.
I love challenges and what I learn from overcoming them. Repeat 6 to 8 times.
Each step is taking me to where I want to be. Repeat 9 to 11 times.
How else can you improve your hand-washing experience?
Repeating an inspiring phrase isn't the only way to create a more luxurious experience. A big part of it is what products you use, as the soap and aroma can change the sensorial experience—as well as what you do with your skin post-wash too.
Soap. Strong soaps can be very stripping, leaving hands cracked, itchy, and irritated. That's why we recommend finding a neutral soap, buffered with ingredients like aloe vera, oils, and humectants to help infuse moisture into the skin. Your hands should feel supple and soft post-wash, not angry. Here are some of our favorite hand soaps if you're looking for a new option.
Scent. If you are one to enjoy fragrance, finding a scent you enjoy can be a critical component in making hand-washing more enjoyable. Certain fragrances—like citrus—can energize; some—like lavender—soothe; others inspire comfort—like woodsy warm notes. (We should note here, too, that scent is not a mandatory requirement. If you have sensitive skin or are not fond of fragrance, then fragrance-free soaps are likely better-suited to you.) Finding a blend that appeals to you can make going to wash a revitalizing moment rather than another chore.
Hand cream. Post-wash you'll want to comfort skin and seal in moisture with a decadent hand cream. Stop thinking hand creams are nothing but a nice add-on: We argue that they are a vital part of the washing process, so you are not inadvertently hurting your skin barrier and microbiome in an attempt to practice good hygiene.
The takeaway. 
If we are going to bring joy back into 2021, let's find easy, simple ways to fold it into what we are already doing. That way, it doesn't become an extra chore: You're simply revamping a routine that's already in place. Hand-washing is the perfect example. We all have to do it regardless, so let's at least make it an experience we enjoy.
Want to turn your passion for wellbeing into a fulfilling career? Become a Certified Health Coach! Learn more here.
Alexandra Engler
mbg Beauty Director
Alexandra Engler is the beauty director at mindbodygreen and host of the beauty podcast Clean Beauty School. Previously, she's held beauty roles at Harper's Bazaar, Marie Claire, SELF, and Cosmopolitan; her byline has appeared in Esquire, Sports Illustrated, and Allure.com. In her current role, she covers all the latest trends in the clean and natural beauty space, as well as lifestyle topics, such as travel. She received her journalism degree from Marquette University, graduating first in the department. She lives in Brooklyn, New York.