5 Mental Health Mantras That Help Me Maintain Balance During The Holiday Season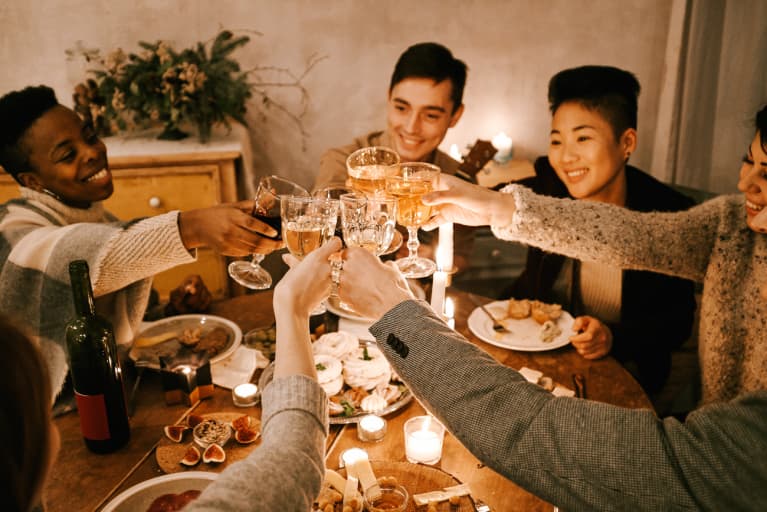 In my telehealth functional medicine clinic, the holidays are one subject that inevitably comes up with clients during the course of care. Since this time of celebration is primarily centered around food—and often unhealthy dishes at that—it's bound to cause some people to feel anxious and overwhelmed.
It's easy to spend this season so stressed that you end up abandoning your health goals, with the intention to start over in the new year. But who says the holidays need to involve gluttonous bingeing or heightened anxiety? It's time to reclaim the holidays for your health.
The importance of mindset.
More often than not, a person's mindset can make or break someone's wellness journey. Yes, sticking to healthy eating is going to be better than not—but if you are serving yourself a slice of stress with your daily kale salad, it can be just as bad as eating that slice of holiday pie.
There should be a grace and lightness to wellness. And when we are so focused on rigid goals, it can lead to shame and anxiety during the holidays when, really, they should be about gratefulness and time with loved ones. Practicing mindfulness can help create a sense of peace surrounding whatever happens between yourself and what you eat during this time of year.
When your mind is centered, you may find yourself not even wanting to reach for those sweets. Or, if you do have a dessert, you may find yourself filled with less guilt and stress-related physical symptoms.
Try a mindfulness mantra.
To help bring you back to the present moment this holiday season, without unnecessary feelings of shame and guilt, I've compiled five mantras from my book The Inflammation Spectrum.
Repeat each of these mantras aloud (or in your mind) whenever you need it, and for five to 15 minutes while sitting quietly in the morning and/or evening. They will help cleanse your body, mind, and spirit of negativity. Each mantra is based on a particular area of the body that can become inflamed and imbalanced, especially during the holidays. Focus on one or all, depending on what you need individually:
1.
"I allow my body to return to its most natural state of thriving health. I am cleansed and pure."
An overload of sugar and processed foods can take a toll on our systems. Repeat this mantra whenever you are feeling overloaded—food- or stress-wise.
2.
"My blood sugar is balanced; I am balanced. My insulin and leptin hormones are balanced; I am balanced."
Can someone say sugar high? The holidays are filled with opportunities to overindulge in sweets. Even though this has to do with blood sugar, repeating it to yourself may just help you feel more balanced in all areas of your life.
3.
"My thoughts are aligned with perfect health, and I become clearer and happier each day."
Brain fog can be a not so fun side effect of too much unhealthy food and stress. This mantra can help refocus your thoughts toward your positive health goals.
4.
"I am in perfect balance, and I trust my gut."
Inflammatory, gut-irritating foods abound during the holidays, and stress certainly can do a number on your gut, as well. Repeating this mantra to yourself is an encouraging reminder that you are in control of your health journey. Ultimately, you know what is right for your health. These words will encourage you to listen to your body and what it's trying to tell you.
5.
My body is powerful and constantly restores itself.
Remember, no matter what happens during the holiday season, your body is resilient. It is designed to heal and wants to restore itself to optimal health.
Lean into these mantras this holiday season, and remember: Health is a constant journey and one that is meant to be enjoyable, no matter the season.