This Common Beauty Habit Can Cause Little Bumps Around The Eyes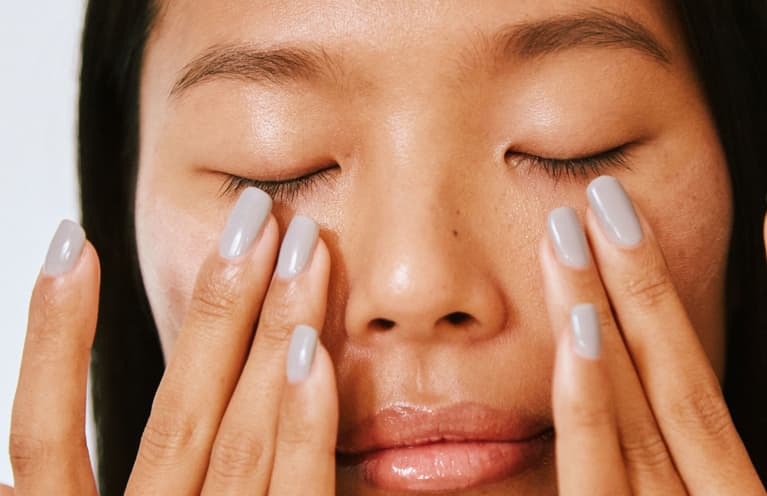 Our editors have independently chosen the products listed on this page. If you purchase something mentioned in this article, we may
earn a small commission
.
Ever noticed little white bumps around your eye area? Some discover them under the eyes, while others see these pesky dots on the eyelids. Although they may look like whiteheads at first glance, you're likely dealing with an entirely different skin care concern: milia.
Now, milia has a number of causes, but board-certified dermatologist Whitney Bowe, M.D., hopped on TikTok to share a particularly sneaky reason you might be seeing them more frequently. Spoiler: It has to do with a very popular skin care practice.
Sneaky causes for milia around the eyes.
You may also hear milia referred to as milium (when referencing a single bump) or milk spots, a common nickname. They're benign and transient cysts of keratin that generally last a few weeks to a few months. Milia are more commonly seen in newborn babies (40% to 50% in fact) but can happen to anyone, at any age. You can read more about the itty-bitty bumps here.
And according to Bowe, sunburn, sun exposure, and slugging with mineral oil products can all lead to that keratin buildup in the skin. In case you're unfamiliar, slugging involves layering on an occlusive moisturizer as the last step in your skin care routine. This helps lock in hydration and can be especially helpful for those with a damaged skin barrier. However, because the skin around the eyes is so thin, layering those heavy creams or oils can clog the tiny pores.
Don't fret; in the comment section, Bowe discusses possible treatment for slugging-induced milia: First, remove any products with heavy-occlusive mineral oil from your routine and track any improvements. (Don't worry, you can still slug without using mineral oil.)
She also mentions that skin cycling—aka, spacing out your potent actives to increase their efficacy and protect your skin barrier—may help as well. Milia is caused by a lack of natural exfoliation of the skin, so gently speeding up the process with products can help (just make sure you don't go overboard!). We've previously covered Bowe's skin cycling routine, if you'd like to test out the derm-approved cadence.
Finally, Bowe explains that some milia bumps may call for manual removal by a dermatologist or an esthetician. Be sure to seek professional help rather than attempting to remove them yourself, as this step is not DIY-friendly.
Small bumps around the eyes may look like whiteheads on the surface, but you shouldn't treat them as such—you could be dealing with milia, which requires a different plan of action. Milia is easily caused by slugging with mineral oil products, so it's best to rotate those products out of your routine (if you use them), keep the skin exfoliated without damaging the barrier, and see a dermatologist or esthetician if they persist. Want to learn more about how to slug the right way? Here are three common mistakes to avoid.