Adding This To Your Coffee Is "Magic" For Controlling Cravings, Says An MD

mbg Beauty & Wellness Editor
By Jamie Schneider
mbg Beauty & Wellness Editor
Jamie Schneider is the Beauty & Wellness Editor at mindbodygreen. She has a B.A. in Organizational Studies and English from the University of Michigan, and her work has appeared in Coveteur, The Chill Times, and Wyld Skincare.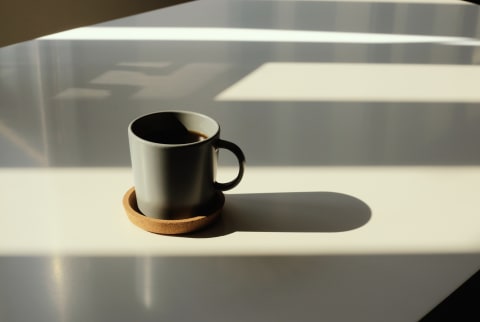 Image by tolgart / iStock
March 29, 2023
Our editors have independently chosen the products listed on this page. If you purchase something mentioned in this article, we may
earn a small commission
.
Want to hack your hunger hormones? According to integrative medicine doctor Amy Shah, M.D., author of I'm So Effing Hungry, try optimizing your caffeine intake. Caffeine, she says, provides a bit of a dopamine hit1, and all cravings are fueled by dopamine.
It's certainly a case for a piping cup of Joe: "A warm drink [also] has the effect of satisfying the cravings," she shares on the mindbodygreen podcast. However, to truly supercharge your coffee, you'll want to stir in a secret ingredient. Ahead, find Shah's No. 1 trick.
Advertisement
This ad is displayed using third party content and we do not control its accessibility features.
How to use coffee to control cravings
"The real magic here is mixing your caffeine with fat," she declares. You see, fat slows the release of caffeine, which ultimately prolongs that dopamine hit. Caffeine itself provides more of a jolt of dopamine—that's why you may experience a rush of energy only to crash hours later. "What the fat does is slow that absorption down so that you're getting a more sustained release," Shah adds.
In terms of which healthy fats to choose, you can go ahead and stir in a spoonful of grass-fed butter, ghee, or coconut oil. The latter especially adds a smooth, rich taste to your drink in addition to some noteworthy benefits: The MCTs in coconut oil have been shown to be satiating,2 potentially reducing caloric needs throughout the rest of the day.
Coconut oil is also thought to increase insulin sensitivity3, which is helpful in balancing blood sugar—coffee can spike blood sugar in the short term4, which results in that aforementioned crash later on (that's also when folks may start to reach for the sweets).
If you fancy a sweet morning beverage, don't fret: Shah isn't against sweets entirely. "Dark chocolate is a winner all the way through for me," she adds, since cocoa also offers a dopamine boost. Just look for organic cocoa blends with zero added flavors or sugar, and you've got yourself a mighty morning mocha.
Not sure which brand to buy? Check out this list of collagen superfood powders, some of which include rich, decadent cocoa. (For what it's worth, collagen is great for your skin and gut, so you'll reap even more health benefits from your coffee cup).*
Advertisement
This ad is displayed using third party content and we do not control its accessibility features.
The takeaway
Sometimes your body just craves something sweet, and that's totally fine—please feel free to indulge. But if you're trying to determine whether your body really wants a treat versus a hit of dopamine, try Shah's coffee trick to cut through the noise. Just a spoonful of healthy fats, a pinch of cocoa, or a scoop of chocolate collagen powder, and you'll be set.