Kosas Entire Site Is 20% Off Right Now — Including Its Eye-Brightening Concealer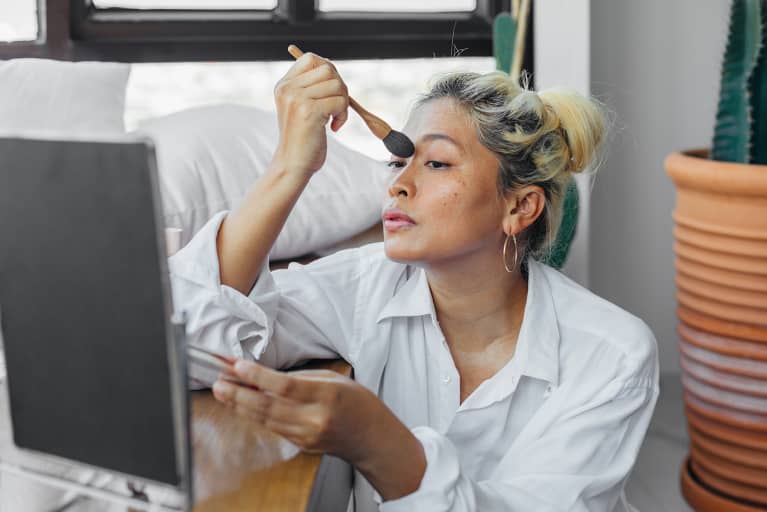 Our editors have independently chosen the products listed on this page. If you purchase something mentioned in this article, we may
earn a small commission
.
Navigating the vast world of makeup is no easy task. Of course, you need all the essentials in your cosmetics bag—but how much is too much? While advertising and social media may preach a 20-step makeup routine, sometimes you only need a few holy grail products to get you from day to day.
A foolproof place to start finding your go-to products? Kosas. The clean beauty brand only creates effective products that are actually comfortable to wear. Translation: Makeup that you can wear every day without going crazy.
If you're looking to restock, revamp, or get back to basics with your makeup collection, then you're in luck; the Kosas Summer Sale is happening right now with 20% off sitewide (a major steal). The only catch? You have less than 24 hours to fill up your virtual shopping cart before the deals disappear.
Through tonight, snag high-quality, fan-favorite clean makeup for less—including bestsellers and previous product sellouts, like the Revealer Concealer. Here, a few picks from myself and the rest of the beauty team at mbg to help you navigate all this unbeatable summer sale has to offer.
The 5 best products to buy during Kosas' summer sale.
1. Revealer Concealer
"I've never seen a concealer with such skin-loving ingredients. This product contains hyaluronic acid, vitamin B5, peptides, caffeine (which is great for brightening the under-eye), and pink algae—it practically sounds like a hydrating serum. Simultaneously, it has buildable coverage with a dewy finish. I've found that some concealers work better on bare skin, while others shine in a full-glam lineup, but this one plays for both teams. Major bonus for the wide shade range." —Hannah Frye, assistant beauty editor
kosas.com, $23 (was $28)
2. Air Brow - Tinted
"As someone with naturally thin, light brown brows, I'm always in dire need of good brow products. I've never been one who can just do a light coating of clear brow gel and call it a day—I need the richly pigmented stuff that can add some thickness. This gel delivers: The dense mousse-like formula coats the strands with biodegradable plant-based microfibers for a full-looking arch. It also contains castor oil, vitamin B5, and a peptide to support hair and skin health. I'm down to the last few swipes, so I'll definitely be restocking in this sale." —Alexandra Engler, beauty director
kosas.com, $18 (was $22)
3. Skin Improving Foundation
"I tend to gravitate toward tinted moisturizers or lightweight skin tints, but this formula has made me a full-foundation convert. Thanks to the ultrafine powder crystals suspended in the liquid formula, it helps smooth out texture without sacrificing the natural dimension of my skin. Hot tip: Skip the beauty blender and apply with your fingertips; the warmth from your skin will help it fuse to your complexion even more beautifully." —Jamie Schneider, associate beauty and wellness editor
kosas.com; $34 (was $43)
4. Wet Lip Oil
"I love the look of plump, hydrated lips. That being said, I will not stand for a gloss that sticks to my hair. This lip oil is the perfect in-between. In fact, Kosas ran clinical studies on this gloss and found that this product significantly improved lip hydration, smoothness, and plumpness in a four-week study. If you'd prefer not to layer on lip balm, lip color, and gloss, you need this product. My go-to shade for summer is Fruitjuice, a vibrant magenta hue." —Frye
kosas.com; $18 (was $22)
5. Weightless Lipstick
"I'm always on the hunt for the perfect shade of rose—I think it lends the prettiest pop of color on minimal makeup days—so I'm itching to get my hands on this sheer, petal pink number. Like all of Kosas' lippies, it comes with shea, cocoa, and mango seed butters to nail a comfortable, velvety finish, along with jojoba and rosehip seed oils to keep the color from feathering midday. I cannot wait to make this my everyday staple this summer!" —Schneider
kosas.com, $18 (was $22)
While these are our favorite picks from the brand, you can't go wrong when you shop Kosas. You'll find everything you need to revamp your makeup bag with clean, effective products right before summer starts. Just be sure to check out before midnight on June 9 to score the 20% discount.