You've Heard That CBD Can Help You Chill — Well, This Is Supercharged*

mbg Sustainability + Health Director
By Emma Loewe
mbg Sustainability + Health Director
Emma Loewe is the Senior Sustainability Editor at mindbodygreen and the author of "Return to Nature: The New Science of How Natural Landscapes Restore Us."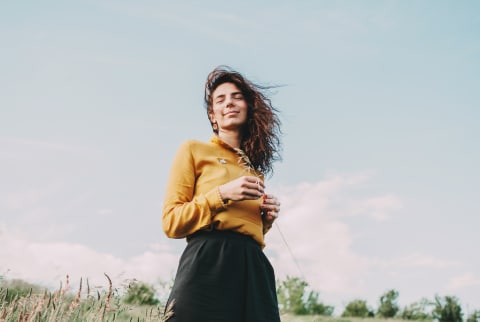 Image by Sergey Filimonov / Stocksy
August 19, 2021
If you've ever seen a bottle of "full-spectrum hemp oil" plopped next to a "hemp-derived CBD isolate oil," it might have caused a pause or head scratch. Aren't they the same thing? Turns out, there are differences between the two—and they're important. Here's what to know.
What are the similarities between hemp-derived CBD isolate and full-spectrum hemp oil?
First, let's go over how these products are similar: Unless they are explicitly marketed as containing high levels of THC (which would mean they're not truly hemp, by the way), neither of them should have psychoactive or hallucinatory effects. By law, the hemp plants that hemp-derived CBD isolate oil and full-spectrum hemp oil come from can't contain any more than 0.3% THC (aka trace levels), meaning they won't leave you with the high of a marijuana product. In fact European hemp laws are even more strict (< 0.2% THC).
Reactions vary as everybody is different, but you should feel completely in control of your body and mind when you take them. You might just find that they help you feel less fazed by things that used to stress you out.* Some people also apply hemp-derived products as topicals to help find relief from aching muscles and joints.
What are the differences?
A main difference between hemp-derived CBD isolate products and full-spectrum hemp products lies in their cannabinoid count. Cannabi-what? Cannabinoids are the plant compounds (i.e., phytocannabinoids) that give these products their chill factor.* A CBD isolate product is very singular in that it contains only one type of phytocannabinoid: CBD. All the other natural plant compounds have been filtered out.
A full-spectrum hemp oil, on the other hand, will contain, well, the full spectrum of the plant's native phytocannabinoids (including CBD), as well as other beneficial compounds like terpenes, flavonoids, and fatty acids.
Research suggests that the closer the hemp oil extract is to the whole plant profile or entourage, the more pronounced its effects.* "When you mix all those phytocannabinoids together, and not just the phytocannabinoids—but their supportive compounds and antioxidants that are in the [hemp plant]—it's a whole mix. There's this whole system at work," integrative physician Robert Rountree, M.D., previously told mbg.*
When all these compounds work synergistically together, it kicks off what's known as the entourage effect1.* When the entourage effect is in full force, the relaxing benefits of the hemp-derived products are believed to be heightened.*
With all the different terminology in the hemp space, it's important to buy from a company that is transparent about what their product is, where it comes from, and how it works. When mindbodygreen was formulating our new calm+ supplement, we had all of that top of mind. It's why we chose to use full-spectrum hemp oil that is phytocannabinoid-rich. (And we didn't stop there! Our eco-farmed European heritage hemp is also USDA & EU certified organic and DNA-tested.)
Summary
Hemp-derived CBD isolate products don't contain as many beneficial plant compounds as full-spectrum hemp oils, meaning they may not have the same relaxing effects.*