Check Your Bottles — These Ingredients Can Wreck Color-Treated Hair
Assistant Beauty & Health Editor
By Hannah Frye
Assistant Beauty & Health Editor
Hannah Frye is the Assistant Beauty Editor at mindbodygreen. She has a B.S. in journalism and a minor in women's, gender, and queer studies from California Polytechnic State University, San Luis Obispo. Hannah has written across lifestyle sections including health, wellness, sustainability, personal development, and more.
June 3, 2022
We carefully vet all products and services featured on mindbodygreen using our
commerce guidelines.
Our selections are never influenced by the commissions earned from our links.
If you color your hair, you're going to want to read this. While having a healthy scalp is essential for thriving strands, not all products designed to encourage a hydrated, clean scalp are safe to use on color-treated hair. In fact, certain ingredients found in many of these formulas have the power to strip the color right off your strands.
Don't worry: We consulted hair care experts on how to protect your color and care for your scalp at the same time. Here, a list of ingredients to avoid, along with a few better options.
Ingredients to avoid using on color-treated hair.
While labels like color-safe can be helpful, it's best to be aware of which ingredients you should avoid so you don't accidentally wash away the vibrant hue.
Celebrity stylist, hair expert, and co-founder of dpHue Justin Anderson and hairstylist Gretchen Trukenbrod from Oscar Blandi Salon gave us the inside scoop on exactly what to look out for when buying new hair care products to use on color-treated hair. This includes those who have full head color, highlights, or get root touch-ups.
We'll start with the more obvious culprits: sodium lauryl sulfate (SLS), sodium laureth sulfate (SLES), parabens (methylparaben, propylparaben, butylparaben, etc.), alcohols (ethanol or propanol), and sodium chloride (salt). The first two ingredients are types of sulfates. These are frequently used in shampoos because they help create a foamy lather. While satisfying, it's not the best for your hair. These will likely cause your color to wash out and leave you with a faded, dull look.
Parabens should be avoided in general when it comes to hair care products, as they have been shown to build up in the body1 with regular use. As far as your hair and overall health goes, it's best to steer clear. Alcohol, seen as ethanol or propanol, can dry out your hair and create a frizzy texture—those with color-treated hair are already more prone to dryness, so you might want to keep an eye out for these players. The same goes for sodium chloride: Salt in your hair products will rob your strands of moisture and interfere with the color you've put into it.
As for the sneakier ingredients that can strip your color, you'll want to look out for clarifying or purifying agents—charcoal, salicylic acid, and the like. That's not to say you can't use a scalp scrub or clarifying shampoo once in a while, but just know that these ingredients can slowly lift the dye from your strands. (And if the product also includes sulfates or salt, the process can happen even quicker.) It's not a huge issue, especially if you opt for permanent dye, but know that a few rounds may fade your color over time.
Our picks:
Color-safe alternatives
DpHue
Apple Cider Vinegar Hair Rinse
$35
Anderson notes that most shampoos can cause the color to fade if used too often. "It's like washing your favorite t-shirt repeatedly to the point of dulling and color fading out," he said. Instead, he recommends a "shampoo substitute." This rinse cleanses your hair and scalp without stripping color or the essential oils needed for the health of your hair.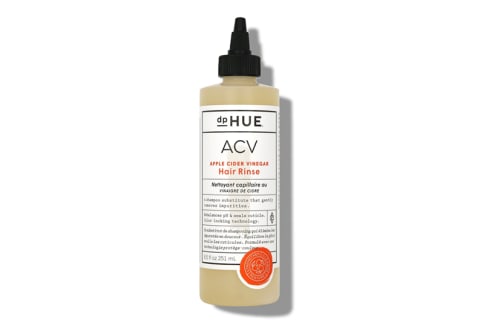 Act+Acre
Cold Pressed Scalp Detox
$42
You can think of this product as skin care for your scalp. This pre-cleanse oil will gently break down sebum, remove buildup, and restore balance to the scalp, without sacrificing your color. Section your hair and run this oil along the part and massage. Let it sit for 10 to 15 minutes and then hop in the shower.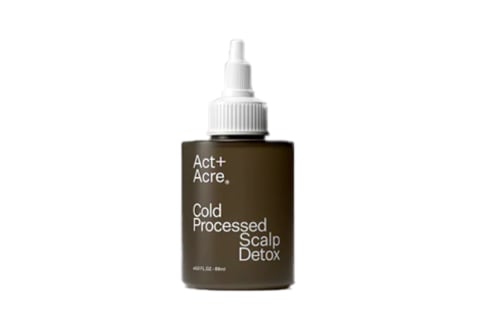 The takeaway. 
It's essential to care for your scalp if you want healthy hair. However, if you have color-treated hair, you'll want to be extra careful when using any sort of clarifying or detoxifying hair products. Be sure to look out for sulfates, parabens, alcohol, and sodium chloride in your products, and if you're looking to pamper your scalp a bit more, try out this scalp massage tutorial for healthy hair growth.
Hannah Frye
Assistant Beauty & Health Editor
Hannah Frye is the Assistant Beauty & Health Editor at mindbodygreen. She has a B.S. in journalism and a minor in women's, gender, and queer studies from California Polytechnic State University, San Luis Obispo. Hannah has written across lifestyle sections including skin care, women's health, mental health, sustainability, social media trends, and more. She previously interned for Almost 30, a top-rated health and wellness podcast. In her current role, Hannah reports on the latest beauty trends and innovations, women's health research, brain health news, and plenty more.