The Experts Have Spoken: These Are The Top 3 Heroes For Treating Dark Spots

Beauty & Health Editor
By Jamie Schneider
Beauty & Health Editor
Jamie Schneider is the Beauty Editor at mindbodygreen. She has a B.A. in Organizational Studies and English from the University of Michigan, and her work has appeared in Coveteur, The Chill Times, and Wyld Skincare.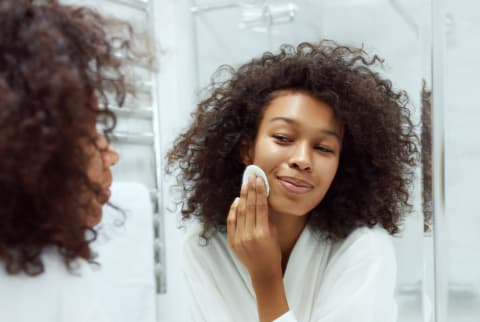 October 23, 2022
We carefully vet all products and services featured on mindbodygreen using our
commerce guidelines.
Our selections are never influenced by the commissions earned from our links.
If you've ever dealt with post-inflammatory hyperpigmentation, you likely know the uphill battle that comes with treating those dark spots. Oftentimes, fading those lingering marks takes longer than addressing the breakouts themselves; it can take months for the discoloration to completely disappear—sometimes even years. It's a similar story for hyperpigmentation caused by sun damage or melasma (a very common gripe right now, as many notice lingering sun spots after the scorching summer season). No matter how you slice it: Those spots can be so dang stubborn.
Of course, it's important to be patient with your skin and give yourself grace. Your skin does so much for you on a daily basis, and those cells are doing their best to turn over! However, a few ingredients can help nudge the process along if those marks just won't let up. Everyone's skin is different, but experts generally praise the following players:
If you want to double up on skin-brightening properties, you can even take vitamin C orally; in fact, dual board-certified dermatologist Keira Barr, M.D., suggests both supplementing with vitamin C and applying it topically for optimal skin health—this ensures that there is enough vitamin C biologically available and active in and on the skin, she once shared with mbg.
Kojic acid is a fermentation byproduct that comes from several different types of fungi, and it's frequently touted for its skin-brightening properties—studies even show it can effectively brighten skin and fade dark spots5. "It works its magic via the inhibition of tyrosinase, an enzyme that is essential in the UV-induced activation of pigment-producing cells in the skin," board-certified dermatologist Rebecca Marcus, M.D., previously told mbg.
What's more, kojic acid targets only the extra pigment, so you don't have to worry about it excessively whitening or irritating the skin, says Marcus. Of course, kojic acid still has some potential for irritation (especially for those with sensitive skin), but it's generally well tolerated across the board. You can read all about the dark spot fighter here.
Finally, we have the marvelous mandelic acid. If you don't have this AHA on your radar, lean in: This exfoliator stimulates cell turnover and dissolves dead, overly pigmented skin oh-so-gently so even those with sensitive skin can hop on the bandwagon. (In fact, derms say it's one of the most tolerable acids for easily irritated skin types.) Additionally, "Mandelic acid has a unique affinity for oil compared to other AHAs," board-certified dermatologist Cynthia Bailey, M.D., founder of Dr. Bailey Skin Care, says regarding the ingredient. "It can penetrate deeper into oily pores and has even been shown to reduce [excess] sebum production and oily shine6."
The takeaway. 
Dealing with hyperpigmentation can be frustrating, and I'm certainly not going to sit here and tell you that those marks will fade overnight (as someone who has struggled with her fair share of dark spots, I'll pull no punches). That's why it's crucial to use smart, targeted ingredients and treat those spots from multiple angles. This list of three only scratches the surface (we have a full guide to fading dark spots here!), but you can consider these your hyperpigmentation heroes.

Jamie Schneider
Beauty & Health Editor
Jamie Schneider is the Beauty Editor at mindbodygreen. She has a B.A. in Organizational Studies and English from the University of Michigan, and her work has appeared in Coveteur, The Chill Times, and more. In her role at mbg, she reports on everything from the top beauty industry trends, to the gut-skin connection and the microbiome, to the latest expert makeup hacks. She currently lives in Brooklyn, New York.