How A Spiritual Teacher Infuses Self-Care Into Every Day (+ Her Mind-Nourishing Playlist)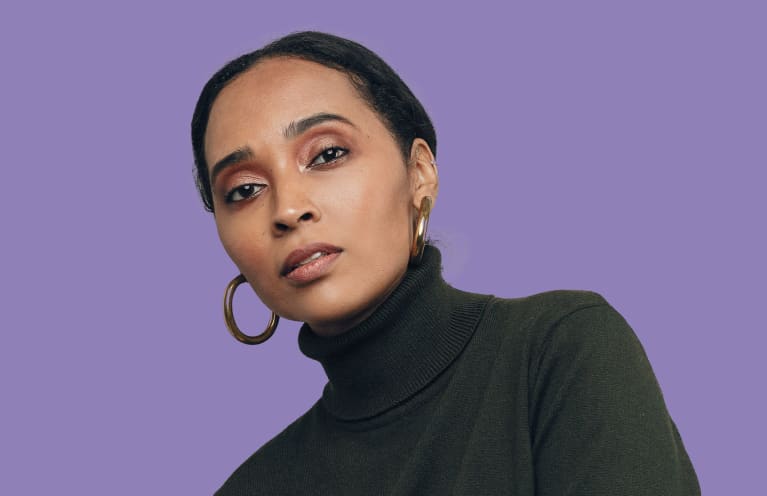 Our editors have independently chosen the products listed on this page. If you purchase something mentioned in this article, we may
earn a small commission
.
We'll go ahead and assume that you already follow some version of a wellness practice. That's why we're bringing you three special episodes of the mindbodygreen podcast to celebrate the idea of "taking the next step" when it comes to your routine
—
not a complete transformation, but simple, sustainable changes that enhance your daily regimen. To kick off the series, we spoke to spiritual teacher and bestselling author of
Vibrate Higher Daily
Lalah Delia
.
While self-care can be a bit of a buzzword in the well-being space, we at mbg believe real, meaningful self-care stems from connecting with yourself and what truly brings you joy. Perhaps that's why we're seeing so much verbiage around the importance of self-care as of late. Amid the pandemic, your needs may have understandably changed, and you might have had more trouble cultivating those moments of self-healing. The bottom line? Self-care in the past year has been tough.
That's exactly why we asked spiritual teacher and bestselling author of Vibrate Higher Daily Lalah Delia to share her personal rituals for radical self-care—even when she's short on time (or motivation). As she says on this episode of the mindbodygreen podcast, you can practice self-care during seemingly "mundane" activities; and ahead, she explains how to connect with yourself even with a jam-packed schedule:
1.
She creates moments of stillness wherever she can.
Lean into self-care when it's most convenient for you. Delia adds, "even if it's just five minutes of stillness in your car, maybe even in the shower, maybe even cooking." Do your best to lean into those spaces and try not to let your mind wander—deadlines, responsibilities, what have you. Rather, Delia recommends focusing on the joy and presence of where you are and expressing gratitude for that space.
Take the shower, for example—a time when you can connect to your skin and body. "Really enjoy taking a shower in the moment," she explains. "Give thanks for the water: 'This water is feeling so good and soothing.'" If you're in the car, give thanks for your vision, for your vehicle. "That's a way to sit in stillness and self-care when you're very busy," she adds.
2.
She finds small pockets of time in her day.
There are myriad ways to connect with yourself and what your body truly needs—whether it's stepping out into nature, breathwork, grounding prayer, meditation, or more. Delia focuses on whatever source she needs that day, but it doesn't have to be some taxing to-do to add to her checklist.
"Meditation doesn't have to be 20 minutes," she notes. "Meditation could be one minute." Just 60 seconds of mindful breathing is enough. And who knows—maybe next time you'll extend it to two minutes, to five, to 10, and so on.
Plus, those micro-moments add up: "If you don't have 20 minutes collectively, maybe those little pockets of one minute here, two minutes here, throughout the day of intentional time for yourself could be a way of self-care."
3.
She nourishes her mind with music.
"Music is the No. 1 medicine for me," Delia explains. "It really just brings me back into center, into focus, and it just soothes my soul so much." That said, she keeps her "medicine" handy throughout the day—whether it's playing in the background while she works or taking a few moments to dive into a calming playlist.
In fact, she has a go-to "energy cleanse" playlist (which we've embedded below, you know, in the name of self-care) for whenever she needs to access that higher vibrational energy.
"It's over 100 songs of this type of music, binaural beats, solfeggio frequencies, [and] nature sounds," she notes, adding, "If I know I want to create or calm my mind down to a meditative state, I know that I need to go into alpha, and I'll put on binaural beats that help bring up an alpha brainwave state. Or if I need to create as a form of self-care or personal time, I'll put on theta waves, knowing that this is my medicine."
Feel free to browse Delia's playlist below, or find whatever tunes truly serve you. We should note, sometimes music doesn't have to always drift from your headphones or through a speaker—the sounds of nature are also quite rhythmic. "The sound of waves, water, thunderstorms—those are all nature's music," says Delia. All you have to do is lend an ear.
Even if your schedule is filled to the brim, there's always room to connect with yourself—even if it's just for a minute. According to Delia, it's crucial to make the time, even if you think you have none. Life is a delicate balance, after all—you have to sustain your energy just as much as you hand it out. "That's what self-care is," she notes. "It's giving back what you're pouring out and creating balance in your life."
In other words? Prioritizing moments of self-care isn't selfish—it ultimately helps you tap into your highest potential.