3 Ways To Relax Your Facial Muscles & Ease Expression Wrinkles
Assistant Beauty & Health Editor
By Hannah Frye
Assistant Beauty & Health Editor
Hannah Frye is the Assistant Beauty Editor at mindbodygreen. She has a B.S. in journalism and a minor in women's, gender, and queer studies from California Polytechnic State University, San Luis Obispo. Hannah has written across lifestyle sections including health, wellness, sustainability, personal development, and more.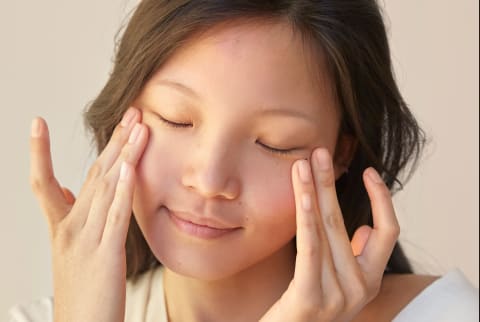 Image by Emotion Matters / Stock
February 24, 2023
We carefully vet all products and services featured on mindbodygreen using our
commerce guidelines.
Our selections are never influenced by the commissions earned from our links.
Every beauty professional has their nonnegotiable steps. In our series Like a Pro, we tap experts for the top three techniques they absolutely swear by. Here, you'll hear from a variety of industry insiders on the fail-safe tricks they always keep in their back pockets. We're all about simplifying your beauty regimen wherever you can, and sometimes the best routines are as easy as 1, 2, 3.
Wrinkles that begin to show up around your mid-20s are oftentimes expression lines (technically called dynamic wrinkles) rather than age-related creases. Some common expression wrinkles include the "11s" between the brows, crow's feet around the eyes, and smile lines.
These lines prove that you feel emotions and, in many cases, that you smile often (which is a good thing). However, this constant tension can take a toll on your skin over time. To relax your facial muscles (and your mind), look to facial massage. To follow, a few A+ methods to try out from a traditional Chinese medicine expert:
1.
For the "11s" wrinkles.
The "11s" generally appear because you're squinting or focusing quite often. It's not easy to break that habit, but with intentional facial massage, you just might be able to smooth those etchings.
"With regular practice, we can really begin to soften these lines," acupuncturist, herbalist, traditional Chinese medicine practitioner, and founder of Lanshin Sandra Chiu L.Ac., MSTCM, explains in this Instagram video. "Even better, all of this stroking helps to relax your nervous system; and being relaxed is the key to softening lines."
Prep: Before we get into the massage, make sure you prep your skin with a hydrating serum or face oil.
Spiral: Now, using your pointer finger (or a gua sha spoon, if you prefer a tool), make tiny circles between the brows, Chiu says.
Reverse spiral: You'll want to start with a small spiral and gradually make it larger, touching both brow fronts. Make three smaller spirals and three larger spirals, then reverse the direction.
Connect brow points: Finally, using the flat edge of your gua sha tool or two fingers, you'll want to cross from one inner brow point to the other in a horizontal line. After that, swipe your tool or fingers across the entire brow that you're pulling toward and move up to the temple. Do this motion for one minute, then switch to the other side.
2.
For crow's-feet eye wrinkles.
Next up, we have crow's feet. You know, those tiny wrinkles that show up on the side of your eyes when you smile. Chiu takes a holistic approach to ease these kind of wrinkles, working on the entire eye area rather than just the wrinkled spots—here's how she does it.
Prep: You can prep this area with an eye serum, eye cream, or the same face oil you use for typical massage purposes. You'll want to grab your gua sha tool and look for the rounded edge, as this part will be easier to weave in and out of the under-eye area.
Start swiping toward the tear duct: As Chiu demonstrates, you'll want to start from the outer part of your under-eye and gently swipe the gua sha toward your inner corner. Do this three times.
Reverse: Then, go from the inner corner toward the outer edge of the under-eye. Again, do this motion three times.
Under the brow: Next, move onto the brow area. Start at the bottom inner corner of your brow and swipe toward the outer tip, stopping where your brow hair drops off. Be careful not to press the gua sha too hard on your eye or eyebrow bone.
Repeat: Do this on both eyes, and repeat if you still feel the tension in this area.
"Nasolabial folds tend to be caused less by chronic facial muscle tension and more from loss of volume in the mid-face," Chiu tells mbg. However, that volume loss comes naturally with age (due to a lack of collagen production). While you can't always control facial volume, adding the following facial massage technique can help lift the face and ease the appearance of smile lines—if you're consistent with your practice, that is:
Prep: You know the drill: Prep your skin with a hydrating serum, moisturizer, or face oil.
Pick your tool: This one calls for a curved gua sha tool, like the Lanshin Pro Gua Sha Tool. You'll be placing your cheekbone in the nook, so make sure it has smooth edges. If you don't have a tool on hand, you can put your pointer and middle finger into knuckles and place one finger on top of the cheekbone, and the other on the bottom.
Start by the mouth: With your tool or fingers, start with the bottom edge touching your outer lip corner, as Chiu demonstrates here.
Swipe up: Then slowly swipe upward, caressing your cheekbone along the way. Glide until you reach the hairline.
Wiggle: Once you touch the hairline, wiggle your tool up and downward (without picking it up). This temple massage should feel relaxing, not painful, so lighten up if you feel too much pressure.
Repeat: Do this step at least three times, or a few more if need be.
The takeaway. 
There's nothing wrong with expression wrinkles, but giving yourself a relaxing facial massage may help ease your mind and release tension in the face. While your hands are certainly great tools to use, you can invest in a gua sha as well—here's a list of our top choices if you're in the market.
Hannah Frye
Assistant Beauty & Health Editor
Hannah Frye is the Assistant Beauty & Health Editor at mindbodygreen. She has a B.S. in journalism and a minor in women's, gender, and queer studies from California Polytechnic State University, San Luis Obispo. Hannah has written across lifestyle sections including skin care, women's health, mental health, sustainability, social media trends, and more. She previously interned for Almost 30, a top-rated health and wellness podcast. In her current role, Hannah reports on the latest beauty trends and innovations, women's health research, brain health news, and plenty more.