Affirmations Aren't Working For You? Try This Helpful Technique Instead

mbg Social Media Associate
By Olivia Giacomo
mbg Social Media Associate
Olivia Giacomo is mbg's Social Media Associate. A recent graduate from Georgetown University, she has previously written for LLM Law Review.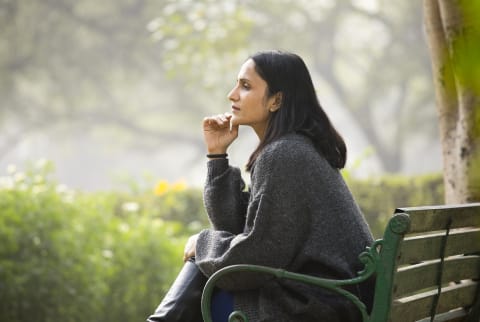 Image by triloks / iStock
August 4, 2022
We carefully vet all products and services featured on mindbodygreen using our
commerce guidelines.
Our selections are never influenced by the commissions earned from our links.
Stating affirmations can be an excellent technique to embody a desired feeling, whether it be starting your day with the intention "I am at peace" or encouraging yourself with the thought "I am resilient." While this practice works exceptionally well for some people, others may experience a disconnect between what they are affirming and how they really feel.
An effective alternative to affirmations.
Laird shares that "a technique called 'iffirmations' can be really powerful for people who struggle with affirmations." She continues: "Affirmations can really backfire, because you [can] feed that inner critic, depending on your personality." So if your mind responds to a sentence like "I am worthy" by automatically disagreeing with the idea, this small adjustment may be a useful option for you.
The technique is simple: "You just put 'what if' in front of the statement, and it breaks through your mind's resistance and opens up possibilities. For example, if you struggle with self-worth, instead of saying "I am worthy," try saying, "What if I am worthy?"
Says Laird, "We tend to focus on what's wrong rather than what's right," so instead of trying to force the positivity (which rarely works), try to get your mind to figure out your worth all on its own. That way, your mind will have way less to argue with. "That question opens up kindness to the part of me that questions whether I am worthy," Laird adds. Try it! Chances are, it will be easier to practice self-compassion.
The takeaway.
If you struggle with affirmations, Laird's technique may be a more effective way of informing your mind how you'd like to feel. Taking away some of the certainty that accompanies typical affirmations allows more flexibility for your mind to ponder the idea. And for more techniques to rewire your brain, make sure to tune in to the full episode on Apple Podcasts or Spotify, or check out the video below!