Cold Brew Ice Cubes Are Perfect For This Mocha Collagen Smoothie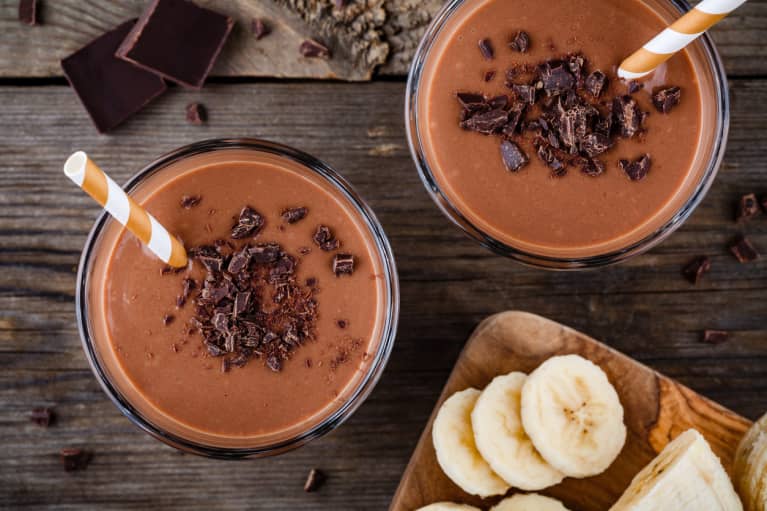 We're always looking for ways to make our morning routines a little bit easier, no? Especially when it comes to early a.m. hours, combining a few steps into one leaves room for you to sleep just a bit longer and still head out the door on time. So needless to say, when you get the chance to make your coffee ritual more efficient, it's a no-brainer. Today, we have a super-combo for you to do just that: a tasty and health-packed mocha collagen smoothie with—wait for it—cold brew ice cubes.
It's important to make sure you're fueling your body well in the morning, but that doesn't mean it has to take half an hour. This recipe is just as nutritious as it is easy to make. It combines collagen, antioxidants, healthy fats, and plant-based protein—all with a jolt of caffeine to perk up your early morning.
Mocha Collagen Smoothie With Cold Brew Ice Cubes
This recipe is a personal favorite of mine; I used to whip it up all the time when I worked at a smoothie bar in college. Cold brew ice cubes do sound a little involved, but trust me, it's easier than it seems.
Cold brew ice cubes (don't worry, I'll explain further)
1½ bananas
1 tablespoon almond butter
1 tablespoon coconut oil
3 dates
Milk of choice
Cacao nibs
Optional: a dash of cinnamon
The day before: Whether you make your own cold brew or buy it at the store is totally up to you. Either way, you'll want to have that ready the day before you plan on making your smoothie so it has plenty of time to freeze. In addition, you can use decaf cold brew if that's what you prefer. Simply pour your cold brew into an ice tray and let it freeze overnight. Then in a small bowl, place your dates in some room-temperature water and cover. This will make them easier to blend in the morning.
Day of: Now, all you have to do is add your cold brew ice cubes and the rest of your ingredients to a blender. Be sure to remove the pits from your dates and blend away! If chocolate isn't your go-to, feel free to use the unflavored version of mbg's beauty & gut collagen+ as well.
Once you pour your smoothie into a cup, top it off with a few cacao nibs for a nice crunch. If you want to add a bit more flavor, feel free to sprinkle a dash of cinnamon.
As far as eating for your hormones, building well-balanced meals is key. This smoothie has it all: coconut oil for healthy fats, almond butter for natural plant protein, banana for fiber and phytonutrient antioxidants, cold brew for energy, and collagen to support a healthy gut and glowing skin.*
If you're a fan of the two-in-one concept, this smoothie recipe is for you! You'll get your daily dose of collagen to support your skin and gut health in a tasty and balanced manner, but beyond that, this smoothie will take care of your caffeine desires along with providing healthy fats, natural protein, and antioxidants.* Don't fret if you're not a smoothie person; collagen can easily be added to a matcha latte or shaken espresso as well.