How To Exercise To Reduce Inflammation (And Avoid Creating More)

By Leigh Weingus
mbg Contributor
Leigh Weingus is a New York City based freelance journalist writing about health, wellness, feminism, entertainment, personal finance, and more. She received her bachelor's in English and Communication from the University of California, Davis.

Medical review by
Bindiya Gandhi, M.D.
Physician
Dr. Bindiya Gandhi is an American Board Family Medicine–certified physician who completed her family medicine training at Georgia Regents University/Medical College of Georgia.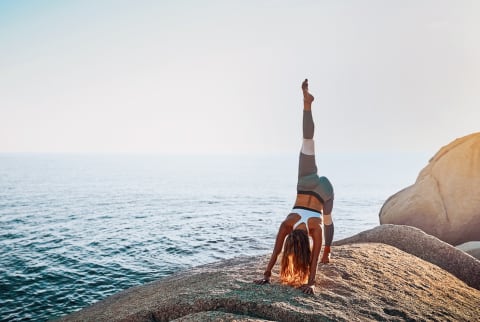 January 14, 2020
When it comes to reducing inflammation, we often turn to a healthy diet, hot baths, and nourishing massages. While there's nothing wrong with beating inflammation using these tactics, exercise is also an effective way to lower inflammation. In fact, one study1 that followed 4,000 middle-aged people over a 10-year period found that those who exercise for two and a half hours per week lowered their inflammation by 12 percent.
But when it comes to lowering inflammation, which types of exercise are best? Here's what the experts say.
Go for a walk.
When your body is inflamed, whether it's from intense exercise or something else, a light walk is an excellent way to reset. "I tell my clients, especially the ones who tend to really push themselves, to ease up a bit and just go for a long walk when their body is really dreading a tough workout," says Michelle Cady, health coach and FitVista founder. "Walking is a great way to let your muscles recover—it brings down inflammation by sending fresh blood and oxygen throughout your body, pumping the lymphatic system for waste removal, and gently restoring your digestive system if it feels off."
Hike.
Want to take your walk to the next level? Immerse yourself in nature and go for a hike. "Find a safe trail, bring a friend, and go on an easy one-hour ramble through the woods," says Cady. "Just like walking, easy hiking stimulates muscle recovery and reboots your system. As an added bonus 'forest bathing,' or time spent surrounded by trees, lowers the body's cortisol stress-response (which is linked to inflammation) by up to 20 percent."
Foam roll.
While it does have core-strengthening benefits, foam rolling is often considered a recovery tactic, and for good reason: It helps with muscle soreness, improves flexibility, improves sleep, helps with digestion, and lowers inflammation. "To reduce inflammation with a foam roller, lie on a roller and use gravity to apply pressure to a muscle," says Nicholas M. Licameli, physical therapist at Professional Physical Therapy. "The roller is pressed into the muscle belly, and the user rolls up and down the length of the target muscle."
Do yoga, meditate, and deep breathe.
This one probably doesn't come as much of a surprise, but the power of deep breathing and yoga as an inflammation-busting tactic can't be underestimated. "Deep, controlled breathing and meditation induce a state of physical and mental relaxation," says Licameli. "This is incredibly helpful when you want to lower inflammation in the body." If you need ideas for specific yoga poses that lower inflammation, check out three of them here.
And do you want to turn your passion for wellbeing into a fulfilling career? Become a Certified Health Coach! Learn more here.

Leigh Weingus
Leigh Weingus is a New York City based freelance journalist and former Senior Relationships Editor at mindbodygreen where she analyzed new research on human behavior, looked at the intersection of wellness and women's empowerment, and took deep dives into the latest sex and relationship trends. She received her bachelor's in English and Communication from the University of California, Davis. She has written for HuffPost, Glamour, and NBC News, among others, and is a certified yoga instructor.