The Importance Of Diversified Voices In The Media, From A Publishing House Founder
mbg Spirituality & Relationships Writer
By Sarah Regan
mbg Spirituality & Relationships Writer
Sarah Regan is a Spirituality & Relationships Writer, and a registered yoga instructor. She received her bachelor's in broadcasting and mass communication from SUNY Oswego, and lives in Buffalo, New York.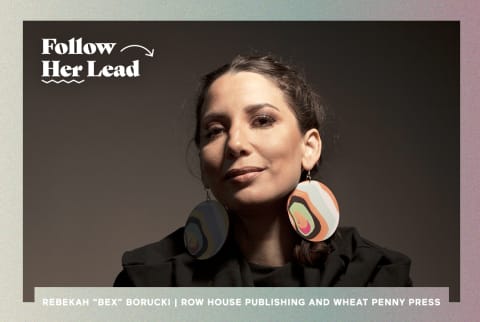 Image by Justin Borucki / mbg creative / Justin Borucki
Our editors have independently chosen the products listed on this page. If you purchase something mentioned in this article, we may
earn a small commission
.
March 18, 2022
In honor and recognition of Women's History Month, this March, we're highlighting the voices of leading women in the well-being space. Each week, look out for the latest Follow Her Lead installments, where you'll find inspiring stories, ways you can help, and of course, new faces of women worth following.
From the television we watch to the books we read, it's so important for people (and especially children) to see representation from various races and ethnicities. And no one knows this better than founder of Row House Publishing and Wheat Penny Press Rebekah Borucki.
Advertisement
This ad is displayed using third party content and we do not control its accessibility features.
Here, we chat with Borucki about how she was able to raise over $1 million to start her own publishing company, in order to amplify voices that might otherwise be silenced. Here's how she did it.
Can you talk a bit about the work you're doing and how you got here?
I'm a publisher. I founded Row House Publishing after leaving my former publisher for a lack of diverse representation, both among the authors and the characters in the books they were publishing.
Another one of my huge passion projects is Wheat Penny Press, which is our children's imprint, and by extension its nonprofit, the Little Readers Big Change initiative. We donate books, do online workshops, and arrange author visits to kids everywhere, with a focus on children in under-resourced districts.
Wheat Penny Press started when I self-published my first children's book, Zara's Big Messy Day, and had to choose an imprint (i.e., the name to publish the book under, within the larger publishing company). I had no real intention of publishing other books under the imprint—until I saw the need for representation of Black and brown characters, especially in books that talk about mental wellness for children. Thus, Wheat Penny Press expanded.
Have you come up against any challenges now that both publishing houses are up and running?
Row House is the one that was really the big, audacious project, where we were trying to raise $900,000—and that turned into 1.2 million. We were trying to blow the lid off the industry in terms of the inequity and pay, so we introduced this 4040 model, which gives a $40,000 advance and 40% royalty to every single author, regardless of the size of their platform.
So, one of the major challenges was doubt. Many people told us it was impossible—that we couldn't do it because it had never been done. The other challenge was raising money and awareness and getting people involved, especially from traditional routes, like venture capitalists—a lot of people were looking for me to fail. I was constantly having to not only justify the mission of the company but also really justify my existence as a person in business. It was demoralizing, it was frustrating, and that's why we went the crowdfunding route.
It turned out to be historically successful. There's a very short list of Black women who have raised a million dollars through traditional financing routes, and our entire publishing council is made up of women of color. We hit almost 1.2 million in less than a year, so it was a really big deal.
Advertisement
This ad is displayed using third party content and we do not control its accessibility features.
What inspires you the most about the work you're doing?
I know from experience: Some of the best stories I've ever read, and the most inspirational people in my life, came from more under-resourced communities, where finding an agent can be a challenge, which is why at Wheat Penny Press and Row House Publishing, the majority of our authors are unagented—meaning they're able to get their work actualized without that added step.
If it wasn't for our community having faith in the business and actually putting their money, time, and resources where their values are, these amazing stories would never be heard or seen—so that's what inspires me.
We have one book coming out called Hood Wellness, and another called Are We Free Yet: The Black Queer Guide to Divorcing America. These are both from talented authors who don't have agents. We know that gatekeeping does not belong where stories are being told.
So would you say your mission is making publishing more accessible?
The mission lies in our motto: Raising the volume on voices that matter. The second part of the mission is in our CRED statement, which stands for community, responsibility, equity, and disruption.
But the big goal is for someone like a Black transgender queer woman walking into any publishing house in New York City and saying, "Hey, look what Row House is doing! They're offering this 4040 deal, and I don't want you to just match that, I want you to do better because I deserve it."
I would love to disrupt the industry in that way so the big houses are forced to be more equitable in the way they pay their authors. Our model will evolve as our business evolves, and I'm excited to make it better for everyone.
Advertisement
This ad is displayed using third party content and we do not control its accessibility features.
What advice do you have for other women in your field, whether they're publishers, writers, or are in a position where they can amplify voices in their own communities?
Self-care is community care, and all the nourishment that I receive is from being in community. We have been sold a lie about being self-sufficient, about being self-made, about these mythical "bootstraps" that make you worthy of success.
I know that every single bit of my success comes from being in community with other people—and not just women but people in general—who have a belief in what I'm doing and are doing cool things themselves.
These people are vulnerable and they seek and appreciate my help, and in return, they give me their help and support. So, community is everything—both personally and professionally.
Who is one woman in your life who inspires you?
Oh my gosh, that's so hard. I'm not going to say one specific woman—it's the movement being led by Black trans women that I feel most grateful for. They are, I think, paving the way for all women to feel safer, healthier, and more respected and valued.
And as the mother of a trans boy, I have a unique experience that doesn't put me directly in it but has definitely given me a different lens through which to look at the movement.
Advertisement
This ad is displayed using third party content and we do not control its accessibility features.
Anything else you want to leave readers with?
As a woman of color in the industry, I think a lot of people look to us as caretakers, or having to be in service.
As a businesswoman, I am very interested in having a business that not only competes but actually dominates in the industry. I also want to give other women of color, queer folks, and folks with disabilities the same opportunities to come out on top. We're not doing favors here, and we're not asking for charity—this is a real business.
This interview has been lightly edited and condensed for clarity.
Advertisement
This ad is displayed using third party content and we do not control its accessibility features.
Reset Your Gut
Sign up for our FREE doctor-approved gut health guide featuring shopping lists, recipes, and tips