Asking For A Friend: Is Chocolate Really *That* Bad For My Skin?

mbg Associate Beauty & Wellness Editor
By Jamie Schneider
mbg Associate Beauty & Wellness Editor
Jamie Schneider is the Associate Beauty & Wellness Editor at mindbodygreen, covering beauty and wellness. She has a B.A. in Organizational Studies and English from the University of Michigan, and her work has appeared in Coveteur, The Chill Times, and Wyld Skincare.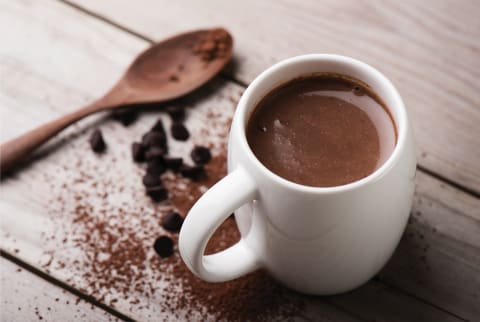 Image by Norasit Kaewsai / Istock
March 19, 2022
What you eat can absolutely influence your skin's appearance, but when it comes to chocolate, the message is a little unclear. You have those who claim the sweet treat isn't so good for skin health—and then you have others who assert chocolate is chock-full of skin-loving antioxidants. (As someone with a strong sweet tooth, I would consider myself a passionate member of the pro-chocolate club.)
So, what's the truth? Ultimately, it varies from person to person, as not all ingredients—whether in food, supplements, or topicals—will affect everyone's skin the exact same way. However, you should know that not all chocolate is created equal. "One thing is clear: The type of chocolate that you're going to be eating does matter," says board-certified dermatologist Whitney Bowe, M.D., in a recent TikTok.
Advertisement
This ad is displayed using third party content and we do not control its accessibility features.
How chocolate affects your skin.
Generally, Bowe recommends avoiding milk chocolate and white chocolate (which isn't technically chocolate at all) if you can, as these tend to contain more dairy and sugar to nail that creamy flavor. Dark chocolate, however, is brimming with healthy minerals like iron, magnesium, and zinc, as well as flavanols (a subgroup of polyphenols), which can help neutralize free radicals and combat oxidative stress. Research even shows these flavanols can enhance skin photoprotection from UV rays. So both answers to the chocolate conundrum are technically correct—it just depends on the type you choose.
And if you choose organic, raw dark chocolate (aka cacao)? You may reap even more skin-healthy benefits. "Organic dark chocolate has an added advantage. The process is fermented, so it's also a fermented food in that way," says board-certified psychiatrist, professional chef, and nutrition specialist Uma Naidoo, M.D., on the mindbodygreen podcast. It's true! Once harvested, cacao beans are fermented, dried, roasted, then removed from their shells (which is also what gives dark chocolate its slightly tart taste). And fermented foods are top-notch for skin, as they promote good bacteria in the gut—research shows that what you put in your mouth indeed influences your skin and skin microbiome in many ways. Just make sure you're buying a high-quality, organic dark chocolate with at least 70% cacao content.
While you can find cacao paste, cacao nibs, and organic cocoa butter, organic cocoa powder is a great way to add an antioxidant boost to a variety of treats and beverages without any added sugar. The organic cocoa powder we use in mbg's chocolate beauty & gut collagen+, for example, is derived from cacao trees in South America, East Africa, and the Dominican Republic. The beans have been roasted and ground to retain their highest nutritional value, offering a delicious (and skin-healthy!) source of chocolate.* The cocoa powder is also sweetened with organic monk fruit, meaning it has zero sugar.
Add it to your coffee, breakfast pastries, and smoothies, and you can supercharge all those antioxidants in a snap. Not to mention, hydrolyzed collagen peptides themselves come with a host of beauty benefits, like promoting skin elasticity and hydration and strong hair and nails (but you can read all about that here); ours also folds in vitamin C, vitamin E, and sulforaphane glucosinolate, just in case you want to supercharge those antioxidants even further.*
Advertisement
This ad is displayed using third party content and we do not control its accessibility features.
The takeaway. 
Chocolate lovers, your sweet treat can actually be great for skin! All you have to do is select a high-quality formula with organic cocoa.* If your skin fares fine with milk and white chocolate options, by all means, carry on. But you might want to consider adding organic dark chocolate to the rotation, too, as it's jam-packed with polyphenols and delivers a rich, decadent flavor.
If you are pregnant, breastfeeding, or taking medications, consult with your doctor before starting a supplement routine. It is always optimal to consult with a health care provider when considering what supplements are right for you.