Why You Should Care About "Dermal Thickness" — And What You Can Do About It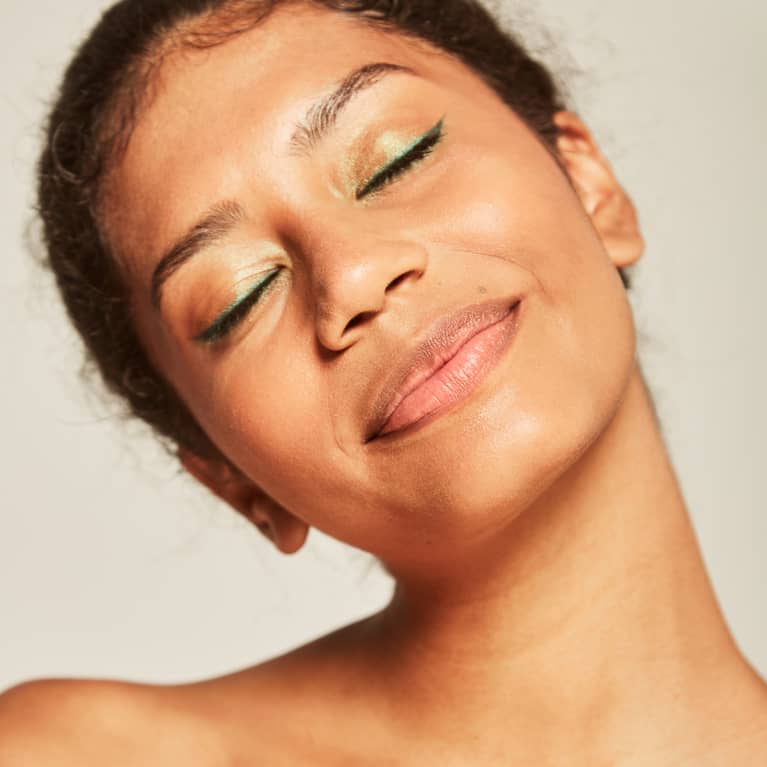 This article was produced to support the mindbodygreen supplements+ line. Our supplements adhere to the highest standards of ingredients and quality. We hope you enjoy these products, for more information
click here
.
Thick skin is healthy skin; this we know. When your skin thins—as it does from environmental aggressors, external irritation from certain products, or naturally with age—your barrier function is compromised. A weakened barrier, then, can further lead to inflammation, redness, damage, and premature aging (a la crepey skin).
All of this is to say: You should care about dermal thickness.
However, dermal thickness is a harder concept to tend to than some of the more surface-level concerns. For example, pigmentation issues can usually be brightened with antioxidants or gently sloughed away with the appropriate acids, like lactic acid. Or if your skin is oily, you can try to balance it with the right mix of hydration and oil-controlling ingredients. But trying to "thicken" your skin? That's, well, more of a complicated thing.
However, starting internally can help plump your skin, support your dermal structure, and fight off dangerous environmental aggressors that thin the skin in the first place. Where do we start to do this? A smart collagen supplement, like mindbodygreen's grass-fed collagen+.*
How collagen powders can help your skin density.
Collagen powders are made of hydrolyzed collagen peptides, which are basically just short-chain amino acids. These are small enough to actually be absorbed by the body (collagen itself is too large of a molecule to be absorbed, which is why powders are hydrolyzed and therefore digestible). Once in the body, these peptides have been shown to promote, support, and maintain your skin cells' fibroblasts.* Fibroblasts are actually the parts of your skin cells that produce collagen and elastin.
OK, translation? Healthy fibroblasts mean healthy collagen levels. This all matters for dermal density because collagen is the main structural protein in the skin. And if you are better able to maintain your collagen levels, which unfortunately decline significantly as we age, then you can improve your skin barrier function. In fact, research shows that taking collagen supplements can support dermal density.*
In mindbodygreen's grass-fed collagen+, however, you also have loads of antioxidants to better support your skin and protect it from free radical damage. First, there's vitamin C, which has been shown to help collagen production synthesis, stabilize the collagen you already have, and, of course, protect skin from environmental aggressors like UV or pollution.* (It also comes formulated with vitamin E to help maintain the former antioxidant's efficacy.)
Finally, there's hyaluronic acid. This is actually naturally present in the body—it, too, starts to decline with age. Its main role is to hold in moisture in the skin, as a naturally occurring humectant.* Since dermal thickness is closely related to hydration, keeping skin hydrated is also of the utmost importance.*
You can keep skin feeling hydrated, plump, and youthful by paying attention to dermal thickness by taking smart supplements that promote collagen production, protect skin from damage, and maintain moisture.